– Choosing the Right Study Abroad Backpack –
If you'll be abroad for a semester or a year, pack a suitcase to leave in your new home and a backpack to use for weekend trips. In this article, we have put together a list of things you must consider while choosing the right study abroad backpack.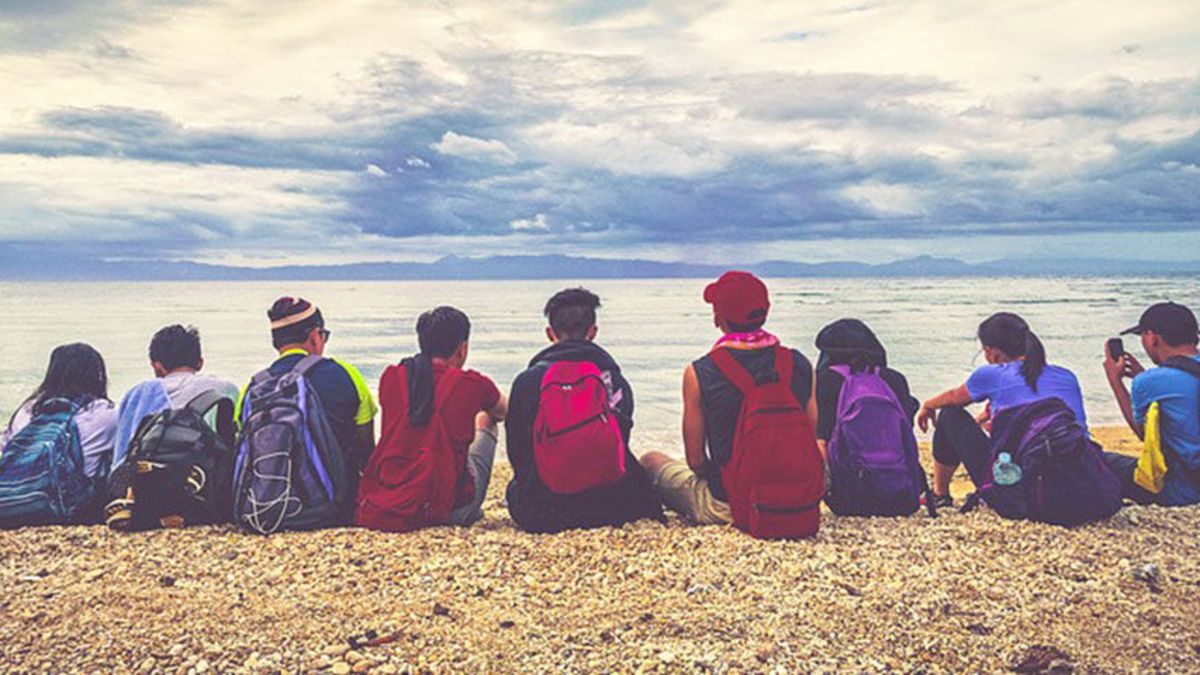 Studying abroad can be the ultimate experience for any student. Everything is new and exciting. There, you get to learn a completely different way of life, explore interesting places, and eat delicious food.
READ ALSO!!!
10 Useful Tips for Choosing the Right Study Abroad Backpack
Choosing the right study abroad backpack is also a very important nuance. Below are a couple of useful tips for when you want to choose the right study abroad backpack.
1. Get A Lockable Backpack
Safety is vital when you're out globetrotting, especially if you're a student traveling on a limited budget. You will often use crowded public transportation where the risk of theft is high.
Choose a backpack with lockable zippers for increased safety. While it doesn't guarantee that your things will be secure, it decreases the chances of someone finding their way into your bag and lifting your valuables.
A pickpocket or thief will have to spend more time trying to open your backpack, therefore, increasing their risk of getting caught.
This will make them think twice about stealing from you. They would rather leave you alone and not take the risk of being caught.
2. Choose a Backpack with a Safety Whistle
When you're traveling alone, you may navigate empty streets or unsafe areas. If this were to happen to you, having a backpack with a safety whistle could be a lifesaver.
Emergency whistles help you scare away potential attackers and signal others for help. Built-in whistles are a great feature for travel and hiking backpacks.
If you don't have one attached to your backpack, be sure to carry one in case of an emergency.
READ ALSO!!!
3. Get a Backpack with a Laptop Sleeve
Students often have to carry around their laptop for college work and other assignments. If you're a student who uses a laptop regularly, take it with you even when you're traveling.
For this reason, get a backpack that comes with a detachable laptop sleeve. A laptop sleeve is a pouch that safeguards your laptop from dust, dirt, and small blows.
A detachable laptop sleeve will also give you easy access to your laptop at airports.
If your backpack comes with such a sleeve, you also can eliminate the extra laptop bag from the list of things you have to carry.
4. Front-Loading Backpacks are the Best
If you think it doesn't matter how your backpack opens, you've not used one that opens from the front. Packing and unpacking can be a real headache with backpacks that load from the top.
In contrast, front-loading backpacks are super convenient and easy to use. You can simply lay them down and open them like a suitcase.
They are easy to pack and unpack and allow you to place your things neatly in layers. The best thing is that you don't have to dig through the entire bag to reach items at the bottom.
5. Choose an External Frame Backpack or Internal Frame Backpack
Internal frame backpacks are travel backpacks that have one spacious internal compartment and a couple of zippered external compartments.
In contrast, external frame backpacks are backpacks with one standard-size internal compartment and several small external compartments.
They designed external frame backpacks to carry more weight and allow for better organization of your things, whereas internal frame backpacks are more stable and easier on your back.
6. Backpack Material Matters a Lot
The ideal travel backpack for a student should be made of top-quality materials that are lightweight, water-resistant and rip-resistant.
The material must dry fast in case you're caught in heavy rain. It should also come with a padded waist and chest strap (to keep the weight off your shoulders and lower back) a carry strap to convert the bag into a shoulder bag.
Many backpack companies also provide an additional rain cover to protect your bag in extremely wet weather.
7. Save Money with a Carry-On-Sized Backpack
The most important feature for your study abroad backpack is its size. Your bag should be carry-on-sized.
Exact measurements vary by airline, but 22 x 14 x 9 inches is the most common dimensions. Being small and light is helpful, but the real reason to travel carry-on-only is money.
Using a carry-on bag means you won't have to pay airline baggage fees on your flights to and from your host city.
If you're traveling a lot while abroad, you'll probably fly on budget airlines like Ryanair, EasyJet, or Jetstar. Budget airlines have strict rules about the size and weight of carry-on luggage.
Most airlines in the US and Europe allow carry-on luggage up to 22 pounds (10 kg). This limited weight allowance makes carrying a suitcase, which has heavy plastic wheels, nearly impossible.
Carrying a backpack will allow you to use your luggage's allowed weight for your clothes and electronics, not for plastic handles and wheels.
8. Choose a Backpack with a Water Bottle Pocket
Many travelers hesitate to drink water during their travels for fear of not finding a toilet when they need one. Although this is a legitimate fear, dehydration can cause more problems than you can imagine.
Even small levels of dehydration can cause fatigue and headaches. Keep yourself hydrated no matter what. Therefore, get a travel backpack with an external water bottle pocket.
In many countries, bottled water is pricey. To avoid spending money on overpriced bottled water, take your reusable water bottle and fill it at your hostel or Airbnb.
You will spend less and contributing to environmental protection at the same time.
9. Your Travel Backpack Must Conform To Airline Regulations
As a student, you may always have to travel on a tight budget, especially when traveling overseas. Carrying a backpack conforming to airline regulations means no baggage fees, no matter where you go.
Ideally, your travel backpack should be a carry-on to avoid checked baggage fees.Airline regulations regarding carry-on bag size may vary, but the most common dimensions are 22 x 14 x 9 inches.
Also, keep in mind that the weight of your backpack matters too! Most airlines have a carry-on bag weight restriction between 15 lbs. and 22lbs. If you carry more than that, they will ask you to remove some items from your bag or check it in.
If you want to comply with airline restrictions and carry all the essentials, you need buy a bag that is less than 2 kgs. If your bag is heavier than that, you may have to leave any essentials behind.
READ ALSO!!!
10. Remember To Try it Before You Buy it
We understand that the eagerness of traveling abroad can make you forget many important things. But don't forget to try your bag before you spend money buying it. There is no point in going for a backpack that is not comfortable.
An uncomfortable backpack can make your trip a nightmare. So, try on your bag in the store before buying it. Fill the bag with as many things as you can and walk around the store with it for a few minutes to see how you feel.
If you're shopping online, order well before your trip so that you can return it if it is not the right one for you.
In summary, if you're a traveling student, you know how important it is to have your things within arm's reach. The days of carrying around multiple bags are over.
Invest in a high-quality traveling student backpack to make your life easier, so you can focus more on the experiences and less on the travel.
Thank You for reading through. Please share with friends if you found this article interesting.
CSN Team.
Tags: best luggage for study abroad, best purses for study abroad, study abroad gadgets, study abroad luggage tips, study abroad must haves, things to take when studying abroad, tortuga travel backpack, travel backpack