– Interior Design School –
Interested in fine arts interior design? Here are a few degree programs, graduate programs, educational requirements options to begin a successful career in interior design. Read through!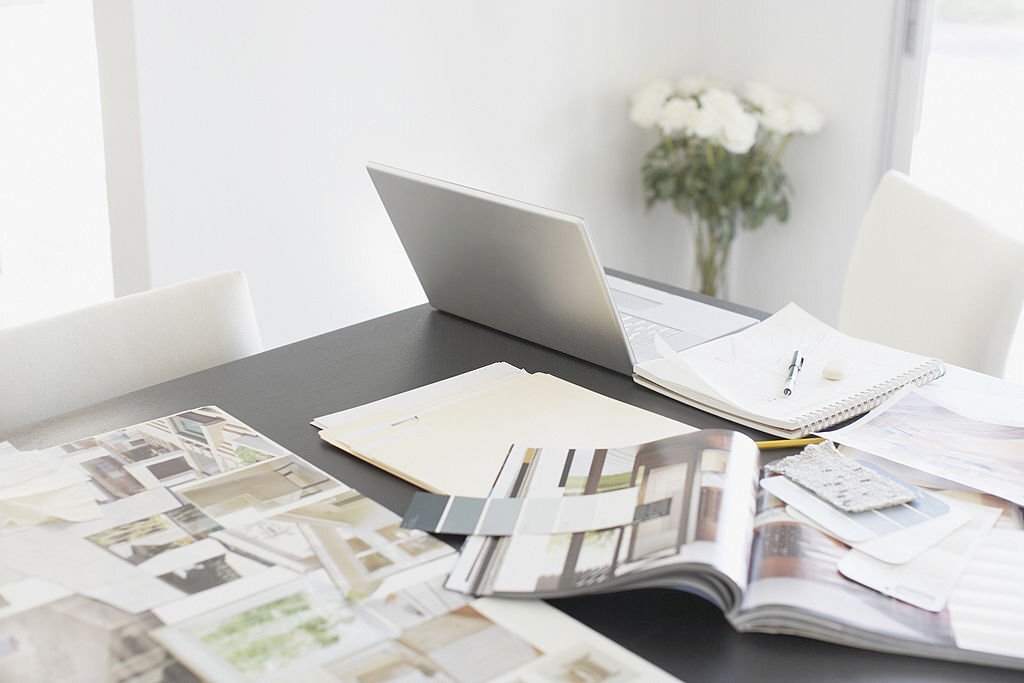 Interior design is the art and science of improving a building's interior to make it healthier and more visually pleasant for the people who use it. An interior designer is a professional who designs, studies, organizes, and oversees such improvements.
Conceptually, space planning, site inspections, programming, research, interacting with project stakeholders, construction management, and design execution are all part of the interior design process.
For an interior design career, there are prerequisites for all involving space planning and design theory. Let's begin.
How to Become an Interior Designer
It's simple to understand why being an interior designer is such a popular career option right now. Interior design is the ideal job to develop your creative muscle and artistic talent if you have a love for design and bringing out the beauty of a room. However, how does one go about becoming a professional interior designer?
It isn't as easy as waking up one day and choosing to pursue a career in interior design. No matter which path you follow to become an interior designer, you'll need some training or work experience, but whether you go the conventional way or option B or C, you can still pursue your ideal job.
In this article, we'll look at the several paths to become an interior designer. But first, let's establish a few points.
READ ALSO!!!
Who is an Interior Designer?
We know a person who works in architecture and interior design as an interior designer. The interior designer creates plans, does research, arranges projects, and supervises them.
They concentrate on space planning while also coming up with coherent and visually beautiful design concepts for homes and businesses.
As an interior designer, you have the option of focusing on a certain design sector, such as home interior design, commercial interior design, environmental design, and so on.
What Does an Interior Designer Do?
The job description and multitude of design components within the purview of an interior designer, including:
1. Understanding the client's demands as regards to budget, space and goal.
2. Creates sketches of designs while including factors such as number to utilize the space among others. 
3. Concludes and finishes on designs with computer software. 
4. Creates budgets for each project.
5. Sets duration for project for on and completion. 
6. Schedules meeting with client which may include inspection to ensure satisfaction. 
7. Outsources new clients and makes offers for projects.
Interior Design Schools
Let's get right into discussing interior design programs, interior design courses and entry level interior design degrees for a stable interior design career. 
Formal education is becoming more crucial in the interior design field as more states continue to mandate licensing for interior designers, which often comprises a mix of classroom instruction, professional experience, and passing a standardized test.
The Council for Interior Design Accreditation (CIDA), has recognized some of the schools on this list, showing that they have been found to meet the highest standards for interior design education—a designation that may help ensure that students are learning what the industry considers to be the fundamentals.
Below is a list of some notable interior design schools you can apply to.
1. Savannah College of Art and Design
They ranked Savannah College of Art and Design first on Design Intelligence's list of best interior design schools for the eighth time in 12 years in 2020.
In addition, in 2019, they placed SCAD second in the coveted Red Dot Design Rankings. Collaboration, creativity, critical thinking, effective communication, and professional ethics are all encouraged throughout the curriculum.
SCAD's programs, of course, go beyond the classroom. SCADstyle, a three-day event including industry-renowned designers, architects, and editors, takes place every year. In addition, SCADpro, the university's collaborative design studio, allows top students to get real-world experience.
Career preparation is also important; the program includes résumé and portfolio construction, practice interviews, and self-promotion. Students may also get a worldwide education at satellite campuses in Atlanta and LaTuitione, France.
Find other information below:
Location: Savannah
Degree offered: BFA, M.A., and MFA
CIDA accredited: Yes
Local opportunities: Yes. High-level internships in Atlanta and Savannah.
Tuition: $38,340
Job placement: 99% placement in design positions or enrollment in graduate school for interior design graduates
Notable alumni: Christian Sottile, Maruja Fuentes
Official Site: https://www.scad.edu/
2. The New School, Parsons School of Design
Parsons has long viewed interior design as an "intellectually rigorous creative force in daily life," having founded the first interior design program in the United States in 1906.
Materiality, art history, and design philosophy are all covered in class, as well as hand sketching, renderings, and three-dimensional modeling.
While Parsons offers a four-year BFA as well as graduate degrees in certain subjects, its two-year Associate of Applied Science in interior design is an excellent alternative for anybody who has already completed college.
Graduates will be well equipped to work in interior, lighting, set, event, and exhibition design, as well as historic preservation, regardless of the curriculum they pick.
Look below for other important information on this college interior.
Location: New York City
Degree offered: BFA
CIDA accredited: No
Local opportunities: Excessive. Students get access to important businesses and showrooms, museums, galleries, and auction houses because to Parsons' exceptional connections and location.
Tuition: $25,861
Job placement: 87% employment for Parsons School of Design graduates at large within the first year after graduation.
Notable alumni: Victoria Hagan, Jamie Drake, Mario Buatta, Albert Hadley, Angelo Donghia, Bob Williams.
Official Website: https://www.newschool.edu/parsons/
READ ALSO!!!
3. Cornell University
Interior design is offered at Cornell via the Design and Environmental Analysis program, which is part of the Human Centered Design Department in the College of Human Ecology.
The STEM-certified program has a flexible curriculum that encourages students to finish basic courses before concentrating on electives that help them achieve their educational objectives.
Design theory and innovation, sustainable futures, and health and well-being are the three core research issues that these specialties are grouped around.
Tools and procedures prevalent in the humanities, social sciences, and physical sciences are included into each program in the Human Centered Design Department, providing a comprehensive and academic approach to design.
Students may also pursue a minor, an honors thesis, or off-campus study in addition to their selected field of study. The D+EA program has instructors from a variety of fields and places a strong emphasis on innovation.
Program: Design and Environmental Analysis
Location: Ithaca, New York
Degree offered: B.S.
CIDA accredited: Yes
Local opportunities: A few. Several students seek off-campus studies or summer internships in New York City, Washington, D.C., or overseas.
Tuition: $39,466. New York state residents are eligible for the in-state fee since the College of Human Ecology is a state contract college within the university.
Job placement: By December of that year, all of the program's Spring 2021 graduates had found work.
Notable alumni: Art Gensler, Richard Meier
Official Website: https://www.cornell.edu/
4. New York School of Interior Design
NYSID creates adept critical thinkers who can look at design through social, cultural, and historical perspectives, thanks to its extensive interior design curriculum and liberal arts concentration.
Students gain strong communication skills and technical competency while learning about presentation as well as corporate, legal, and administrative requirements.
The NYSID program also meets the educational standards for industry membership and prepares students for the National Council for Interior Design Qualification Examination. Another reason why NYSID is regarded as one of the greatest interior design schools in the country? It has a wide range of programs.
While the school's Bachelor of Fine Arts or Associate in Applied Science programs provide many options for completing an interior design degree, the one-year Basic Interior Design Certificate Program is a quick way to learn the basics.
NYSID alumni are well prepared for the actual world of interior design, with obligatory internships, study-abroad programs, and more than 100 faculty members who are professional designers (at companies like Gensler, HOK, and Perkins+Will).
Location: New York City
Degree offered: AAS, BFA
CIDA accredited: Yes
Local opportunities: Several. Internships and professional networking are simple to come by because to NYSID's broad network of contacts.
Tuition: $1,095 Tuition per credit
Job placement: Within 12 months after graduation, 95 percent of undergraduates, 98 percent of grads, and 100 percent of MFA graduates found work.
5. Syracuse University
Syracuse's Environmental and Interior Design Program (EDI), named one of the "Most Admired Interior Design Schools" by DesignIntelligence, encourages students to become creative problem solvers by challenging the status quo, understanding the various impacts of design, and embracing a keen sense of social responsibility.
In addition to a wide liberal arts education, the emphasis is on cross-disciplinary concepts and initiatives. Along with in-depth technical methodologies, Syracuse's interior design program offers visualization and communication abilities.
Students are encouraged to study abroad in London or Florence during their junior year, as well as undertake internships in Syracuse, New York City, and elsewhere.
Program: Environmental and Interior Design
Location: Syracuse, New York
Degree offered: BFA
CIDA accredited: Yes
Local opportunities: Yes, but students are encouraged to explore for possibilities outside of Syracuse as well.
Tuition: $55,920
Job placement: 86% employment for Syracuse graduates
Notable alumni: Thom Filicia, Ian Schrager, Sol Le Witt
Official Website: https://www.syracuse.edu/
6. Drexel University
Complex design studios are made possible by combining general education requirements with art, art history, and core interior design courses.
From then on, the course is driven forward by human experience, materials and form, and sustainability, teaching students how to take a responsible approach to the creative process.
Students will be well-prepared for their senior project, a three-quarter capstone that enables undergraduates to study a particular area of interest, by the time they graduate from the interior design program.
Experiential learning is very important here, and students participate in a professional co-op program during their junior year, when they work for six months at a business.
Drexel also promotes sustainable techniques as a natural part of modern design, and offers a minor in Sustainable Built Environment. There are programs in Sydney and Seoul, as well as a shorter, seven-week studio in Denmark, where you may study abroad.
Program: Interior Design (undergraduate); Interior Architecture and Design (graduate)
Location: Philadelphia
Degree offered: B.S., M.S.
CIDA accredited: Yes
Local opportunities: Yes. Internships are recommended for undergraduate students who must complete a six-month professional co-op job experience.
Tuition: $17,956–$18,405 (plus $790 per-term fee) for undergraduates; $1,088 per credit hour for graduate students (plus $140–$280 fee)
Job placement: 91% of undergraduate students in 2019; 93% of graduate students
Notable alumni: Douglas Ellington, Maxfield Parrish.
Official Website: https://drexel.edu/
7. Fashion Institute of Technology
The Fashion Institute of Technology, as one of the greatest interior design colleges, has a proven track record of producing creative people who go on to become successful businesses and artists.
The charm of its interior design degree comes in its transdisciplinary studies and hands-on projects that emphasize practical skills and environmental requirements.
The program, which is the biggest of its type in New York City, focuses on helping students develop expertise in the newest technology, business, and presentation skills, as well as a solid foundation in the liberal arts.
Students will get a deep grasp of lighting, computer modeling, and materials in addition to mastering the principles of design history and philosophy.
The Fashion Institute of Technology, on the other hand, provides a two-year AAS degree that prepares students for entry-level positions in the sector.
Program: Interior Design
Location: New York City
Degree offered: AAS,  BFA
CIDA accredited: Yes
Local opportunities: Yes. Students at prominent companies like Gensler and Rockwell Group have several opportunities to collaborate with and network with high-profile designers and architects.
Tuition: $10,846 out-of-state; $3,585 in-state
Job placement: 68% for school-wide associate degrees, 88% for school-wide bachelor's degrees.
Notable alumni: Kathryn Gustafson, Cathy Hobbs, Jhane Barnes, Calvin Klein.
Official Website: https://www.fitnyc.edu/
READ ALSO!!!
8. University of Cincinnati
The School of Architecture and Interior Design at the University of Cincinnati roots students in academics while preparing them for the ever-changing requirements of professional life with a curriculum centered on problem-solving, formal design abilities, and historical and technical knowledge.
This five-year program is related to the university's College of Design, Architecture, Art, and Planning (DAAP), with the first three semesters sharing a shared curriculum.
Students will then be assigned to a variety of projects, ranging from residential and commercial to cultural and health facilities including hospitals, theaters, and places of worship.
Though the interior design program at the university provides a thorough curriculum, it also includes a co-op program and an optional portfolio assessment during the admission process.
Program: School of Architecture and Interior Design
Location: Cincinnati, Ohio
Degree offered: B.S.
CIDA accredited: Yes
Local opportunities: Yes, there are some. The city has a wide range of cultural resources as well as job prospects. Co-ops are set up with companies all around the globe.
Tuition: $13,855 out-of-state; $7,984 in-state per term
Job placement: 80% employment for School of Architecture and Interior Design graduates
Notable alumni: Michael Graves, Eva Maddox.
Official Website: https://www.uc.edu/
9. Rhode Island School of Design
At its foundation, RISD's interior design program provides a distinct perspective on the profession, sparking a discourse about architecture, communication, and design. Unlike other interior design schools, RISD's curriculum emphasizes the overall design of buildings rather than the application of materials.
Professor Liliane Wong, for example, combines her interest in affordable housing into her lectures, demonstrating that excellent design is for everyone, not just for those who can afford it.
Program: Interior Architecture
Location: Providence, Rhode Island
Degree offered: BFA, M.A., MDes
CIDA accredited: No
Local opportunities: A few. Internship possibilities aren't far away in Providence, which has easy access to both New York City and Boston, as well as a vibrant arts scene and culture.
Tuition: $55,220
Job placement: 99% employment (including full-time, part-time, and freelance employment or internships) for RISD graduates at large
Notable alumni: Nader Tehrani, Michael Maltzan.
Official Website: https://www.risd.edu/
10. Pratt Institute
Pratt is generally regarded as one of the greatest interior design schools in the nation, having established one of the country's earliest interior design programs.
The School of Design's architecturally oriented programs stress spatial design and surface ornamentation while always keeping the human inhabitants in mind.
In their sophomore year, BFA students begin studio programs that emphasize cooperation in a competitive atmosphere after completing their first-year Foundation courses.
During the spring semester of junior year, students may study at the Danish International School. The curriculum, which is located in Copenhagen, includes intensive research visits around Scandinavia.
The department prepares students for entrance into the industry, higher study, professional organizations, and the National Council for Interior Design Qualification (NCIDQ) test while adhering to a strong commitment to social and environmental responsibility and professional ethics.
During the last year of study, both BFA and MFA degrees need a thesis project.
Program: Interior Design
Location: Brooklyn, New York
Degree offered: BFA, MFA
CIDA accredited: Yes
Local opportunities: Yes. Because of Pratt's proximity in New York, students have many of opportunities to intern in top-tier professional companies and showrooms.
Tuition: $51,754
Job placement: 94% of survey respondents were employed within a year of graduating, while six percent were accepted into a graduate program.
Notable alumni: Annabelle Selldorf, Peter Zumthor
Official Website: https://www.pratt.edu/
Frequently Asked Questions
1. What Is Your Review of Pratt Institute?
Ans: "As far as college campuses go in NYC, Pratt's historic Brooklyn campus is second only to Columbia's. It's one of the main reasons I decided to attend Pratt. I had visited other colleges around the country including RISD, ASU, NAU, Caltech, Parsons, and SVA and none of their campuses compared to Pratt's beautiful, tree lined campus.

Pratt is safe, vibrant, and nestled in the very fun and energetic neighborhood of Clinton Hill. It's also very conveniently located within a short walking distance to the subway system that will take you to Manhattan in 10 minutes.

Pratt also offers safe student parking. And the new Citi Bicycle sharing program just opened a few hubs nearby so you can hop on a bike and explore the neighborhood."
2. Can Arts Students Go for Interior Design?
Ans: "Hey, Yes Arts stream students can pursue Bachelors in Interior Design. 12th Pass is minimum criteria for taking admission to design courses. Courses like Design, you should always look for a 4yrs Professional Degree B.DESIGN.

IILM School of Design & Fashion, IILM University gives you a UGC recognized degree in interior design. (B.DESIGN, 4yrs). IILM University also gives you the liberty to choose Minor courses with your major (Interior) degree which helps you to make your skill more versatile."
3. Does Interior Design Fall Under Architecture?
Ans: "It is a different, though related discipline. It is more like architecture than the engineering disciplines since it is more heavily design focused. In a sense all the building disciplines fall under architecture since it is the architect's job to coordinate all the others to make a coherent whole. In another sense they are all distinct disciplines and usually different firms."
Interior Designer FAQs
4. What Problem Are You Solving as An Interior Decorator?
Ans:"Some people live busy and hectic lives and they want someone else to handle the details for them. They like the idea of one stop shopping, where you listen to their needs or goals, and then translate that into an idea that works for them. They may want you to take care of all of the implementation of their job, so you will need to oversee sub-contractors for various components."
5. Does College Matter in Interior Designing and Why?
Ans: "Typically, interior decorators do not have a degree in interior design. However, to become a member of any interior design professional organization, you must have a college or university degree, work experience in the field, and must pass a rigorous examination (the NCIDQ).

Professional members of ASID must also attend regular learning sessions to maintain and update knowledge of new trends and building codes."
Other FAQs on Best Art Schools in the World
6. What Is the Best Interior Design Masters in USA?
Ans: "First, I think schools in Italy are the ones that have the most prestigious curricula. Maybe they are beginning to be the not-most-trendy schools now, but they're very classy and their range from industrial to interior design is very well covered.

So you're going to get a lot of fundamental aspects about interior design.England it's, I think, more plain. Just Ok. They have very good schools of architecture (AA or Bartlett) but I'm not sure how good they are at interior design.

The more experimental aspect of the schools of the Netherlands is preferred. I think Holland has the most avant-garde schools of design in the world. I don't want to study a master in design, but if I have to, I would definitely go to the Netherlands.

Any school.RISD looks like a good option too. I think they focus a lot on innovation and multidisciplinary. Have you considered Parson's or Saint Martin? I think these two are at the level of RISD."
FAQs on Interior Design Course
7. What Courses Should a Person Interested in Interior Design Take?
Ans: "Space Planning would be one of the first classes for a designer followed by a materials class that taught what materials could/should be used for different applications and why.
Anybody entering a design field should already have some idea of relationships of color and shape but a basic art class is a good idea to hone what you already have.

A lighting design class would be a definite advantage because it can make all the difference in the world for a basic design. And, kitchen and bath design is a "meat and potatoes" course for any designer as it's sometimes the "foot in the door" for additional design projects later.

An important course to actually produce something your client can relate to would be the software courses like AutoCAD or Revit which give you something tangible to show your ideas before installation.

It would not be a bad idea to have more than one software to work with. Also get acquainted with a drawing board for those times an electronic device is not available. Your drafting skills are your tools of communication.

There are obviously many more courses that are important to add to your skill set but these are, in my estimation, vital.
We believe this article has provided you with basic information to guide your college selection. Do well to share this with your other interior design college aspirants while we prepare to bring quality updates to your screen.
Best Regards!
CSN Team.