– Charles Spurgeon Quotes –
Inspiration, motivation comes from varying sources. One is from the experiences and wisdom from other people's lives. Get ready as we bring to you Charles Spurgeon quotes about Prayer and Jesus.
Who is Charles Spurgeon?
Charles Haddon Spurgeon (1834-1892) was a highly influential preacher who preached in the Metropolitan Tabernacle in London, where he delivered vibrant and compelling lectures.
He began preaching at sixteen and became a pastor two years later at eighteen, giving over 600 sermons by the time he was twenty.
His sermons and writings are for their succinct and eloquent presentations of biblical truth. Spurgeon preached to nearly 10,000,000 people before his death, according to estimates.
Here are some of the Charles Spurgeon quotes separated by topics.
Charles Spurgeon Quotes on Prayer
Below are a part of the 120 Charles Spurgeon Quotes about Prayer and Jesus. These are quotes on prayers and the power of prayers:
1. It is not great talents God blesses so much as likeness to Jesus.
2. His mercy is so great that it forgives great sins to great sinners after great lengths of time and then gives great favors and great privileges and raises us up to great enjoyments in the great heaven of the great God!
3. If Christ is not all to you He is nothing to you. He will never go into partnership as a part Saviour of men. If He be something He must be everything, and if He be not everything He is nothing to you.
4. Remember that the Lord Jesus came to take away sin in three ways; He came to remove the penalty of sin, the power of sin, and, at last, the presence of sin.
5. It was the mighty power of the Holy Spirit dwelling in Him by which Jesus overcame the world–and that same quiet power, if it dwells in us, will make us win the same victory by faith.
6. He bequeaths us His manger, from which to learn how God came down to man, and His cross to teach us how man may go up to God.
7. No one is so miserable as the poor person who maintains the appearance of wealth.
8. I must take care above all that I cultivate communion with Christ, for though that can never be the basis of my peace – mark that – yet it will be the channel of it.
9. God is so boundlessly pleased with Jesus that in him he is altogether well pleased with us.
10. A daily portion is really all we need. We do not need tomorrow's supply, for that day has not yet dawned, and its needs are still unborn.
11. With groanings which cannot be uttered are often prayers which cannot be refused.
12. If we empty our hearts of self God will fill them with His love. 
13. We should shun ingratitude, and live daily in the heavenly atmosphere of thankful love.
READ ALSO!!!
Quotes About God's Grace
Here are Charles Spurgeon quotes about prayer and Jesus:
14. If left to ourselves, the road to hell would be as naturally our choice as for a piece of inanimate matter to roll downwards, instead of assisting itself upwards.
15. If God requires of the sinner, dead in sin, that he should take the first step, then he requires just that which renders salvation as impossible under the gospel as it was under the law, since man is as unable to believe as he is to obey.
16. Who is to have authority in the matter of gracious adoption? The children of wrath? Surely not; and yet all men are such! No, it stands to reason, to common sense, that none but the parent can have the discretion to adopt.
17. It always seems inexplicable to me that those who claim free will so very boldly for man should not also allow some free will to God. Why should not Jesus Christ have the right to choose his own bride?
18. I can never cease to wonder that God has elected me.
19. From the Word of God I gather that damnation is all of man, from top to bottom, and salvation is all of grace, from first to last. He that perishes chooses to perish; but he that is saved is saved because God has chosen to save him.
20. Whatever may be said about the doctrine of election, it is written in the Word of God as with an iron pen, and there is no getting rid of it.
21. How is it that some of us are converted, while our companions in sin are left to persevere in their godless career? Was there anything good in us that moved the heart of God to save us? God forbid that we should indulge the blasphemous thought!
Spurgeon Quotes
Some more Charles Spurgeon quotes on God's grace:
22. The pith, the essence of faith, lies in this—a casting oneself on the promise.
23. RWhen Jesus spoke again to the people, he said, "I am the light of the world. Whoever follows me will never walk in darkness, but will have the light of life."
24. There is no sin that shall damn the man who believes, and nothing can save the man who will not believe.
25. You believe in God for your soul, believe in him about your property. Believe in God about your sick wife or your dying child. Believe in God about your losses and bad debts and declining business.
26. Faith of itself could not contribute a penny to salvation, but it is the purse which holds a precious Christ within itself. It holds all the treasures of divine love.
27. Get to Christ somehow, anyhow, for if you get to him you shall live. It is not the greatness nor the perfection of your faith; it is his greatness and his perfection which is to be depended on.
28. Faith is the surest of all sin-killers.
29. I would recommend you either believe God up to the hilt, or else not to believe at all. Believe this book of God, every letter of it, or else reject it.
30. If all my senses were to contradict God, I would deny every one of them and sooner believe myself to be out of my right mind than believe that God could lie.
Quotes on Jesus
Below Charles Spurgeon Quotes about Jesus:
31. Nothing teaches us about the preciousness of the Creator as much as when we learn the emptiness of everything else.
32. Have your heart right with Christ, and he will visit you often, and so turn weekdays into Sundays, meals into sacraments, homes into temples, and earth into heaven.
33. God helps those who cannot help themselves.
34. A Jesus who never wept could never wipe away my tears.
35. You will never glory in God till first of all God has killed your glorying in yourself.
36. To rejoice in temporal comforts is dangerous, to rejoice in self is foolish, to rejoice in sin is fatal, but to rejoice in God is heavenly.
37. When your will is God's will, you will have your will.
38. O child of God, be more careful to keep the way of the Lord, more concentrated in heart in seeking His glory, and you will see the loving-kindness and the tender mercy of the Lord in your life.
39. As for His failing you, never dream of it — hate the thought of it. The God who has been sufficient until now, should be hand we must trust to the end.
Thoughts and Prayers Quotes
40. The greatest joy of a Christian is to give joy to Christ.
41. A daily portion is really all we need. We do not need tomorrow's supply, for that day has not yet dawned, and its needs are still unborn.
42. A Bible that's falling apart usually belongs to someone who isn't. Nobody ever outgrows Scripture; the book widens and deepens with our years.
43. I would not give a penny for your love to the truth if it is not accompanied with a hearty hatred of error.
44. To pursue union at the expense of truth is treason to the Lord Jesus.
Holy Spirit Quotes
Below are some Charles Spurgeon quotes about the Holy Spirit:
45. A sinner can no more repent and believe without the Holy Spirit's aid than he can create a world.
46. A church in the land without the Spirit is rather a curse than a blessing. If you have not the Spirit of God, Christian worker, remember that you stand in somebody else's way; you are a fruitless tree standing where a fruitful tree might grow.
47. Let this be to you the mark of true gospel preaching – where Christ is everything, and the creature is nothing; where it is salvation all of grace, through the work of the Holy Spirit applying to the soul the precious blood of Jesus.
48. Fill the earth with your songs of gratitude.
49. May we do good everywhere as we have opportunity, and results will not be wanting!
50. Without the Spirit of God, we can do nothing. We are as ships without wind. We are useless.
51. Oh, without prayer what are the church's agencies, but the stretching out of a dead man's arm, or the lifting up of the lid of a blind man's eye? Only when the Holy Spirit comes is there any life and force and power.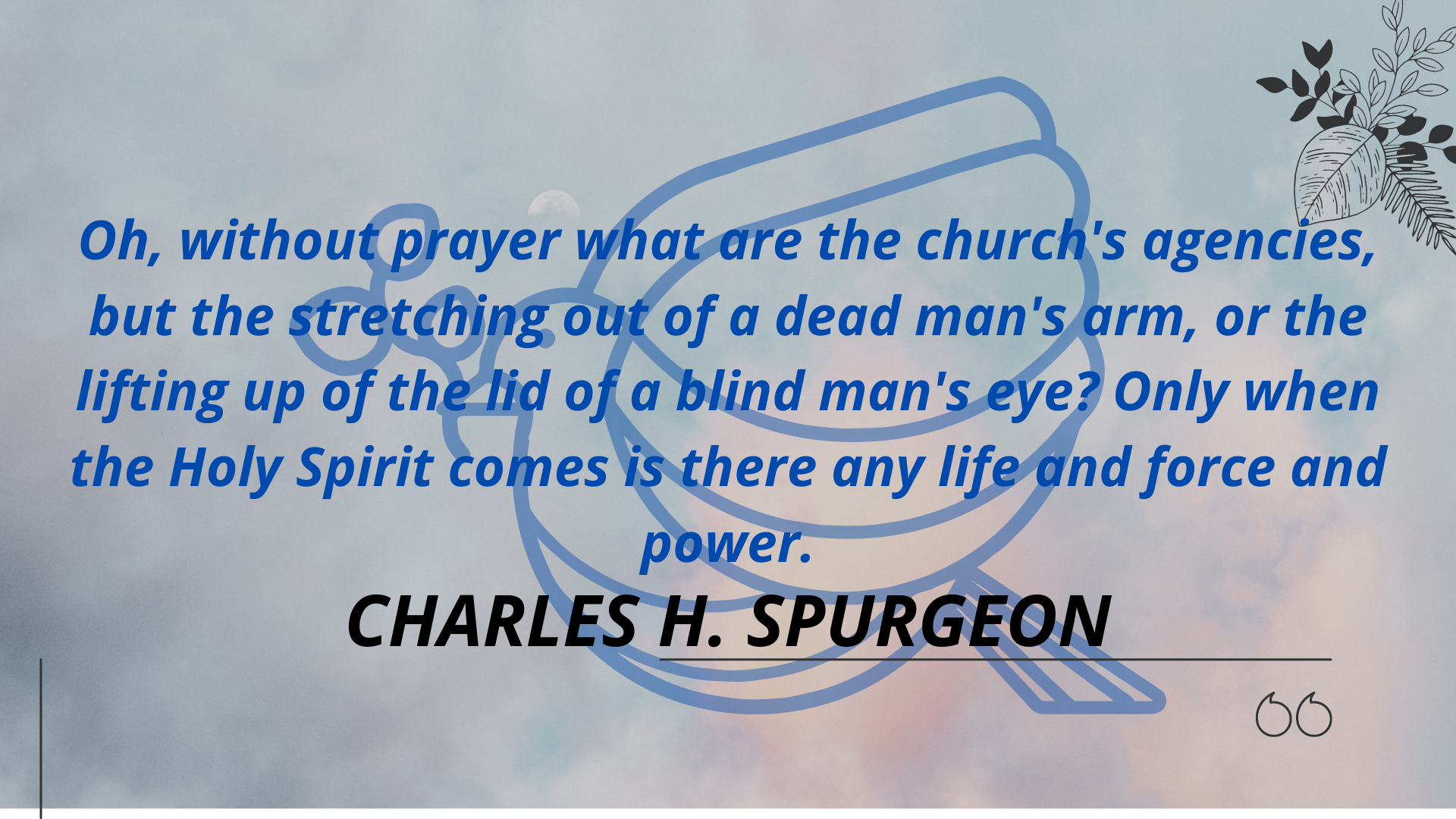 52. Lord sanctify us. Oh! That Thy spirit might come and saturate every faculty, subdue every passion, and use every power of our nature for obedience to God.
53. O, Thou precious Lord Jesus Christ, we do adore Thee with all our hearts. Thou art Lord of all, Jesus Christ.
54. Sincerity makes the very least person to be of more value than the most talented hypocrite.
55. It seems odd, that certain men who talk so much of what the Holy Spirit reveals to themselves, should think so little of what he has revealed to others.
56. The work of God's Holy Spirit begins with bruising. In order to be saved, the fallow ground must be plowed up, the hard heart must be broken, the rock must be split apart.
57. Repentance is the inseparable companion of faith.
58. The Holy Spirit can cast out the evil spirit of the fear of man. He can make the coward brave.
59. When the Spirit of God goes with the Word, then the Word becomes the instrument of the conversion of the souls of men.
READ ALSO!!!
Serving God Quotes
These are Charles Spurgeon quotes about serving God and commitment. See them below:
60. O Christian people, be holy, for Christ is holy. Do not pollute that holy Name wherewith you are named. Let your family life, your personal life, your business life, be as holy as Christ your Lord would have it to be. Shall saints be shams when sinners are so real?
61. Repentance and desires after holiness never can be separated.
62. Stale godliness is ungodliness. Let our religion be as warm, and constant, and natural as the flow of the blood in our veins. A living God must be served in a living way.
63. I glory in the distinguishing grace of God and will not, by the grace of God, step one inch from my principles or think of adhering to the present fashionable sort of religion.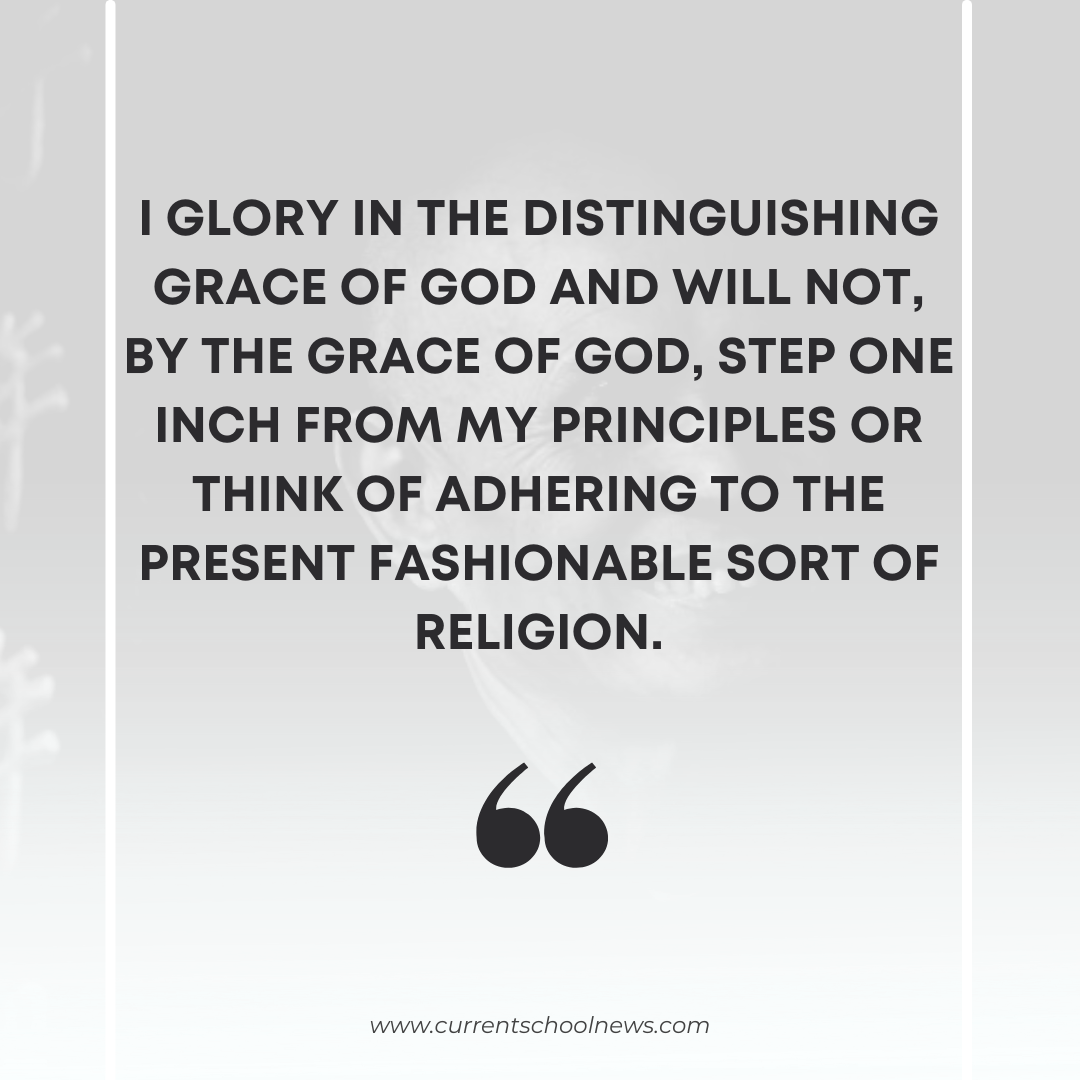 God is So Good Quotes
64. Love for God is obedience; love for God is holiness. To love God and to love man is to be conformed to the image of Christ, and this is salvation.
65. There is no repentance where a man can talk lightly of sin, much less where he can speak tenderly and lovingly of it.
66. The nearer a man lives to God, the more intensely has he to mourn over his own evil heart.
67. Repentance grows as faith grows. Do not make any mistake about it.
Positive Quotes for Christians
Below are some of Charles Spurgeon quotes on Christianity and positivity:
68. There are times when solitude is better than society, and silence is wiser than speech. We should be better Christians if we were more alone, waiting upon God, and gathering through meditation on His Word spiritual strength for labour in his service.
69. Our anxiety does not empty tomorrow of its sorrows, but only empties today of its strengths.
70. Hope itself is like a star- not to be seen in the sunshine of prosperity, and only to be discovered in the night of adversity.
71. If sinners be damned, at least let them leap to Hell over our dead bodies. And if they perish, let them perish with our arms wrapped about their knees, imploring them to stay.
72. When your will is God's will, you will have your will. 
73. ABible that's falling apart usually belongs to someone who isn't.
Jesus Inspirational Quotes
Charles Spurgeon quotes on Jesus inspiration:
74. It is well to preach as I do, with my lips. But you can all preach with your feet and by your lives, and that is the most effective preaching.
75. It is a fine thing, when you are slandered, not to hear it. And it is a better thing to never reply to it.
76. When the Creator gives His creature the power of thirst, it is because water exists to meet its thirst. When He creates hunger, there is food to correspond to the appetite.
77. None have been more ready to pray in time of trouble than those who have ridiculed prayer in their prosperity.
78. God can work miracles, and He may work them yet again as He has done in times long past.
79. If faith asks, it will receive; if hope seeks, it will find; and if love knocks, the door will be opened to it.
80. Let your conversation be in heaven. Set not your affection on things on the earth, but set it upon things above, where Christ sitteth at the right hand of God.
81. We will give way no more to doubts and fears, but we will say to one another, "He is risen indeed: therefore let our hearts be glad."
82. Why is heaven called a city? Because it is a place of fellowship where men meet one another!
83. Blessed is that man who has done with chance, who never speaks of luck, but believes that from the least even to the greatest, all things are ordained of the Lord.
84. When one knows that his times are in God's hands, he would not change places with a king! No, nor even with an angel!
85. Living animals are too eccentric in their movements, and the law of gravitation usually draws me from my seat upon them to a lower level; therefore, I am not an inveterate lover of horseback
READ ALSO!!!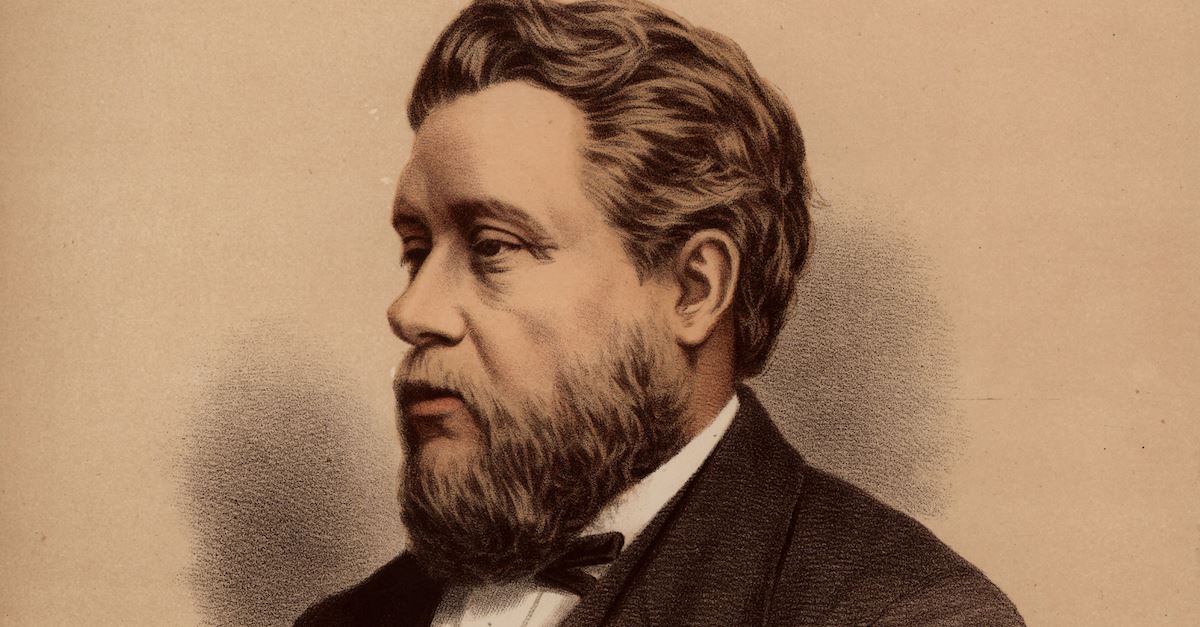 Fake Christians Quotes
Charles Spurgeon Quotes about fake Christianity:
86. I do not preach doubtingly, for I do not live doubtingly.
87. Far better for a man that he had never been born than that he should degrade a pulpit into a show box to exhibit himself in.
88. Ministers should be stars to give light if the church, not clouds to obscure. In some cases the text is as clear as a mirror, till the preacher's breath bedims it.
89. When He inclines men to pray, it is because prayer has a corresponding blessing connected with it.
90. You would never have known God's strength had His strength not been needed to carry you through.
91. If you think you can never honor Christ till you enter a pulpit, it may be just possible that you will afterwards honor him best by getting out of it as quickly as you can.
92. The motto of all true servants of God must be, 'We preach Christ; and him crucified.' A sermon without Christ in it is like a loaf of bread without any flour in it. No Christ in your sermon, sir? Then go home, and never preach again until you have something worth preaching.
93. It is not how much we have, but how much we enjoy, that makes happiness.
94. A good character is the best tombstone. Those who loved you and were helped by you will remember you when forget-me-nots have withered. Carve your name on hearts, not on marble.
95. Friendship is one of the sweetest joys of life. Many might have failed beneath the bitterness of their trial had they not found a friend.
96. You say, 'If I had a little more, I should be very satisfied.' You make a mistake. If you are not content with what you have, you would not be satisfied if it were doubled.
97. Wisdom is the right use of knowledge. To know is not to be wise. Many men know a great deal, and are all the greater fools for it. There is no fool so great a fool as a knowing fool. But to know how to use knowledge is to have wisdom.
98. A little faith will bring your soul to heaven; a great faith will bring heaven to your soul.
Power of Prayer Quotes
Below are some of Charles Spurgeon quotes on the power of prayers:
99. All our perils are nothing, so long as we have prayer.
100. My own soul's conviction is that prayer is the grandest power in the entire universe, that it has a more omnipotent force than electricity, attraction, gravitation.
101. There is no secret of my heart which I would not pour into [the Lord's] ear. There is no wish others, might deem that foolish or ambitious which I would not communicate to him.
102. If there be anything I know, anything that I am quite assured of beyond all question, it is that praying breath is never spent in vain.
103. The more we pray, the more we shall want to pray. The more we pray, the more we can pray. The more we pray, the more we shall pray
104. Prayer is a creature's strength, his very breathe and being.
105. To pray is to enter the treasure-house of God and to gather riches out of an inexhaustible storehouse.
106. Prayer is the best response to hatred.
107. It is well said that neglected prayer is the birth-place of all evil.
108. No man can progress in grace if he forsakes prayer.
109. If you could pray the best prayer in the world without the Holy Spirit, God would have nothing to do with it. But if your prayer be broken and lame and limping, if the Spirit made it, God will look upon it and say, as he did upon the works of creation, "It is very good."
Gospel Quotes
Here are some Charles Spurgeon quotes on gospel:
110. We are not responsible to God for the soul that are saved, but we are responsible for the Gospel that is preached, and for the way in which we preach it."
111. You say, 'If I had a little more, I should be very satisfied.' You make a mistake. If you are not content with what you have, you would not be satisfied if it were doubled.
112. It is not how much we have, but how much we enjoy, that makes happiness.
113. Christians can never sin cheaply; they pay a heavy price for iniquity. Transgression destroys peace of mind, obscures fellowship with Jesus, hinders prayer, brings darkness over the soul; therefore be not the serf and bondman of sin.
114. God is too good to be unkind and He is too wise to be mistaken. And when we cannot trace His hand, we must trust His heart.
115. I would go to the deeps a hundred times to cheer a downcast spirit. It is good for me to have been afflicted, that I might know how to speak a word in season to one that is weary.
116. Nobody ever outgrows Scripture; the book widens and deepens with our years.
117. No faith is so precious as that which lives and triumphs through adversity. Tested faith brings experience. You would never have believed your own weakness had you not needed to pass through trials. 
118. Anxiety does not empty tomorrow of its sorrow, but only empties today of its strength.
119. We have all things and abound; not because I have a good store of money in the bank, not because I have skill and wit with which to win my bread, but because the Lord is my shepherd.
120. The doctrine of the atonement is to my mind one of the surest proofs of the divine inspiration of Holy Scripture. Who would or could have thought of the just Ruler dying for the unjust rebel?
Motivation comes from varying sources. One is from the works and wisdom of others. I trust we've been able to bring motivation and enjoyed reading to you from the 120 Charles Spurgeon quotes about prayer and Jesus.
If so, do well to share with others, so they can as well get inspired.
CSN Team.
Tags: 120 Charles Spurgeon Quotes about Prayer and Jesus, charles spurgeon, charles spurgeon quotes, christian positive quotes, expectations are the thief of joy, fake christian quotes, god is so good quotes, holy spirit quotes, prayer quote, quotes about god's grace, quotes about prayer, quotes on jesus, serving god quotes, thoughts and prayers quotes, who is charles spurgeon