– Harry Potter Games – 
It's 'Riddikulus' how the evil Lord Voldermort had survived through seasons of 'Expelliarmus' in Harry Potter and the Philosopher's Stone to the killing curse-'Avada Kedavra' in Harry Potter and the Deathly Hallows.
This list of Harry Potter games is a second chance to put an end to the evil author J. K. Rowling created and failed to dismiss.
The Harry Potter series has been going strong since the publication of Harry Potter and the Sorcerer's Stone in 1997.
The first book is known as Harry Potter and the Philosopher's Stone in the United Kingdom, where J.K. Rowling, the author of Harry Potter, lives. The main series consists of seven volumes in all.
These were published over the course of ten years, culminating with Harry Potter and the Deathly Hallows in 2007. Since then, there has been a plethora of additional media based on the wizarding world.
This includes the play Harry Potter and the Cursed Child and the spin-off book and movie series Fantastic Beasts and Where to Find Them, all of which were written by J.K. Rowling herself.
Harry Potter fans have witnessed the debut of two mobile games since this list was first published, and are eagerly anticipating the release of Hogwarts Legacy, an action role-playing game set in the late 1800s that will be released next year.
Here's our revised ranking of the top Harry Potter games, along with our judgment on where to play Harry Potter games.
Whether they're as fulfilling as winning a Quidditch match, after more than a decade of game releases with new and exciting possibilities on the horizon.
So ABRACADABRA!!
1. Harry Potter and the Order of the Phoenix
Niantic, the company behind Pokémon Go, has released Harry Potter: Wizards Unite, an augmented reality smartphone game. Foundables (artifacts, animals, people, and memories from the wizarding world) have started to emerge in the Muggle world, according to the concept.
Many mechanics will put players in the position of a special agent in the new Ministry of Magic Secrecy Task Force, where your mission will be to locate lost objects and eliminate threats to the wizarding world's secrecy.
However, before you can preserve the secret of the wizarding world, you must first establish your own identity as a witch or wizard and learn the ropes. In order to find Foundables, the game provides traces of magic to follow.
The Knight Bus was included as a mechanism to engage in challenges regardless of the player's location, awarding them bonus XP, in a 2020 update.
This remote participation element expands how to play the old harry potter pc games potential to deliver a pleasurable experience even when you are unable to leave the house.
2. Harry Potter Spells & Puzzles
This smartphone game may not seem to be the most interesting of the Harry Potter games, but the Match-3 style provides a good diversion and alternative to more difficult games with stunning visuals.
Zynga, a company that specializes in Match-3 games, produced Harry Potter: Puzzles & Spells. The developer's skill is a big reason why the game is so fun to play, particularly in short spurts.
This is the game for you if you simply want a fast puzzle game in familiar surroundings.
As you play, you'll unlock various movie scenes and follow the nostalgic plot by'swiping and flicking' across your mobile screen to create matches. This Harry Potter-themed Match-3 game will appeal to fans of the genre.
READ ALSO!!!
3. LEGO bricks from the Harry Potter Games franchise (Years 1 – 4)
Years 1-4 of the Harry Potter series in Lego form choose a spell for Madam Pomfrey Hospital Wing in the Madam Pomfrey Hospital Wing game. courtesy of Games Republic
Harry Potter and Lego are included in this multi-platform action adventure game from 2010. The game's story spans the first four volumes in the Harry Potter series, from The Sorcerer's Stone to The Goblet of Fire.
The greatest thing is that it includes all of your favorite characters as Lego figurines, as well as the complete wizarding universe from Harry's first four years at Hogwarts.
Lego Harry Potter, like other Lego video games, focuses on collecting, exploring, and solving puzzles. The nature of the game is well suited to the plot of the books.
You'll be able to perform spells, concoct potions, and assist other Hogwarts students in a variety of scenarios.
Everything in this game is seamless, and the level of detail is incredible. There are several wonderful details, like the use of Diagon Alley as a gaming center.
Hagrid nursing a Unicorn back to health with bed rest and a thermometer, or driving over Ron in a magical pumpkin, are both hilarious events in the game.
Overall, it's a fantastic blend of wizarding nostalgia, clever allusions, and ridiculous LEGO fun.
4. Lego Harry Potter (Years 5 – 7) 
Lego Harry Potter Years 1-4: The Sequel is equally as comprehensive and well-thought-out as its predecessor. The action-adventure game returns with the same subject as previously, covering the last three novels in the Harry Potter series, from The Order of the Phoenix to The Deathly Hallows.
Despite the fact that the aesthetic and gameplay are almost similar, this Lego game is just as thrilling and fun as the previous.
It just takes up the plot and carries it through to its triumphant end. The same thrilling narrative, fun gameplay, and fantastic Lego characters are all present and proper.
This is a charming sequel that was well worth the wait.
5. Harry Potter and the Chamber of Secrets
While the first Harry Potter and the Sorcerer's Stone was a flop for the series, the sequel was a huge improvement over the first.
Harry Potter And The Chamber of Secrets, like its predecessor, is an action-adventure game that follows the plot of the book and film of the same name.
However, when compared to the original game, the execution is far better. The plot is well-written, and the optional classes you choose to blend in well with the gameplay.
The visuals are a little antiquated given this game was published during the GameCube and PlayStation eras, but it's still a lot of fun and worth checking out.
6. Harry Potter And The Prisoner Of Azkaban
Prisoner of Azkaban, like the preceding games, has many versions for different platforms. A role-playing game for the Game Boy Advance and an action-adventure platformer for the consoles are among them.
The PC version is likewise an action-adventure game, but the plot is confusing.
The game was mainly well-received in each edition. Despite its brief length, the game flows smoothly and is simple to play.
You may find this episode too short and easy if you're an older player, but it's still fun and follows the tale nicely. Overall, the game is entertaining to play and does credit to the topic. This one has won a spot on a chocolate frog greeting card.
7. Harry Potter and The Goblet of Fire
The Goblet of Fire, like so many other games based on literature and movies, is an action-adventure game. However, unlike its predecessors, there is just one version that works on all systems.
The emphasis of this game is on action rather than puzzles, as it has been in many of its predecessors, providing a somewhat different dynamic to the series.
This is an appropriate change since the fourth installment in both the books and the movies is one of the most pivotal moments in the whole series.
Therefore, a video game that replicates this pivotal moment feels correctly fulfilling to a huge segment of the player base.
Multiplayer was also included for the first time in a Harry Potter game. With this new feature, you may team up with your buddies to create even more powerful spells.
Although you may no longer freely walk the castle, this has no effect on the game, which closely follows the canonical plot of the novel.
Some of the reviews were, admittedly, mixed. However, we believe this one has earned a spot at the Hogwarts Banquet.
8. Harry Potter's Spells Book
This augmented reality game for the PlayStation 3 is also known as Wonderbook: Book of Spells, and it puts you in the shoes of a Hogwarts student studying spells using the PlayStation Move and PlayStation Eye controllers.
It makes use of controller technology to allow you to cast spells using the motion controller and see the consequences on the screen.
The game is based on Miranda Goshawk's fictitious book from the Harry Potter series. To guarantee that the game matches your particular style, you may choose your Hogwarts house or link your Pottermore account.
J.K. Rowling called this wonderfully clever game "the closest a Muggle may approach to an actual spell-book," and she's correct. It's completely enthralling.
READ ALSO!!!
9.  The Book of Potions
Potion-making is the subject of the second edition of Harry Potter-themed augmented reality. It employs the PlayStation Move and PlayStation Eye controllers to offer an immersive experience for PlayStation 3 players, similar to its predecessor.
Book of Spells. You may make a variety of potions with the PlayStation Move controller, which doubles as a wand, knife, and spoon.
Book of Potions, based on the fictitious book by Zygmunt Budge, demands you to make a variety of potions in preparation for a Wizarding Schools Potions Championship.
Before you gather ingredients and make your potions, you'll learn more about each one.
As you would think, the experience is just as rewarding as the Book of Spells. This game is for you if you've ever desired to sit in a potion classroom. Just remember to bring your cauldron!
1o. Harry Potter Quidditch World Cup
In terms of substance, this game differs significantly from the majority of Harry Potter video games. Of course, it's a sports action game based on Quidditch, the wizarding world's mythical sport.
Gryffindor, Hufflepuff, Ravenclaw, and Slytherin are the four house teams that compete in the Hogwarts Inter-house Quidditch Cup.
You may also participate in the World Cup. You may play in one-off exhibition matches if you want a faster game.
Some people complain about laggy controls, although this is far from the worst. It's well worth a shot, even if just for the thrill of winning a Quidditch match.
Hufflepuff, go! Ravenclaw, I salute you! This game is certainly a keeper, regardless of which side you're rooting for.
11. Hogwarts Legacy's Exciting Developments
Hogwarts Legacy is the newest wizarding game in production, and based on what we've seen so far, it looks incredible. Players will take on the role of a Hogwarts student in the 1800s, with the ability to pick their house and courses.
It's an open-world game with a variety of locations to explore, including Hogwarts, the Forbidden Forest, and Hogsmead.
You'll be able to use spells, concoct potions, and fight in magical battles. Even magical monsters can be tamed. In a novel twist, it seems that you will be able to pick whether you want to be an excellent student or choose a darker road.
This time, as a witch or wizard, your fate will actually be in your hands.
Hogwarts Legacy seems to be an intense and entertaining experience, and the closest we'll ever come to experiencing the life of a Hogwarts student – at least for the next decade.
Following multiple delays, the creators have stated that the game will not be released in 2021 as planned.
Instead, a new release date for PC, PS4, PS5, Xbox One, and Xbox Series X/S has yet to be revealed for sometime in 2022.
Table -Top Harry Potter Games On eBay
Prepare to explore the enchanted land of Hogwarts. On eBay, you may find these deliciously old-fashioned Harry Potter table-top games.
For many youngsters and adults, the Harry Potter series reignited their interest in magic. The popularity of the series is shown by seven novels, eight films, and a plethora of connected merchandise, attractions, spin-offs, and more.
Who hasn't peered out their window, hoping to see an owl with their Hogwarts acceptance letter? Who hasn't spent money on one or two Harry Potter games, allowing them to pretend to be a genuine witch or wizard, if only for a few moments? Anyone seeking for a new way to get that experience should look at the games on this list.
1. Hogwarts Battles in Harry Potter Games
The Harry Potter Hogwarts Battle game will appeal to anybody who likes deck-building games and is a lover of Harry Potter.
Hogwarts Battle allows up to four players to take on the roles of Harry Potter, Hermione Granger, Ron Weasley, and Neville Weasley, four of Hogwarts' most famous pupils.
Each of these pupils has its own deck, which contains a variety of spells, magical artifacts, and ally cards showing other series characters.
To preserve Hogwarts from the forces of the Dark Arts, each player must work together to vanquish Voldermort and other enemies.
2. Harry Potter Triwizard Maze Game by 9 Pressman
Have you ever played Trouble? The Harry Potter Triwizard Maze Game, on the other hand, is essentially the same thing, but with a twist.
Four players may participate by selecting a color that symbolizes the four candidates in the Triwizard Tournament in Harry Potter and the Goblet of Fire: Victor Krum, Cedric Diggory, Fleur Delacour, and Harry himself.
To travel across the board and return to "HOME," pop the bubbling dice in the middle. Players must draw a Maze Card in order to proceed through certain areas, which offers them instructions on how and where to go. Even young players may enjoy the game since it is easy enough.
READ ALSO!!!
3. Cluedo
Hogwarts is full of surprises and secrets, but when a student mysteriously disappears, players must delve into the school's mysteries.
Players may play as Harry, Hermione, Ron, Neville, Luna, or Ginny to figure out what happened to their fellow students in this magical version of the popular CLUE game.
You'll learn where it occurred, who was responsible for their abduction, and what spell they cast. The board's pieces move, exposing secret paths and even the Dark Mark! Protect yourself using pals, supplies, and spells, then report back to Dumbledore to unravel the riddle.
4. Trivial Pursuit
Do you know how Malfoy got Death Eaters into Hogwarts, or what each Deathy Hollow's name is? You'll perform well in Trivial Pursuit:
World of Harry Potter if you do. Over a thousand questions are based on the eight Harry Potter films in this classic trivia game.
Up to eight players compete in categories such as Magical People, Objects & Artifacts, Magical Creatures, and more to find who among their friends is the most Harry Potter enthusiast.
As they acquire wedges and advance about the board with the House Mascot Movers, players may represent their chosen Hogwarts House.
5. Codenames
In a traditional Codenames game, participants act as secret agents, relaying information to their partners. Players take on the role of members of the Order of the Phoenix in Codenames Harry Potter, and they must navigate Diagon Alley with caution as they attempt to pass on top-secret information to their fellow Order members.
Players must use one-word clues to locate nine members of the Order. Before they run out of time, players must find the proper cards while avoiding the wrong ones.
Death Eaters are hiding behind those cards, and picking one of them or the Voldermolt card will lose them the game.
6. Harry Potter Wizard Chess Sets
Anyone who has watched Harry Potter and the Sorcerer's Stone will recall the tense scene in which Ron Weasley sacrificed himself in a game of Wizard Chess so that Harry and Hermione could finish their quest without him. It was undoubtedly one of Ron's most memorable scenes in that film, if not the whole series.
Although some might argue that it belongs on a collector's shelf, this tiny recreation of Wizard Chess features superbly sculpted pieces and can be played with the exact same rules as the original game of chess.
7. Wizarding World; Deluxe Munchkin 
Munchkin is a role-playing game in which players take on the character of a dungeon-crawling hero in search of treasure and monsters to fight. Each successful combat increases a player's level by one, and the player who reaches level ten first wins.
While this may seem to be a simple task, there are methods for participants to put a wrench in each other's plans, making it a fun challenge for everybody.
This tradition is followed in the Harry Potter version, except that players take on the role of a member of their chosen Hogwarts house, and all of the villains and creatures are famous to fans of the book.
8. Harry Potter Miniatures Adventure Game
Fans of the Harry Potter film series will enjoy the Harry Potter Miniatures Adventure Game. Players take charge of a troop of witches and wizards who must navigate their way across illustrated maps of the Wizarding World, which are rendered by elaborately sculpted miniatures.
Players must accomplish many challenges and Quests in each area while attempting to remain ahead of their opponents.
Potions and Artefact cards serve to move things forward, and what Harry Potter game would be complete without spells? Because there are so many variables, it's almost impossible for any two games to be identical.
9. Harry Potter's Quidditch Games
Quidditch is a physical game in the Wizarding World (and even in real life), but it's also been adapted into a strategic board game with a hex board replacing the field.
Each side takes turns rolling dice and moving their pieces while flipping over one of many tiles in the hopes of obtaining a quaffle that can be shot through the hoops.
The quaffles come with a little catapult and hoops to aim at, so shooting them is fairly literal. A ten-point bonus is awarded for each successful launch.
There are also seeker tokens, which are used to look for the elusive golden snitch, which is worth 150 points and finishes the game when found.
READ ALSO!!!
10. Diagon Alley Board Game
Who hasn't been disappointed when they haven't received their admission letter in the mail? This game may not be able to replace a magical life of adventure, but it does allow players to enjoy their imaginations of a First-Year shopping excursion to Diagon Alley. An owl, a wand, a potion bottle, a robe, a book, and a cauldron are among the items on the list.
Isn't it straightforward? Wrong! The first signs of trouble are items running out of stock and shops shutting. The most challenging hurdle that players must confront is each other, especially with the additional (dis)advantage of magical spells to slow down and take from others.
Best Harry Potter Hogwarts Mystery Cheats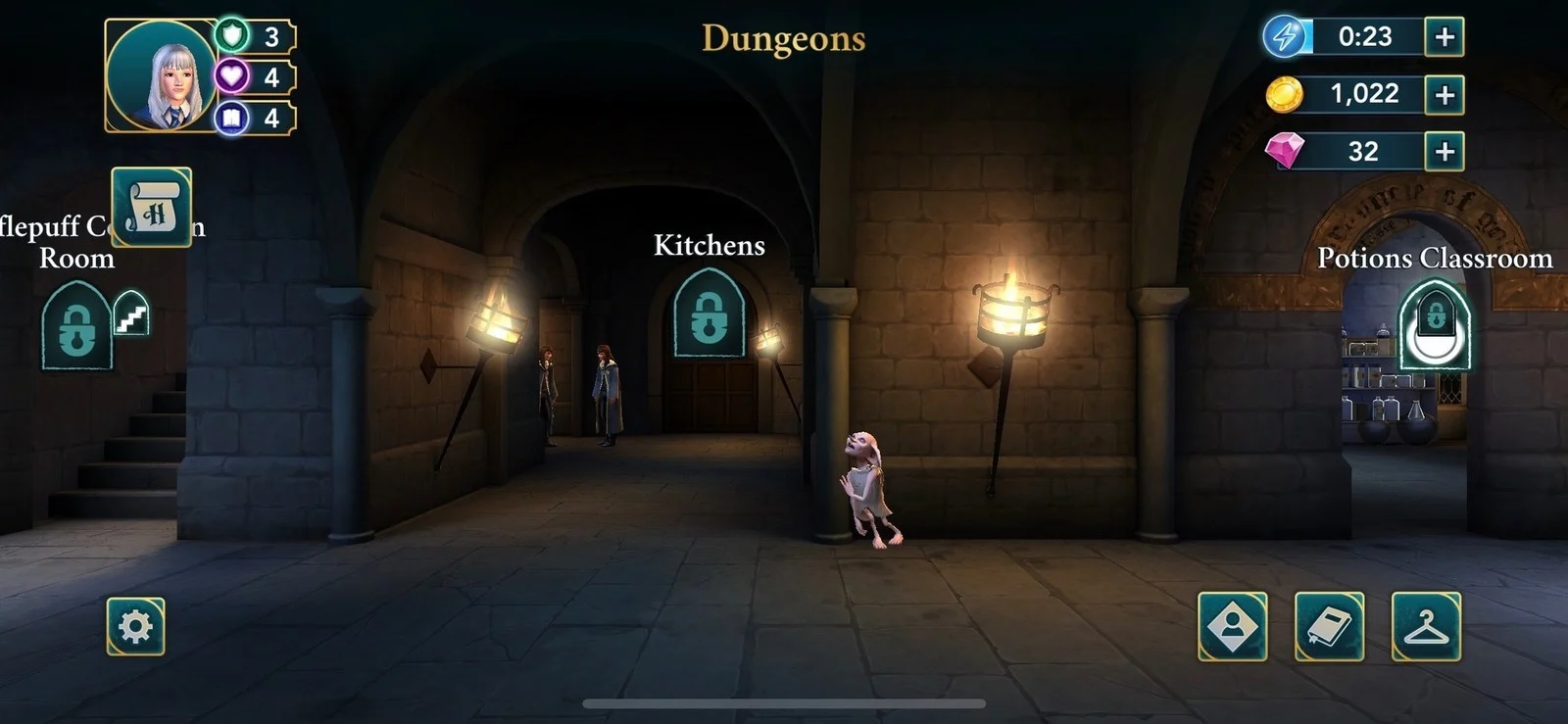 Every Potterhead's desire is to solve the Hogwarts Mystery, but avoiding the micro-transactions isn't simple – until you use these hacks, tips, and methods!
Smart players, on the other hand, have discovered methods to bypass the game's barrier and significant wait periods in order to recharge their energy.
Here are 17 useful Hogwarts Mystery hacks to help you save energy, complete some of the game's more difficult objectives, and live out your wizarding world fantasies.
As a result, the following list has been revised to include more clarity, bullet points, and even more information on some of the greatest tips and techniques, as well as Hogwarts Mystery energy hacks, to help players get back on their feet and through the game's various courses.
Although many of these Hogwarts Mystery hacks aren't technically "cheats," they're nevertheless quite handy for both novice and seasoned players.
1.  Keep an eye on your experience bar and level 
To maximize rewards, use as much energy as possible before levelling up.
Harry Potter: Hogwarts Mystery, like many other mobile games, incorporates an "energy system" into the basic gameplay.
There are numerous intriguing mechanisms stretched across the Hogwarts experience, and many (if not all) of them require players to waste important energy. When a gamer's energy runs out, they'll be compelled to "obtain more" before they can continue.
Energy may be bought, obtained as a prize from specific missions and activities (though this is not recommended since other rewards are much more valuable), or spontaneously replenished through scheduled replenishment.
The energy ball will replenish over time if you just wait, which is the cheapest and best solution for most people.
Those that pay attention to their experience bar, on the other hand, may totally replenish their energy meter if they level up. This may be a terrific method to burn off a lot of energy while still leveling up and refilling the meter.
It's crucial to note that the technique becomes more difficult as players go through levels, but "knowing when a character is going to level up" is quite beneficial in the early stages of the journey.
2. Always keep an eye out for gems as a rewards
Never say "no thank you" when offered free diamonds. Here's your only chance to reap from greed! When free diamonds are provided, always accept them.
They're the most valuable and scarce resource available. Students who work hard at Hogwarts are rewarded. Completing missions and earning extra stars will generally reward players with a horde of jewels, cash, attribute points, or energy to choose from. Unfortunately, no matter how much the greatest students deserve them, each offering can only receive one gift.
Energy-hungry players may be tempted to bank the lucrative resource in order to finish jobs and missions faster, but diamonds will always remain the star of the show. This bright-coloured currency can only be renewed by spending real money on the game, and it may be used to help players develop in a number of ways.
Over time, energy will be replenished, and qualities and money may be ground out. It is strongly advised that gamers take advantage of any opportunities to obtain free gems.
3. Take Advantage of the Notification System
Keep track of your energy, objectives, and scheduled events using phone alerts.
Allowing Hogwarts Mystery to give you alerts is a fantastic option if you don't mind having notifications come up on your phone screen. Unless you're ready to spend a lot of money, you'll be waiting a long time for your energy to recharge.
Allow notifications if you want to make sure you're ready when the time limit expires so you don't miss out on anything crucial.
4. Activate Items To Gain Energy
Every six hours, tap things and house elves.
According to Prima Games, there are several things scattered around the game that may be tapped to obtain some additional energy. One of the major annoyances for players is having to wait so long for their energy to regenerate, or paying real money to hurry things along.
You may acquire some energy by tapping on the house-elves you find around. The first blank picture in the East Towers, books near the Bench on the Lower Floor East, the second piece of armor in the Great Hall, and other items may all be tapped. To keep track of the time, these items will reset every six hours.
5. Carefully consider your dialogue options in all Harry Potter Games.
Choose conversation choices that are appropriate for your house, and in these scenarios, attempt to think like a Ravenclaw, Gryffindor, Hufflepuff, or Slytherin.
If you care about winning the House Cup, as most players do, you'll want to rack up as many house points as possible. House points may be acquired in a variety of ways, but one that many people overlook is ensuring that you represent your house well.
That implies that when you chat to someone, you should choose the conversation choice that corresponds to the house you selected at the start, whether it's Slytherin, Gryffindor, Hufflepuff, or Ravenclaw.
6. To Reset any Harry Potter Game, Turn Off The Wifi
Uninstalling and reinstalling Hogwarts Mystery will not work. To acquire a new character, turn off Wifi when you first start the game.
There may come a point when you wish to fully reset your game and start again. Perhaps you want to make some fresh judgments, or perhaps you took a break and now want to start again without the consequences of your past selections.
Normally, to restart a game, you'd remove it and then reinstall it, but this isn't the case with Hogwarts Mystery. Instead, Prima Guides recommends turning off your WiFi and data and then starting the game without it.
You'll receive an error notice, and then you can turn everything back on and properly resume the game.
7. Harry Potter Games lets you use the internet to get answers to quizzes; use it!
Quiz answers should be looked up by players who are grinding for qualities and prizes to ensure they perform assignments fast and correctly.
If you don't mind legally cheating to make your game simpler, you may look up the answers to many of the quiz questions on the internet.
Many individuals have taken the effort to create guidelines that set out all of the questions you could be asked, as well as their responses.
This contains questions from the Potions, Charms, and Flying quizzes, as well as others. This way, if you forget the answer to a few questions, you won't spend a lot of time.
8. Commercials to Watch in Harry Potter Games
While watching ads might be unpleasant, they are quite useful in Hogwarts Mystery, allowing players to replenish their energy and earn prizes quicker.
Hogwarts Mystery, like most other micro-transaction games, allows users to view brief 30-second adverts in return for energy bits.
This is a far better choice than having to wait for a half-hour or more for your energy to restore if you're willing to sit through a brief commercial.
You can get a specific amount of free gems every day by watching advertisements. However, keep in mind that you may only view a certain amount of adverts every day before having to wait until the next day.
READ ALSO!!!
9. Choosing The Right Residence
Instead of being assigned a home, players may pick whatever residence they wish. Hogwarts Mystery, unlike Pottermore or other Harry Potter-themed media, allows you to choose your own house.
While it's crucial to choose the one that feels right to you — most individuals know which house they belong to instantly — your choice of a house will also affect how you earn house points in the hopes of winning the House Cup and snagging some useful jewels.
It's easier to choose conversation choices that reflect your house's values: Gryffindor is courageous and adventurous, Hufflepuff is committed and loyal, Ravenclaw is brilliant and witty, and Slytherin is ambitious and cunning.
10. Collect all the Easter eggs
When players touch on Easter Eggs, they are rewarded with energy and resources. There are many energy reserves found around the game environment that provide additional energy that will undoubtedly come in useful throughout your wizarding quest.
To uncover these Easter eggs, be sure to visit every section of the game and interact with every object and character. Finding the girl in the dark picture near Charms class in the East Tower and tapping a sleeping House-Elf in the Dungeons are two instances.
11. Look After Your Pets
Choose your pet carefully, but if you can, get all of them. Your first year at Hogwarts wouldn't be complete without an animal friend, much like Harry and Hermione's.
You may choose from owl, rat, cat, or toad in Hogwart's Mystery. Owls are the most expensive, while rats and toads are the most affordable.
After allowing them to rest, you may wake them up to get free energy, which is essential for completing the game's objectives and missions. Having all four pets, albeit costly, will provide you with the greatest free energy every day.
12. Choose a Favorite Wand
Although the wands are just decorative, players will be given one of three wands. This is distributed according to how they respond to Ollivander.
You'll be offered a choice of dozens of wands when you visit Ollivander's. You'll really be handed one of three: a 12-inch acacia wand, an 11-and-three-quarter inch blackthorn wand, or an 11-inch hornbeam wand.
While the difference is mainly superficial, the experience would be incomplete without the ideal wand, wouldn't it? Before handing you your first wand, Ollivander will inquire about your feelings on your brother's expulsion from Hogwarts. For the blackthorn wand, answer "I was upset," "I felt horrible for him," and "I was determined" for the acacia.
13. Do Your Homework
During classes, players should take their time and concentrate. To succeed, just like at Hogwarts, you'll need to put your nose to the grindstone – think Hermione rather than Neville.
Learning spells, learning to fly, and making potions will improve your hero's abilities. It'll prepare him for the more difficult trails ahead. Also, don't hurry things.
Wait for your chance to show your professor your talents. Otherwise, the game interprets your effort as a failure, relegating you even further.
14. Study Dueling Techniques
During duels, players should strive to "predict" what their opponent will cast. Play with caution. The dueling system in Harry Potter:
Hogwarts Mystery employs a rock-paper-scissors approach. This approach is to choose the winner, similar to classic RPGs like Pokemon and Fire Emblem. Aggressive, defensive, and sly are the three styles.
The first phase is mostly determined by chance. However, you may be able to predict your opponent's posture based on prior bouts.
The action round follows, with choices like casting an offensive spell, hurling a bottle, or drinking a healing potion. To win, keep an eye on your health and take advantage of your opponent's flaws.
15. Make new acquaintances
It pays to be sociable in Hogwarts Mystery since in-game buddies may be really useful. Harry wouldn't have gone very far without his trusted companions, and neither will you in Harry Potter: Hogwarts Mystery.
Friendship is one of the most significant components of the game. It may earn you more gems and provide you with companions for some of the game's most challenging objectives.
You may level up your friends' characteristics to match yours. It's best to wait until your own is sufficiently advanced.
Keep an eye on your friends' speech. Selecting the appropriate dialogue choices for their characteristics will make befriending them much simpler.
16. Maintain Your Concentration
Getting good at mini-games may make the experience a lot more enjoyable. One of the most difficult mini-games in Hogwarts Mystery features a quick-time event using your mobile device's touch screen.
A luminous ring will pulse between other rings on the screen, and your task is to touch rapidly. The glowing ring is inside the bounds.
Getting this properly may be difficult, and it's perhaps the only component of the game that requires speed and dexterity. One piece of advice is to keep your finger on the button and release it at the appropriate time; this will make timing much simpler.
17. Make the Most of Your Attributes
Try to maintain your characteristics as balanced as possible; leveling becomes more difficult as time passes.
In Harry Potter: Hogwarts Mystery, your character has three main traits. You may level up throughout the course of the game: Courage, Empathy, and Knowledge.
This is the game's bread and butter: attending class, purchasing goods with gems, and even giving your pets new appearances.
These help to level up your qualities, which help to level up your character. Because late-game leveling might be difficult, we suggest balancing all three traits equally.
Each will enable additional conversation choices with friends, each of which will earn you extra experience points.
Here's how to download Harry Potter games for free full version. All xbox 360 harry potter games, Harry potter PlayStation games, and Harry potter Android games can be found here. Do well to share the fun with your loved ones. 
CSN Team.
Tags: best harry potter games, free harry potter games, harry potter android games, harry potter board games, harry potter board games uk, harry potter computer games, harry potter ds games, harry potter games, harry potter games 1, harry potter games amazon, harry potter games android, harry potter games for android, harry potter games for kids, harry potter games ipad, harry potter games iphone, harry potter games on steam, harry potter games online, harry potter games online Hogwarts, harry potter games pc, harry potter games ps4, harry potter games xbox, harry potter games xbox one, harry potter learns magic from video games fanfiction, harry potter math games, harry potter maths games, harry potter movie games, harry potter online games, harry potter online games create hogwarts student, harry potter party games, harry potter party games for 10 year olds, harry potter pc games, harry potter playstation 2 games, harry potter playstation games, harry potter porn games, harry potter ps2 games, harry potter ps3 games, harry potter quidditch games, harry potter quiz games, harry potter sex games, harry potter themed games, harry potter video games, harry potter wii games, how many harry potter games are there, how to download harry potter games for free full version, how to play the old harry potter pc games, online harry potter games, steam harry potter games, what to read after harry potter and the hunger games, where to play harry potter games, xbox 360 harry potter games