– How To Be Pretty –
Everyone wants to be a cynosure of all eyes. They want to know how to be pretty and natural. Beauty they say lies in the eyes of the beholder. Although beauty may be in the eye of the beholder, the feeling of being beautiful exists solely in the mind of the beheld which is you.
Want to know how to look more pretty naturally? Here are tips used by women that are just naturally beautiful. You can achieve this effortless and attractive look too.
They have a few simple tricks that they use everyday to keep them looking pretty.
The Potential to be Pretty
What it often means is that the woman being spoken of has attractive features but does not seem to care enough about hair and makeup (and perhaps fashion) to please the person doing the speaking.
Usually the person doing the speaking has in mind a traditional model of prettiness that includes styled hair, use of cosmetics, maybe some skin care, maybe even some different kinds of apparel choices.
He or she is saying that the woman being spoken of could meet his or her ideal of "prettiness" but does not appear to be motivated to do so (perhaps because she already meets her own standard for the way she wants to look).
Tips on How to be Pretty
1. Moisturize Always
Women that are naturally beautiful know how important it is to moisturize their skin.
You will want to find a great moisturizer and make sure that you apply it at least once a day.
Make it your new habit that after you get out of the shower you apply your moisturizer.
You will keep your skin soft and pretty. 
2. Have Plenty of Sleep
The moment you know you have a big day or event approaching, schedule your beauty sleep.
You don't even know how much of your body needs really depends on that 8 hours of sleep you waste on Netflix and chill.
From lesser puffy eyes, glowing skin, healthier hair, better appearance, to almost everything is directly related to your sleep. And these are just the Beauty benefits!
3. Pluck your eyebrows
If you want to make sure you are looking naturally beautiful then you will want to pluck your eyebrows often. Make sure you get a good set of tweezers keep them cleaned up and looking great.
Having your eyebrows perfect can make your whole face look great. 
4. Smell Good
Staying clean and smelling good is one good thing that will help you attract the right set of people without even doing much.
Who even wants to connect with someone that doesn't bathe for days or weeks and smells like a dead rat?
Adding to the same thing, have you ever crossed or known someone who smells like a snack all the time? You know you want to be around them and like them naturally.
Because their freshness and fragrance are enticing. So always make Hygiene a priority. And try to smell good with or without perfumes.
5. Drink More Water
Drinking more water can have amazing health benefits and will make your skin look great. By drinking enough water you are helping to flush the toxins out of your body and keep your skin hydrated.
This can help your skin look great, help with acne, and it will just make you feel good.
6. Get Your Skincare Right
Keeping your face looking great is a must if you want to look pretty. You should find a skin care routine that you love and stick to it. It doesn't work to just wash your face once in awhile.
You need to make it a habit of applying all your skin care products daily. 
7. Work Out for Your Skin
Girls that look pretty naturally are in the habit of working out. The benefits of working out are not just to lose weight. But this is a great reason to work out too!
 Working out can actually help you to keep your skin looking better by increasing your blood circulation.
8. Give Yourself A Pretty Manicure
By manicure, I don't mean that you have to go to a salon and get your nails done. Although, if you can, that will be a cherry on the cake.
But for now, just trim them, file them to a proper shape and if you want, paint them with a pretty nail polish color that best suits you.
A person with neat tidy nails looks prettier than those who bite them or don't clean them regularly. 
9. Exfoliate
Some women forget to exfoliate their skin. Exfoliating your skin helps to remove dead skin cells and promote the production of more.
When you exfoliate you will make your skin look fresh and healthy. It can help unclog pores and make your skin have a smoother appearance. 
10. Buy Clothes In Your Actual Size
No sizing down while shopping for clothes just because you think it will help you get motivated to lose weight.
It may or may not motivate you that much but will surely make you feel sick about yourself in the long run.
Which is a big NO-NO! Rightly fitted clothes are a simple secret to how to look the pretty question of yours.
And sometimes, oversized hoodies or clothes (if styled right) can add that extra cuteness.
11. Give yourself a face massage
Girls who know how to look more beautiful naturally understand the importance of a face massage.
It can reduce the appearance of fine lines, increase circulation, and make your skin appear more radiant. Plus it feels amazing!
You can look up how to give yourself a face massage or you can purchase a jade roller. They also have ice rollers that you put in the freezer and then give yourself a cold massage.
12. Wear Cute Clothes
Talking of cute clothes, you need to find your go-to favorite pieces which you know you'll look prettier in, no matter what. How to look pretty and find cute clothes?
Here you go! Find what is your undertone and what colours suit you the most. Are you warm-toned or cool? Do yellowish colours look good on you or pink?
This will completely change the way you'll shop for life.
What's your style? Comfy but chic? Basic but classy? Modern? So finding your style and cute clothes can eventually step up your looking pretty game!
13. Develop Good Habits
Try to eat three meals a day and don't eat between meals. When you're eating out you can always find something healthy on the menu to order.
ALSO READ:
14. Don't forget your smile
Girl, that smile looks beautiful! You want to make sure that you are keeping your smile looking nice and white. Make sure that you are brushing your teeth with a good toothbrush at least 2 times a day. Use whitening toothpaste. 
If the whitening toothpaste isn't enough to get your pearly whites looking nice and bright then you should try some crest white strips.
When you have a nice bright white smile you are just going to look more beautiful.
15. Get a Silk Pillow Case
This is a must for girls that look beautiful! Invest in a silk pillow case to sleep on every night. Silk pillow cases are better for your skin and hair.
Since you are sleeping for about 8 hours a night you want to make sure your skin and hair is laying on something as gentle as possible. 
16. Maintain eye contact
Not only is making eye contact with someone respectful, it's also a sign of confidence. When talking to people, look them in the eye and truly listen to what they have to say.
This type of active, engaged communication not only makes you seem more attractive, prettier and more confident to someone you may find attractive and want to date.
It can also help you at work and even in your relationships with family and friends.
You won't believe how attractive people will find you when you start really paying attention.
17. Find a Makeup Routine That Works For You
Society puts a lot of pressure on women to be beautiful, with an emphasis on so-called "natural beauty" Men often say they like it when women wear little to no makeup.
This can be frustrating for women since the idea of "natural beauty" is a total paradox if our makeup-free features don't already fit society's narrow definition of beauty.
The trick is to spend some time designing a makeup aesthetic that feels right to you. Makeup should help you feel confident and beautiful, not awkward or overdone, and only you can define that for yourself.
The process of trial and error is usually the best way to do this.
18. Invest in a Professional Eyebrow Shaping
Find a well-reviewed aesthetician who is known for being great at brow shaping and schedule a visit.
Sure, you can do it yourself with tweezers (don't try to wax your own eyebrows, as wax is too imprecise and prone to big mistakes).
A great brow shaping can make your eyes pop, make you look well-rested, and help add balance to your features. 
19. Dab a Little Concealer or Foundation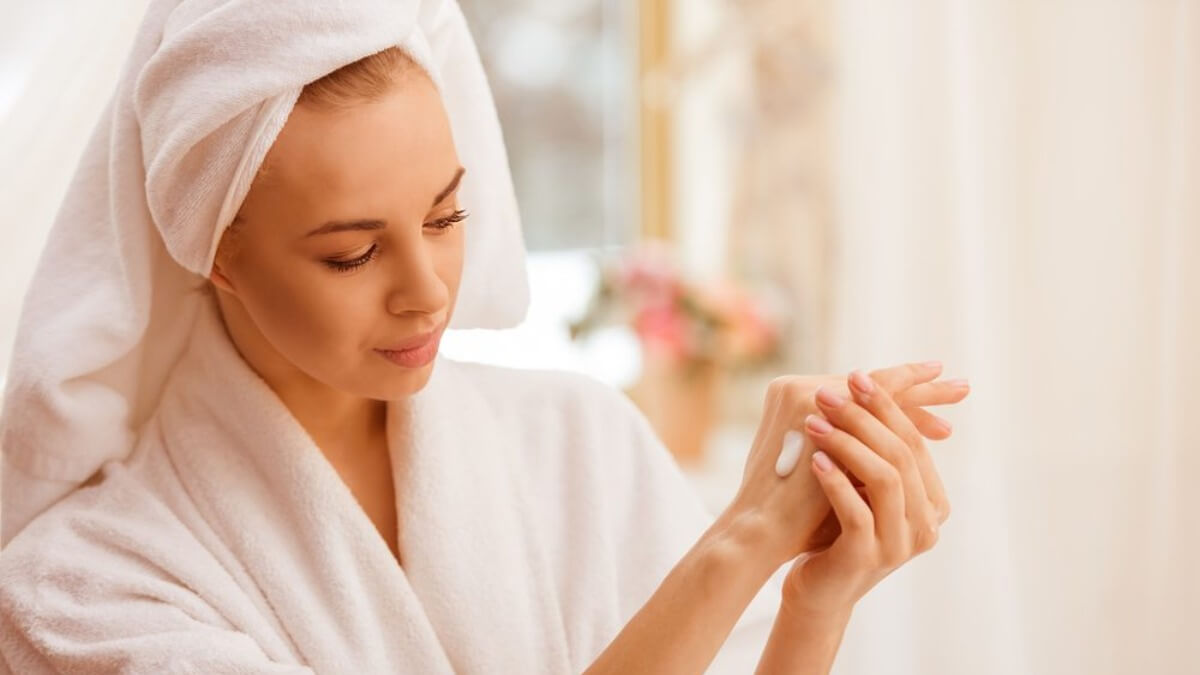 Most of the time we really don't need to cover our entire face with foundation. Instead use a concealer or foundation to dab on the blemished spots. Simply pat with your finger to blend.
20. Eat Carrots For a Natural Tan
Carrots have always been known for changing skin color and the good news is it you won't turn orange! High levels of carotenoids will give you that perfect, sun-kissed glow that everyone is after.
In addition, they are loaded with vitamin A which helps improve your eyesight and protect your skin from sun damage.
21. Seal With a Mist
Before you head out the door, seal it all in with a glow-boosting finishing spray.  
This instantly hydrate and refresh skin with a blend of fresh coconut water, hyaluronic acid and ngi grass for 24-hour hydration.
Infused with soothing cucumber hydrosol, passionflower extract and skin-clarifying witch hazel for the ultimate in skin hydration and comfort.
22. Clean Up Your Brows
A brow that is cleaned up and shaped perfectly can help frame your face. If your brows need a little filling use gentle strokes using a pencil, powder, or cream to help define your brows.
Less is more these days, and simple, but defined brows are a must in minimal makeup looks.
23. Be Ingredient Conscious
Ingredient-conscious beauty is a thing. Yes! Just like what you put inside your body affects your overall health, what you put on the surface does the same.
Your skin absorbs 60 percent of the stuff you put on so make sure you do some research on the ingredients that are present in your skin care, hair care, and beauty products.
Keep away from products that contain parabens, petrochemicals, and sulfates that may cause irritation to your skin or make your hair dry and frizzy.
It's best to stick to products that contain natural ingredients.
24. Make Sunscreen Mandatory
Sunscreen is not an option. The Sun's UVA, UVB and UVC rays are the primary cause of premature aging of the skin. If you follow this one simple step, you will thank yourself in the future.
It helps prevent dark spots and hyper-pigmentation. SPF which is the 'sun protection factor' determines how well the sunscreen will protect you.
Dermatologists recommend that you wear a minimum of an SPF 30 before stepping out.
25. Bust The Stress
In today's modern lifestyle, we all have crazy schedules and stress comes naturally.
However, uncontrolled stress can lead to problems like headaches and hypertension. It can also lead to acne, hair fall and graying of hair.
These are only a few severe outcomes of stress. So while you can't entirely avoid bills, work, your life and all the stress that comes with it, you should find a way to manage it.
Meditate, drink a nice hot cup of tea, listen to music or make some time for anything you love. Do take a chill pill now and then!
26. Take Green Tea
There's a reason why green tea is so popular amongst health enthusiasts. It perhaps is the healthiest beverage out there and is enriched with nutrients and antioxidants that are incredibly beneficial to the body. 
27. Be Well Groomed
Keeping yourself groomed from head-to-toe is essential to your appearance. Doesn't it also feel great to take care of every bit of you thoroughly?
Pamper yourself a little and hit the salon for a mani-pedi and a facial on the weekend.
28. Get Regular Hair Trims
Getting regular trims improves the look and feel of your hair. Make sure you get a trim at regular intervals (at least once in two months).
By trimming unhealthy split ends, your hair will have lesser breakage and flyaways, adding volume and shine to it.
If you want to grow out your hair, trims are recommended as healthy hair encourages faster growth.
29. Deal With Pimples The Right Way
Breakouts are natural, and everyone has to go through this ordeal – some more than others. However, there's no need to fret.
Let me tell you, the worst thing you can do to your new friend is trying to get rid of it by popping it.
Do not, under any circumstance, touch your pimples or try to squeeze them – you are only going to make the situation worse.
Instead, opt for methods that will treat these pesky babies and remove them without leaving a scar. You can dab some tea-tree oil on the zit and be patient until it dries up.
30. Cut Down On Junk Eating
Junk' here refers to a wide variety of items like unhealthy foods, alcohol, cigarettes and all the other trash we mindlessly consume.
Putting a full stop on fast food like burgers, french fries, soda and other deep-fried, sugary items will make an enormous difference in your health and overall appearance.
It's also best to cut down on excess sugar, alcohol, and smoking as they are not only hazardous for your vital organs but these are also factors that lead to other issues which will evidently show in your appearance.
31. Maintain Good Posture
A proper posture alignment will not only allow you to work more efficiently and avoid strain on your spine, muscles, and ligaments but it also has an impact on how you come off as to those around you.
Slouching and poor posture can make you look a lot older besides damaging your back and adversely impacting your energy levels.
Always be mindful of how you sit, walk and move around as this really matters – even when you get older.
32. Embrace Yourself, Flaws And All
You need to love yourself to the point that your energy and aura reject anyone who doesn't know your worth. Self-love is not selfish; it's as important as the love you so freely give to others.
We've all got flaws but if you cancel out the flaws – that would mean rejecting a whole chunk of you without which you wouldn't be you. We aren't preaching here but only giving out some advice – embrace every bit of yourself!
Don't forget to take care of mental health, practice self care and do what makes you happy. When you are feeling great you are going to look great too. 
I hope that these tips on how to be pretty will help you to adopt some new habits into your beauty routine. 
Subscribe with your email for a related article and also share this article around if you enjoyed it. Thanks
CSN Team.