---
– Kids Luggage –
Having to travel with family can be quite adventure and giving your children their own kids luggage is a tiny way to make it even more thrilling.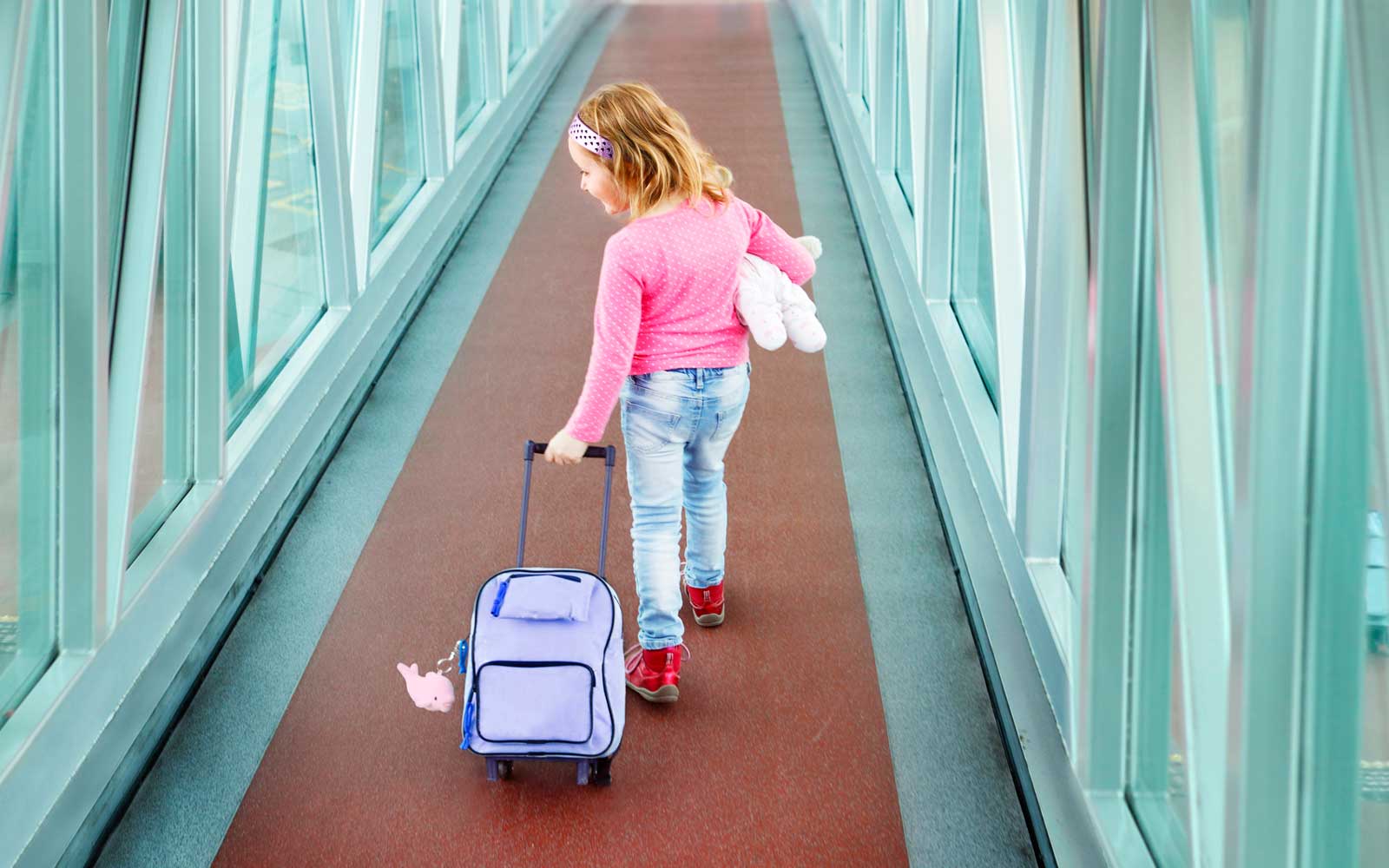 Planning for a vacation can be hectic and time-consuming. The number one on the list is getting suitable luggage for the occassion.
But we all want our kids to have a fun and memorable moment.
Getting a fancy kids' luggage set is a way to make that dream come through.
Today we'll take you on a guide to make your vacation fun for your kids.
Kids Luggage Sets
We've put together a compilati0n of kids' luggage you can get to keep your kids excited and feeling good the whole vacation.
1. Unicorn Kid Luggage
With this lovely unicorn rolling luggage set from iPlay, iLearn,
Getting your child to carry their own suitcase won't be tough.
This luggage for kids set stands out for its extraordinary durability 
And the easy-to-organize interior, with over 1,000 good ratings.
Although the bag is slightly smaller than a standard carry-on, 
The telescoping handle allows parents to easily wheel it alongside their own luggage when necessary.
On one side, there are three zipped pockets, and on the other, there are crisscrossing straps, making the bag easy to arrange and clean.
You can sanitize the case's exterior to your heart's content, but the inside should be washed down with soap and water and left to air dry.
2. Kids 5 Piece Luggage Travel Set
The heart motif should not deter you. There are a variety of patterns to pick from, and this is a set that deserves your attention. It's a traveler's fantasy come true.
There's a carry-on that can easily contain a week's worth of clothes for your child, as well as a neck roll for comfortable napping, an activity bag, and, of course, a snack box.
Always have snacks on hand if you're traveling with small children!
READ ALSO!!!
3. Hard shell Carry-On Scooter Suitcase
If you have a short layover or a long walk between gates, this TSA-approved scooter suitcase will come in handy. It's a hit with kids because of the novelty factor, and it's also a lot of fun because of the light-up wheels and soft-grip grips.
And don't worry: the scooter board kicks up and locks onto the back of the suitcase's hard shell body. It's made to deflect and absorb impact, which seems like a given for a scooter case.
This kids' suitcase is no slouch on the inside, either. It offers enough room to hold everything your child will require for a few days out on the town.
4. Double Handle Rolling Backpack
With this Rockland rolling backpack carry-on, your kids might breeze through LaGuardia (or their own primary schools). It's as light as a feather and has a lot of pockets, making it easy to arrange.
The telescoping handle expands to a suitable height for both younger and older kids, thanks to Rockland's unique practical chic style. However, if it becomes too much, it comes with normal backpack straps that can be adjusted to fit everyone in the family.
READ ALSO!!!
5. Disney Hard Side Luggage With Spinner Wheels
Are you planning a trip to a Disney theme park? While it's not a hard-and-fast rule that everyone must have Disney luggage, you'll notice Mickey Mouse luggage everywhere while you're in them.
If you've ever had American Tourister baggage, you already know it's some of the best-designed luggage available, and this model is no exception.
The interior is divided into compartments that are just the right size for your kids' shoes, clothing, and trinkets, while the exterior is brimming with Disney-themed items, from the tag to the zip pulls.
6. Kids' My First Hard Side Spinner Luggage
For tiny kids, the "Baby Shark" theme is still going strong, and this Rockland hardshell kids' suitcase demonstrates just how lovely it can be, fin, gills, teeth, and all. The luggage tag is even shaped like a baby shark!
The suitcase's light polycarbonate shell sits on four 360-degree-spinning wheels for easy hauling, and the extended handle pulls all the way up to adult height, allowing caretakers to lend a hand when necessary.
READ ALSO!!!
7. Travel Suitcase with Integrated Snack Lunch Box Cooler
A ridiculous amount of snacks is one of the best ways to keep a child happy on a long plane or car ride. You won't have to worry about anything going bad thanks to this luggage with a built-in cooler.
This kids' luggage is fantastic even without the handy add-on, thanks to its lightweight structure, abundant pockets, and smooth-rolling wheels.
8. Mini Logan Suitcase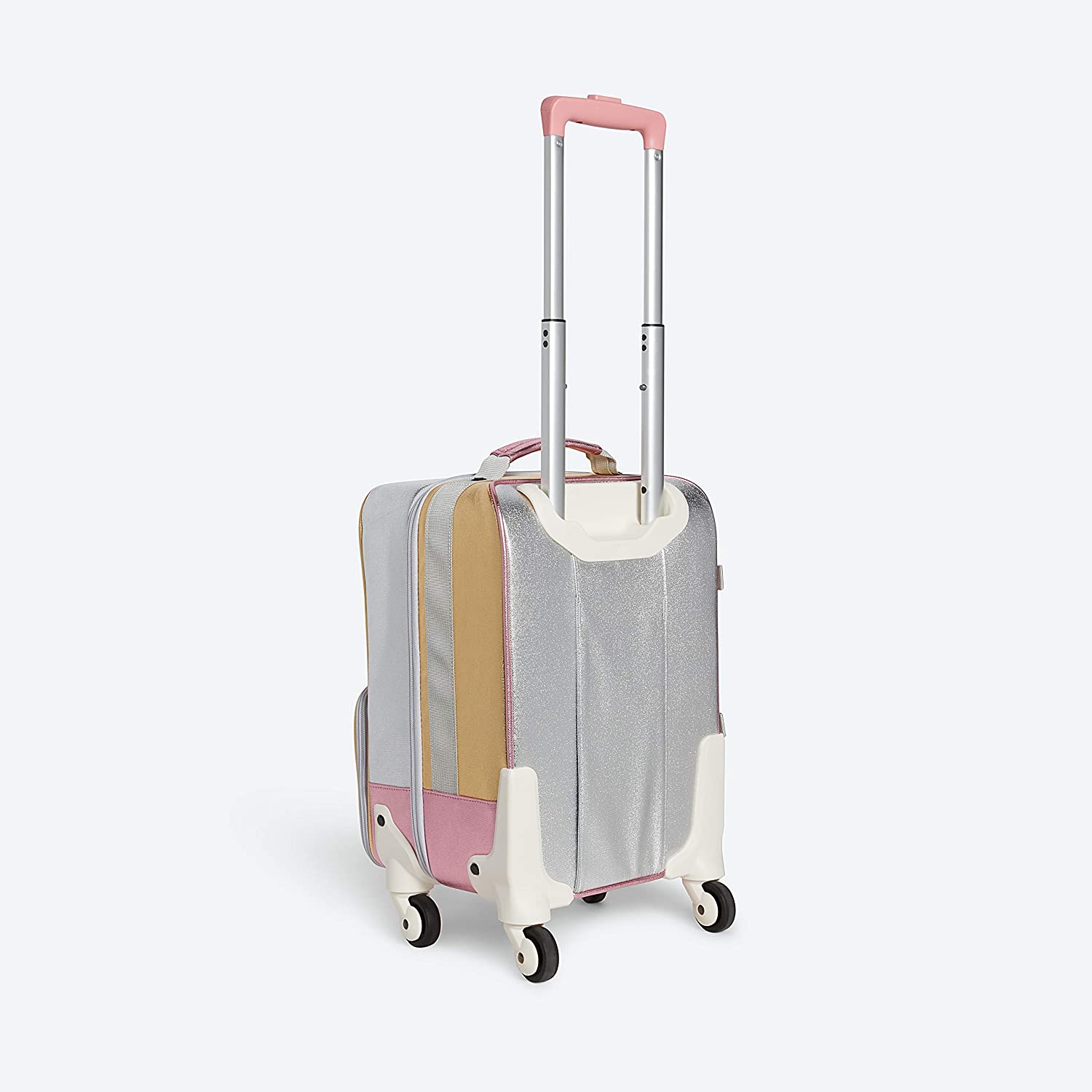 When a youngster has a suitcase, it is commonly understood that they will need someone to shove it toward when they feel tired.
Because it features a sleeve on the rear that allows you to thread it sideways on your own carry-on, this suitcase from STATE makes it a lot easier for that person. Simply drop it down your suitcase's handle and you're ready to go.
This luggage has 360-degree wheels, a telescopic handle, and a robust, lightweight body made largely of recycled water bottles.
READ ALSO!!!
9. Kids Pilot Case
Suitcases, no matter how little, may be incredibly costly.
This is a great budget-friendly choice for parents who don't want to spend a lot of money on a suitcase for their children.
The colors are vibrant and energetic, and your youngster will adore the rainbow unicorn pattern, which will add to the joy of your trip.
You'll also love the sturdy design: It features a front zipped pocket, easy-gliding rear wheels, and a telescoping handle that retracts inside the bag.
10. Duffel Bag for Kids Ride-On Suitcase
When you're dragging your toddler through the airport, having a ride-on suitcase comes in handy.
This adorable turquoise suitcase (also available in different colors) not only carries all of their belongings, but it also serves as a mode of transit through lengthy, twisting terminals.
As you make your way to your destination, the kids will either push themselves or be pushed while seated atop their adorable container.
11. Stephen Joseph Classic Rolling Luggage
This is an excellent first choice if your child wants their own luggage for a family vacation.
With this rolling softside find, fun meets practicality; the Amazon bestseller measures 14.5″x 18″x 6.5″ and includes a draw handle that can be adjusted.
Inside, there's plenty of capacity for food and toys, as well as inside, front, and side pockets.
This airplane-themed print is one of more than 15 adorable patterns available. 
12. Olli Ella Kids Rolling Suitcase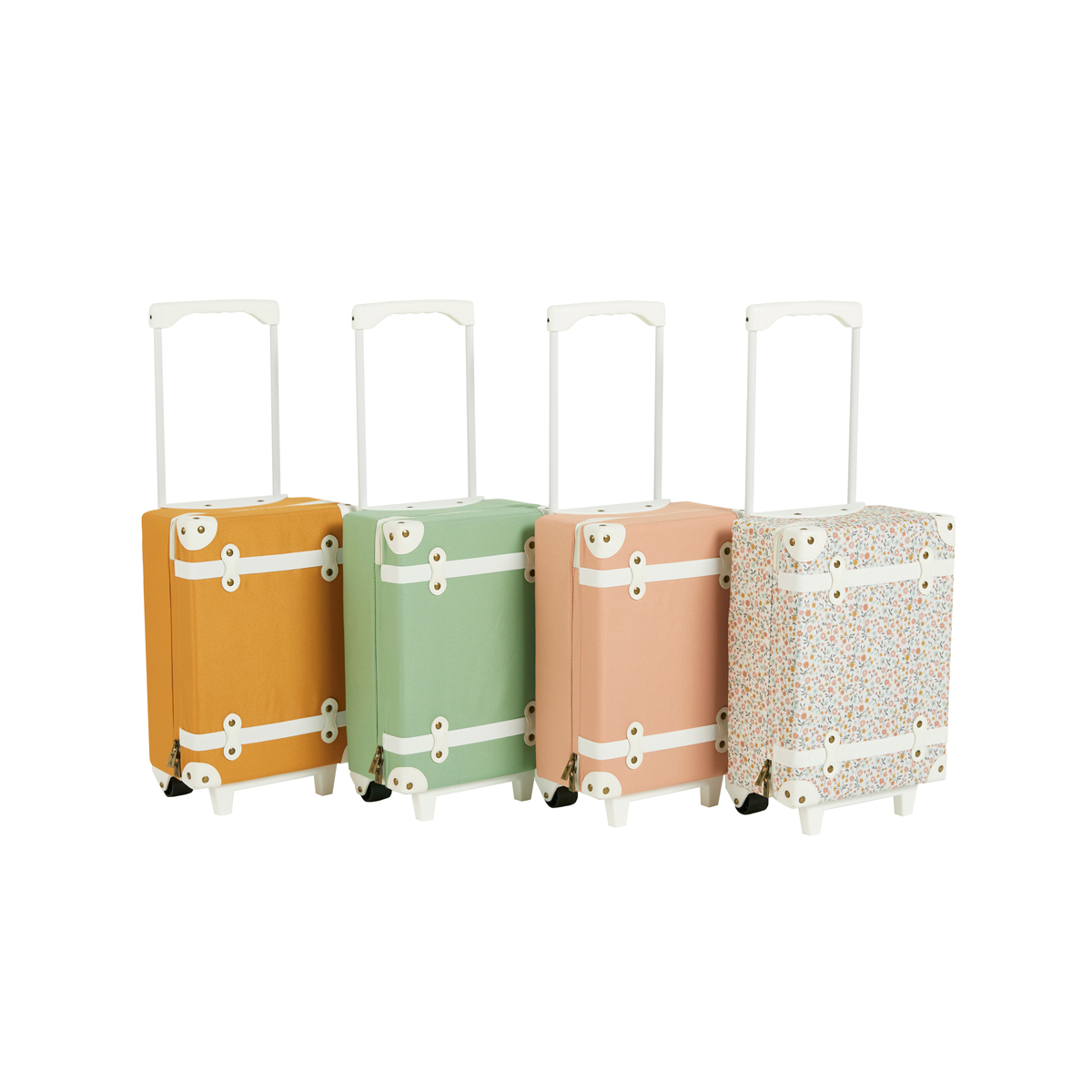 It doesn't get much more sophisticated than this when it comes to children's rolling luggage.
This option will guarantee that your young one arrives in style, whether they're traveling across the nation or simply to Grandma's house. Teal satin lining, a zipped mesh pocket, and cross straps adorn the interior.
The suitcase, which measures 16″x10.5″x7″ and includes a 16″ retractable handle, is best for youngsters in late elementary school and up.
The suitcase comes in two colors: deep ochre with white accents, as shown above, and flowery with white accents.
13. L.L.Bean Rolling Adventure Duffel
There's a reason why 5.5 million of these tough duffles have been sold: they're practically unbreakable.
They were proven to be water-resistant for up to 60 seconds at 120 PSI (the same pressure as a commercial firehose), and the backing was even put in the freezer for 24 hours to ensure it didn't fracture or flake.
The bottom line is that your child will not be able to handle it.
It's also the ideal combination of soft-sided duffel and rolling baggage, with an internal toboggan bottom to keep it from drooping and an extra-long zipper on top for quick access to whatever's inside.
14. Star Wars The Mandalorian Kids' Carry-On Suitcase
Target has a lot of entertaining designs for kids' baggage, including this cheeky Star Wars-inspired piece that says "the child: guard, assault, eat."
The recessed one-button locking draw handle with an ergonomic grip, multi-directional spinning wheels, two capacious compartments, and a zipped closing are all features of the rolling hard side baggage.
15. Stoney Clover Lane Classic Backpack
For kids and teens, these nylon, candy-colored rucksacks have become a must-have item.
But don't expect your kids to settle for a basic-version: Stoney Clover is famed for its near-limitless patch customization options.
Whether your child opts for a conventional monogram with varsity letters or metropolitan area patches for Amsterdam or Lake Tahoe, these backpacks are the perfect eye-catching carry-on.
16. Gymax 2 PCS Kids Carry-on Luggage Set 12" Backpack and 18" Rolling Suitcase
Our 2-piece baggage set, which comprises a 12-inch backpack and an 18-inch rolling suitcase, is the ideal present for your children.
This set may instantly catch their attention due to its attractive appearance. It's great for kids' travel because of its large capacity and lightweight construction.
Furthermore, the superior ABS material assures that it will last a long time for your children. The surface is also waterproof and wear-resistant thanks to the PC protection coating.
The aluminum handle and shoulder strap is being modified to meet the demands of your children. Take our baggage set home with you and enjoy your trip with your children!
Frequently Asked Questions About Travel Luggages
Below are the FAQs concerning travel luggage
Is a school bag considered hand luggage on flights?
Are you carrying it into the cabin? Then it is hand luggage. Are you checking it? Then it is checked luggage.

Depending upon its seize, it might be considered a "personal item" rather than a "carry-on," but it's definitely hand luggage when you take it into the cabin with you.
Which brands are best for large luggage for international travel?
▸ IT Luggage
▸ Roncato
▸ Lucas
▸ Victorinox
▸ Delsey Helium
What are some the best ways to prevent pickpocketing?
Keep your wallet/cash in the side pockets when in a crowded place like while getting out or boarding trains, standing in a crowded bus, in a large gathering etc and keep your hands in pockets casually so that, no one suspects that you have money in your pockets.

Don't keep all your cash/money in one place. Have some cash in your backpack and luggage(if possible) so that if you pockets get picked or one of your bag is stolen, you still have some cash with you.

If you have earphones, then always plug in your earphone into the mobile phone whether you are listening or not so that, if someone tries to take your phone you can feel it through the earphones.

Be aware of people around you when you are standing among many people. Mostly, people who sleep without any safety while travelling and people who are caught up in their own imaginary world are targeted by pickpockets.
When and how did backpacks become popular for school use?
It came about soon after the ecological movement became popular. When Earth Day first started, in 1970, people (not just HS kids) Became more ecological-minded with the idea of backpacking in the woods.

Just like how many people have 4-wheel drive vehicles. Also never go out on the back roads where they would need 4-wheel drive, college kids, And then HS kids, and then elementary kids, Started to use backpacks as if they were going hiking

But the only hiking they ever did was at the mall. Because of this Lockers is being used, but not to any great extent. It's no longer a requirement, it's a choice. 
We hope we've been able to make profitable suggestions to make your vacation with your kids a memorable one. Please endeavor to share this article with family and friends.
CSN Team.
---
---
=> FOLLOW US ON INSTAGRAM | FACEBOOK & TWITTER FOR LATEST UPDATE
Tags: american tourister kids luggage, best kids luggage, cheap kids luggage, children's luggage sets clearance, kids luggage on wheels, personalized kids luggage, samsonite kids luggage, walmart kids luggage