– UBA Customer Care –
UBA Customer Care – The UBA Customer Fulfillment Center is a 24/7 one-stop shop to help you with your inquiries, complaints, and requests for our products and services. In this article, you will get to know all UBA customer care hotlines and other means of communicating with the bank.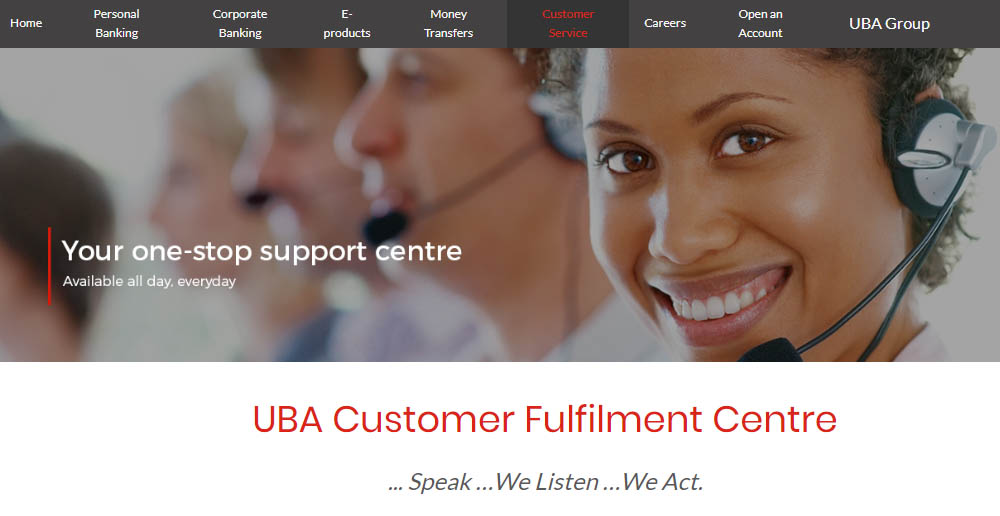 About UBA 
United Bank for Africa (UBA) PLC is a leading pan-African financial services institution with a global footprint. We have a clear purpose to be a role model for African businesses by creating superior value for all our stakeholders.
Today, UBA is one of the largest financial services groups on the African continent. The bank provides corporate, commercial, SME, consumer, and personal (retail) banking services to more than 18 million customers.
Also, it served through diverse channels: over 1,000 business offices and customer touchpoints (2,539 ATMs, 24,168 PoS, robust online banking, and mobile banking, social media, etc).
READ ALSO!!!
➣ Step By Step Guide on How to Create Gmail Account Online 2021 Latest Updates
➣ Complete Guide on How to Loan Money from Kwikcash Airtel 2022 Update
➣ NAOC Tertiary Scholarship 2022 Application Update
Additionally, UBA offers pension custody and related services. We have proven expertise and capacity in key sectors of economies across Africa especially in Oil and Gas, Infrastructure Finance, Agric, and Commodity/Export.
Our Africa footprint positions us as a preferred partner for structured solutions to key governments and corporates operating in/into Africa. We know business across Africa.
Mission
To be a role model for African businesses by creating superior value for all our stakeholders, abiding by the utmost professional and ethical standards, and building an enduring institution.
Vision
To be the undisputed leading and dominant financial services institution in Africa.
UBA History
Founding (1948)
1948 The British and French Bank Limited (BFB) commenced business in Nigeria. BFB was a subsidiary of Banquet National de Credit (BNCI) Paris, which transformed its London branch into a separate subsidiary called the British and French Bank.
However, with shares held by Banque Nationale de Credit and two British investment firms: S.G. Warburg and Company and Robert Benson and Company
Incorporation (1961)
Following Nigeria's independence from Britain, UBA was incorporated on 23rd, February 1961 to take over the business of BFB. UBA eventually listed its shares on the Nigerian Stock Exchange (NSE)
IPO (1970)
UBA eventually listed its shares on the Nigerian Stock Exchange, in 1970 and became the first Nigerian Bank to subsequently undertake an Initial Public Offering (IPO)
Mergers (1990 – 2006)
Information about UBA: Today's UBA emerged from the merger of the dynamic and fast-growing Standard Trust Bank, incorporated in 1990, and UBA, one of the biggest and oldest banks in Nigeria.
The merger was consummated on August 1, 2005; one of the biggest mergers done on the Nigeria Stock Exchange (NSE).
Following that merger, UBA went ahead to acquire Continental Trust Bank in the same year, further expanding the UBA brand. UBA also subsequently acquired Trade Bank in 2006 which was under liquidation by the Central Bank of Nigeria (CBN).
Public Offering and Further Acquisitions (2007 – 2008)
UBA had another successful combined public offering rights issue in 2007 and made further banking acquisitions of three liquidated banks namely; City Express Bank, Metropolitan Bank, and African Express Bank The bank also acquired Afrinvest UK, rebranding it UBA Capital, UK.
The quest to build a strong domestic and African brand intensified in 2008 when UBA made further acquisitions of two liquidated banks, Gulf Bank and Liberty Bank.
READ ALSO!!!
➣ USC Ranking 2022, Requirement and Admission Rate Update
➣ 10 Colleges in the USA Where Students Attend for Free in 2022
➣ Difficult Interview Questions and Answers in South Africa
Establishment of Subsidiaries (2008 – Present)
UBA has been intensifying its African footprint with the establishment of UBA Cameroon, UBA Cote d'Ivoire, UBA Uganda, UBA Sierra Leone, and UBA Liberia as well as the acquisition of a 51% interest in Banque Internationale du Burkina Faso, which was the largest bank in the country with 40% market share. Currently, UBA has 20 African subsidiaries.
UBA Customer Care
Head Office: 57 Marina, Lagos Island, Lagos, Nigeria.
Tel: +234 700 2255 822 (0700-CALL-UBA)
+234 1 280 8822 (2808UBA)
+234 1 631 9822 Email: [email protected]
CBN Customer Biometric Data Capture
• Unique customer identity, irrespective of the applicant's bank
• Easier and faster credit check
• Authentic means of identification
• Assists in non-repudiation of transactions
• A more efficient method of fraud management
• Means of identification (international passport, voter card, national identity card, driver's license) with a clear picture.
• A complete enrollment form
What's your take on this? We believe this article was interesting right? if yes, don't hesitate to use our share button below to inform – friends and relation via Facebook, Twitter.
CSN Team.