---
– Union Bank Transfer Code –
Union Bank Transfer Code -*826# the shortcut to getting things done faster and smarter. This helps customers make a transaction without stress. Let's learn how to navigate through this.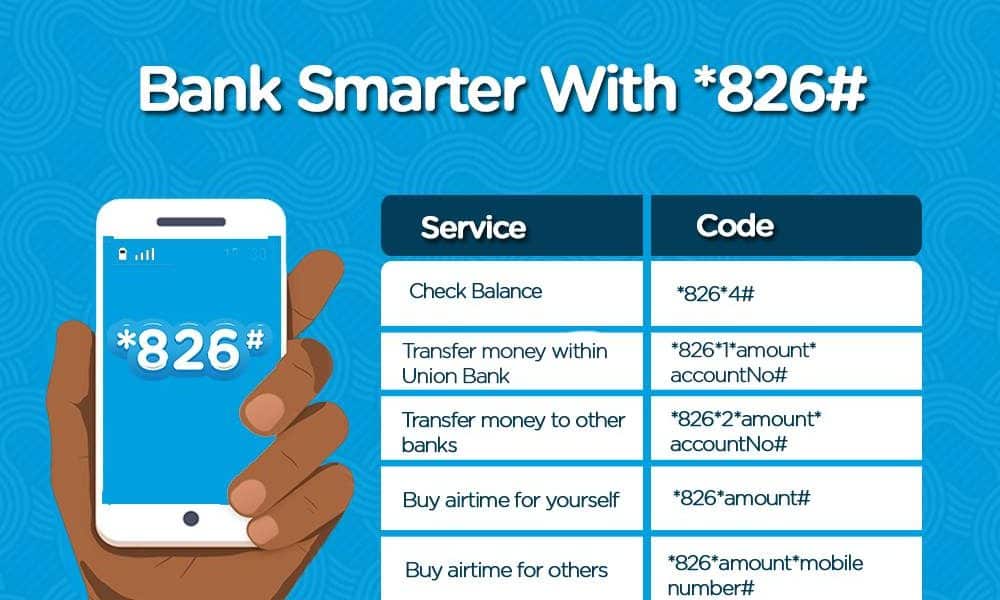 About Union Bank
Union Bank is Nigeria's most reliable and trusted banking partner. They make lives better by delivering the simplest, smartest solutions and guaranteeing the best experience every time.
Union Bank of Nigeria ("UBN") was established in 1917 . It is  one of Nigeria's long-standing and most respected financial institutions. They offer a portfolio of banking services to individuals, SMEs, commercial and corporate clients.
With a robust geographical network comprising over 284 service centers and over 934+ ATMs spread across Nigeria. They have remained committed to helping individuals, families, and businesses grow for nearly a century.
Additional Information
They are committed to being widely recognized as Nigeria's most reliable and trusted banking partner. They hinged their ambition on successfully delivering against six strategic pillars.
This includes the quality of their customer experience, client base, banking platform, professional standards, and earnings.
Aggressive execution of our strategy is underway, leveraging a robust transformation team largely focused on people, processes, and technology.
READ ALSO!!!
Union Bank Transfer Code
Union bank transfer code allows you to transfer money from Union bank to another bank. Also, It is a platform where you can easily check your account balance on the go.
Currently, almost all Nigerian banks have introduced their mobile banking and provided a transfer code for all their customers. You can also call it Union Bank Mobile Money recharge code.
Union bank transfer code is now available for all its users. And the company has made it much easier and faster for everyone in their service.
Benefits and Features
1. You can send money to other banks
2. You can buy airtime for yourself and others
3. Check your account balance
4. You can open an account
5. You can save for the future
6. Pay your bills
How to Register for Union Bank Transfer Code
Before you can continue with the transfer code, complete the registration. Fortunately, you can easily complete the registration without stress.
Anyway, you must have an account with Union bank, before you can continue the offline registration. The Union bank transfer code is *826#.
And yes, it is absolutely free to register. All you have to do is to dial *826# to register.
Understand that you must dial the code from the number that was officially registered with the company. And the registration is only done once you dial the numbers for the first time.
Getting Your Pin
The transfer code cannot be completed and secured without the use of the 4-digits transfer pin. Union bank confirms that your security is in their best interest.
The Union bank transfer pin is very important and essential. They always request the transaction pin when you want to complete a transaction.
Please, it is always advisable to create a 4-digits transaction pin that you can easily remember. For instance, the number should be your ATM withdrawal pin.
READ ALSO!!!
FAQs on Union Bank Transfer Code
Below are the frequently asked questions on Union bank transfer code;
1. Can I make funds transfer on all account types?
No, you can only make transfers from your individual current or savings account.

You cannot transact with the following account types: Corporate Accounts, Joint Accounts, Target Savings Accounts & Domiciliary accounts.
---
2. What is the charge for funds transfer?
The charge for fund transfer to other banks is ₦52.50 per transaction. It is free to another UBN account.
---
3. Daily cumulative transfer limit allowed?
Just to help you keep track of your spending, there is a daily cumulative amount of ₦200,000, you're welcome.
---
4. What is the limit for Airtime Purchase?
We know you're a big boy/girl therefore a daily cumulative limit of ₦20,000 (Self & 3rd Party) is available.
---
5. Is there a cost to register on *826#?
Registering on *826# is absolutely free!! Just dial *826# to register. 
---
6. How do I get my OTP code for Union Bank?
Log out and log back into your UB Online mobile app.

On the Dashboard, scroll down and look for the Generate OTP button. Tap that button and then on the next screen click on Subscribe.
---
7. What is OTP Union Bank?
OTP refers to One-Time Password
---
8. Why can't I receive my OTP?
If you do not receive the OTP on your registered mobile number, check: You have good network connectivity. 

You have not activated DND (Do Not Disturb) with your mobile operator for the number you have registered with us.
---
9. How can I change my number in Union Bank Philippines?
Kindly call their 24-Hour Customer Service at (02) 841-8600 for further help
---
10. How many digits is Union Bank account number?
12 digits
---
What's your take on this? Also, we believe this article was interesting. Please share the article on all of your social media platforms. Best regards!
CSN Team.
---
---
=> FOLLOW US ON INSTAGRAM | FACEBOOK & TWITTER FOR LATEST UPDATE
Tags: how to activate union bank mobile transfer, how to register for union bank online banking, how to transfer money union bank to another bank, i forgot my union bank transaction pin, union bank transfer app, union bank transfer code, union bank transfer limit, unity bank transfer code