– Exercise Physiologist –
Literally, everyone deserves a better life but they are people who can't go beyond living a good life if not assisted by others. Becoming an exercise physiologist can give you a chance of helping others have a better life.
In this article, you will get to know who an Exercise Physiologist is and what it takes to become one.
Who is an Exercise Physiologist?
A skilled practitioner who assists people in improving their overall health is known as an exercise physiologist.
They create exercise programs and regimens for chronic disease patients, as well as activities to help enhance flexibility, body composition, and cardiovascular functioning.
Many of the patients who seek the help of exercise physiologists have lung or cardiac difficulties. They also collaborate with primary care physicians and assist in the development of fitness programs.
Their Duties Include:
‣ Taking and monitoring patient vital signs
‣ Measuring heart rhythm and oxygen usage
‣ Performing stress and fitness tests
‣ Developing exercise programs to maintain good health
How to Become An Exercise Physiologist
Although some exercise physiologists hold master's degrees, this position only requires a bachelor's degree from an authorized institution. Degrees in exercise physiology, kinesiology, exercise science, or a similar discipline are available to candidates.
Students will take courses in kinesiology, biology, nutrition, anatomy, statistics, science, and other health-related areas as part of the degree. Students must also perform clinical work for hands-on instruction as part of the program.
As of 2017, the Commission on Accreditation of Allied Health Education had accredited about 60 exercise physiology programs. Exercise physiologists are not required to be licensed in any state except Louisiana. 
Career Outlook
Exercise physiologists are expected to expand by 13% between 2016 and 2026, according to the US Bureau of Labor Statistics. Because there are so few people in this field, they are in high demand.
By 2026, 2,000 additional employment should have been produced in this industry. Exercise physiologists earned an average annual pay of $54,730, according to the BLS, with wages ranging from $34,250 to $78,410.
According to the Bureau of Labor Statistics, about half of exercise physiologists are self-employed as of 2016. Experience, credentials, degrees, and geographic location are all important considerations.
The most important factor in earnings is most likely where you live. The five best-paying states for exercise physiologists are listed below, along with their salaries. As can be seen, there is a significant wage disparity between California and Arizona.
‣ California – $103,280
‣ New York – $67,050
‣ Connecticut – $59,800
‣ Minnesota – $58,990
‣ Arizona – $57,240
READ ALSO!!!
Exercise Physiologists Job Duties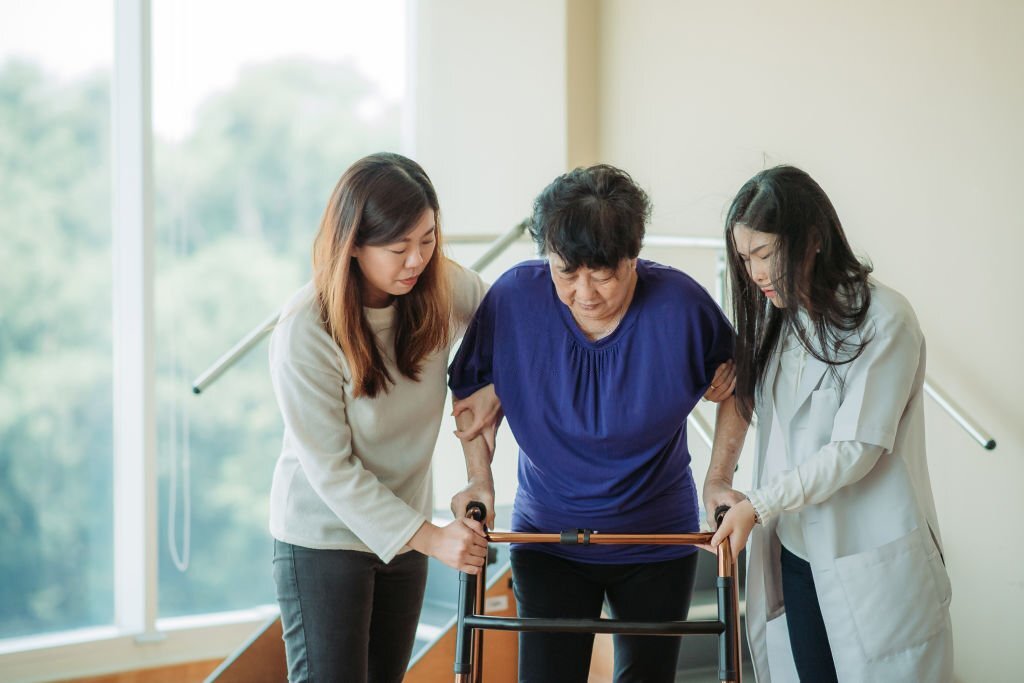 It can be difficult to witness someone suffering to recover and improve their physical condition, which is why many people choose to become exercise physiologists.
Although exercise physiologists are not obliged to complete as many years of education as doctors, they play a vital role and often find their work to be both hard and fulfilling.
Exercise physiologists typically do the following:
‣ Analyze a patient's medical history to evaluate their risk of injury during activity and the optimal exercise and fitness routine for them.
‣ Perform fitness and stress tests on patients using medical equipment and analyze the results.
‣ Measure the patient's blood pressure, oxygen consumption, heart rate, and other vital health markers.
‣ Create workout routines to help people improve their health.
‣ Exercise physiologists strive to improve a patient's overall health. Many of their patients have health issues such as heart disease or pulmonary disease (lung disease).
‣ Exercise physiologists help people improve their health by providing health education and exercise plans.
‣ Primary care physicians may recommend exercise regimens for their patients and send them to exercise physiologists.
‣ The physiologists then collaborate with the patients to design a treatment plan that will help the patients meet their health and fitness goals.
‣ Fitness trainers and instructors (including personal trainers) and athletic trainers are not the same as exercise physiologists.
‣ Develop exercise programs in line with exercise science standards, regulatory regulations, and credentialing criteria to increase participant strength, flexibility, endurance, or circulatory function.
‣ Prescribe tailored workout plans that include treadmills, exercise bikes, ergometers, and perceptual goggles, among other items.
‣ Interpret data from exercise program participants to assess progress and make necessary program modifications.
‣ Participants should be informed about the workout program or the physiological testing techniques.
‣ Participants with symptoms or signs of physical distress should receive emergency or other appropriate medical care.
‣ Provide clinical supervision of exercise for all risk levels of participants.
‣ Demonstrate proper exercise equipment use or exercise routine execution.
‣ Participants are interviewed to collect medical information or to assess their aims.
‣ Recommend techniques for increasing physical activity in your daily life.
‣ To aid in the formulation of tailored recovery or rehabilitation exercise programs, assess physical performance requirements.
‣ Use electrocardiography (EKG) equipment to conduct stress tests.
‣ Teach low, medium, or high-risk clients group exercise to increase their strength, flexibility, endurance, or circulatory function.
‣ Teach fitness or diet-related classes or seminars to patients, athletes, or community organizations.
‣ Exercise physiology research projects might be planned or carried out.
‣ Use a hydrostatic scale, skinfold calipers, or tape measures to determine the quantity of body fat.
‣ Teach behavior modification classes on subjects including stress management and weight loss.
‣ Exercise or test equipment to calibrate it.
‣ Maintain exercise or exercise testing equipment under your supervision.
‣ Measure oxygen consumption or lung functioning, using spirometers.
‣ Educate players or coaches about tactics that help them improve their athletic performance, such as heart rate monitoring, recovery procedures, hydration strategies, and training restrictions.
‣ At professional gatherings or conferences, share your exercise knowledge, program information, or research study findings.
‣ Stress tests, drug screenings, and urine tests are examples of diagnostic procedures that may be ordered or recommended.
‣ Staff should be mentored or trained to lead group exercises.
‣ Test blood samples for cholesterol and glucose tolerance regularly in the lab.
‣ Staff performance in guiding group exercises or conducting diagnostic testing should be evaluated.
How to Become an Exercise Physiologist
A bachelor's degree is usually required for exercise physiologists.
To work as an exercise physiologist, you'll normally require a bachelor's degree.
Science and health-related courses, such as biology, anatomy, kinesiology, and nutrition, are included in degree programs, as well as clinical work.
Qualifications of an Exercise Physiologist
Exercise physiologists normally need a bachelor's degree in exercise physiology, exercise science, kinesiology, or a similar subject in healthcare. There are additional master's degree programs available.
The Commission on Accreditation of Allied Health Education Programs has recognized degree programs in exercise physiology, exercise science, and kinesiology (CAAHEP).
Courses in science and health-related areas like biology, anatomy, statistics, kinesiology, and nutrition, as well as clinical work, are typically included in these programs.
Licenses, Certifications, and Registrations
Louisiana is the only state that requires exercise physiologists to be licensed, however, legislation to do so is pending in several other states.
Employers often require exercise physiologists to have either Basic Life Support (BLS) or Advanced Life Support (ACLS) certification, which both entail cardiopulmonary resuscitation training (CPR).
Certifications
The American Society of Exercise Physiologists (ASEP) offers the Certified Exercise Physiologist (EP-C) and Certified Clinical Exercise Physiologist (CEP) credentials for candidates with a bachelor's degree, as well as the Registered Clinical.
Exercise Physiologist (RCEP) for candidates with a master's or higher degree is available to exercise physiologists. CPR certification and passing an exam are required for all three ACSM certificates.
Candidates for the CEP and RCEP must additionally have supervised clinical experience of at least 400 and 600 hours, respectively. Candidates for all three ACSM certifications must take continuing education courses every three years and maintain current CPR certification.
Registrations
The American College of Sports Medicine (ACSM) also offers the Exercise Physiologist Certified (EPC) certification to demonstrate their qualifications.
Candidates must pass the ASEP exam and be members of ASEP to be eligible for certification. Candidates must also have either a bachelor's degree in exercise physiology or a bachelor's degree in a related subject, as well as specified curriculum requirements met.
Candidates must complete continuing education courses every five years to keep their certification.
Qualities of An Exercise Physiologist 
1. Compassion
Exercise physiologists must be compassionate when dealing with patients because they may be in a great deal of pain or discomfort.
2. Decision-Making Skills
Exercise physiologists must make well-informed clinical decisions because their decisions may have an impact on a patient's health or well-being.
3. Detail-Oriented
Exercise physiologists must keep detailed records of their patient's medical issues as well as any progress they make. They must, for example, guarantee that patients complete the requisite stress tests and follow the proper exercise routine.
4. Interpersonal Skills
Exercise physiologists must be able to communicate well with others and handle challenging situations. They must be able to communicate clearly with others, such as physicians, patients, and their families.
Skills of An Exercise Physiologist 
Exercise physiologist requires several skills. Here's a list of some of the skills required.
‣ Active Listening 
Giving full attention to what other people are saying, taking time to understand the points being made, asking questions as appropriate, and not interrupting at inappropriate times.
‣ Critical Thinking 
Using logic and reasoning to identify the strengths and weaknesses of alternative solutions, conclusions, or approaches to problems.
‣ Reading Comprehension
Understanding written sentences and paragraphs in work-related documents.
‣ Speaking
Talking to others to convey information effectively
‣ Instructing
Teaching others how to do something.
‣ Service Orientation
Actively looking for ways to help people.
‣ Writing 
Communicating effectively in writing as appropriate for the needs of the audience.
‣ Judgment and Decision Making
Considering the relative costs and benefits of potential actions to choose the most appropriate one.
‣ Monitoring
Monitoring/Assessing performance of yourself, other individuals, or organizations to make improvements or take corrective action.
‣ Social Perceptiveness
Being aware of others' reactions and understanding why they react as they do.
‣ Complex Problem Solving 
Identifying complex problems and reviewing related information to develop and evaluate options and implement solutions.
‣ Active Learning
Understanding the implications of new information for both current and future problem-solving and decision-making.
‣ Coordination
Adjusting actions concerning others' actions.
‣ Learning Strategies
Selecting and using training/instructional methods and procedures appropriate for the situation when learning or teaching new things.
‣ Persuasion
Persuading others to change their minds or behavior.
‣ Management of Personnel Resources
Motivating, developing, and directing people as they work, identifying the best people for the job.
‣ Systems Analysis
Determining how a system should work and how changes in conditions, operations, and the environment will affect outcomes.
‣ Systems Evaluation
Identifying measures or indicators of system performance and the actions needed to improve or correct performance, relative to the goals of the system.
‣ Time Management
Managing one's own time and the time of others.
Exercise Physiologist Salary
In May 2020, the median yearly wage for exercise physiologists was $50,280. Half of the workers in a given occupation earned more than that amount, while the other half earned less.
The bottom 10% of earners made less than $36,070, while the top 10% earned more than $78,170.
In May 2020, the following were the median yearly incomes for exercise physiologists in the top industries where they worked:
| | |
| --- | --- |
| Government | $75,740 |
| Hospitals; state, local, and private | $ 50,390 |
| Offices of physicians | $ 49,560 |
| Offices of physical, occupational, and speech therapists, and audiologists | $ 46,030 |
Note: All Occupations include all occupations in the U.S. Economy.
Source: U.S. Bureau of Labor Statistics, Occupational Employment, and Wage Statistics
Job Outlook
Exercise physiologists' employment is expected to expand by 13% between 2020 and 2030, faster than the average for all occupations.
Over the next ten years, around 1,500 openings for exercise physiologists are expected.
Many of those positions are likely to arise as a result of the need to replace people who change occupations or leave the workforce for other reasons, such as retirement.
1. Employment
As healthcare practitioners prioritize exercise and preventative treatment to assist patients to recover from cardiovascular and pulmonary disorders and improve their overall health, demand for these employees may increase.
2. Academic Requirements
While many employers hire exercise physiologists with a bachelor's degree, those interested in working in cardiac rehabilitation will almost certainly need a master's degree. Exercise physiology courses should contain the following topics:
‣ Biomechanics
‣ Cardiac rehabilitation
‣ ECG interpretation
‣ Exercise physiology
‣ Exercise physiology research
‣ Exercise testing and prescription
‣ Kinesiology (functional anatomy)
‣ Psychophysiology
‣ Sports nutrition
‣ Statistics
‣ Internships provide hands-on experience developing and monitoring exercise programs.
Frequently Asked Questions
Below are the most frequently asked questions about Exercise Physiologist
Does strength training affect flexibility?
Resistance training, contrary to popular belief, does not reduce flexibility.

When an activity is done correctly and across a full range of motion, it can help you become more flexible.
Is muscles strength related to flexibility?
As a result, the importance of strength in relation to flexibility cannot be overlooked.

An gain in strength without a balanced increase in flexibility can result in soft tissue rips, sprains, and postural abnormalities, just as being hypermobile can induce joint damage.
Does weight training reduce the flexibility of body parts?
Building stronger muscles doesn't have to entail decreasing flexibility, as long as resistance training is done through the entire range of motion.

Resistance training, contrary to popular belief, does not reduce flexibility. When an activity is done correctly and across a full range of motion, it can help you become more flexible.
Is muscular flexibility more beneficial than strength?
Generally speaking, I believe strength is more essential than pure flexibility since pure flexibility is more genetically determined.

Furthermore, you cannot regulate flexibility without strength, and increased flexibility can reduce your risk of injury while exercising.

Your muscles are less prone to tension and are less likely to be damaged. Your balance and movement precision will likely increase as well.
How can you gain muscle without losing flexibility?
Weight exercise with appropriate form develops flexibility because muscles, joints, and ligaments are frequently moved through their full ranges of motion.

Stretching after an exercise session will return the muscle to its previous length and promote circulation, which will aid in recuperation.
Can a guy be very muscular and at the same time very flexible?
Yes, absolutely. Take a look at Tom Platz, for example. Take a look at all of the world's most popular and successful bodybuilders, as well as their posing routines.

Stretching exercises are required before and after workouts to ensure a complete workout effect and proper muscular perspective. Flexibility is more vital than strength in any sport.
What is the value of including stretching in an exercise regimen?
Stretching maintains the muscles flexible, strong, and healthy, which is important for maintaining joint range of motion.

Muscles shorten and become tight without it. When the muscles are called into action, they are feeble and unable to fully expand.
Kindly drop a comment on the comment box if this information was helpful. Don't hesitate to share with friends and loved ones who have the prospect of becoming exercise physiologists.