---
JAMB UTME Result 2021 is now out! See how to print the 2021 original JAMB result slip in this article. If you participated in the 2021 JAMB UTME, you can now check and print your original JAMB result for the cost of N1,000. Stay focus as you read on to see how you can print JAMB result.
This information is for candidates who participated in the 2021 Unified Tertiary Matriculation Examination (UTME) and years before, conducted by the Joint Admission and Matriculation Board (JAMB).
They are hereby informed that they can now print their original results slips online.
The Original JAMB result slip is an official document you will likely need during your admission screening exercise and other admission matters.
The JAMB original result contains the candidate's passport photograph, choice of institution/course, etc which is not on the notification slip.
For those without an account on JAMB's website, you will have to create one. See How to Create a JAMB Online Profile.
You can do it yourself, but you will need to make a payment of N1,000 on JAMB portal to access and print the original result slip.
How to Check 2021 JAMB Result
You can now access your 2021 JAMB UTME Results via SMS or ONLINE. Kindly follow the steps outlined below to access your UTME score.
Follow the 4 simple steps below to check your 2021 JAMB UTME result online for FREE!
1. Go to the JAMB result checking portal at https://portal.jamb.gov.ng/eFacility_/CheckUTMEResults.
2. Enter your JAMB Registration Number/Email Address in the required column.
3. Click on 'Check My Results'.
4. The portal will load your result if it's ready.
Check JAMB Result via SMS
All candidates can now send RESULT, via SMS, to 55019 using the same number that was used for registration (you must have a credit balance of at least N50 on your line). The result would be replied to you as an SMS shortly after.
The following are the responses to be expected:
1. If a candidate uses a phone number that was not used to register, a message will be sent to him thus: 'This phone number was not used for registration."
2. A candidate with a result will receive the message: "Dear Mr/Miss X, your result is as follows… (and the details will be provided).
3. If a result is withheld, a "Result Withheld" message will be sent to the candidate.
4. If a candidate belongs to the category being given the benefit of the doubt, the message to the person will be: "Result withheld pending the upload of clarifications/document required from you."
5. If a candidate was absent, s/he would get "CANDIDATE ABSENT" as feedback
6. A candidate that was ABSENT WITH REGISTRATION NUMBER also CANCELLED will be so informed.
7. "Invalid Entrance into the Exam Hall" will be sent to a candidate who gained unauthorized access to the examination hall.
How to Print JAMB Original Result Slip
1. Login to your JAMB profile through http://portal.jamb.gov.ng/efacility/Login.
2. Under the list of services (on the left side of the page), click on the "Print Result Slip".
3. Now click "continue with payment" to make payment via the Remita platform.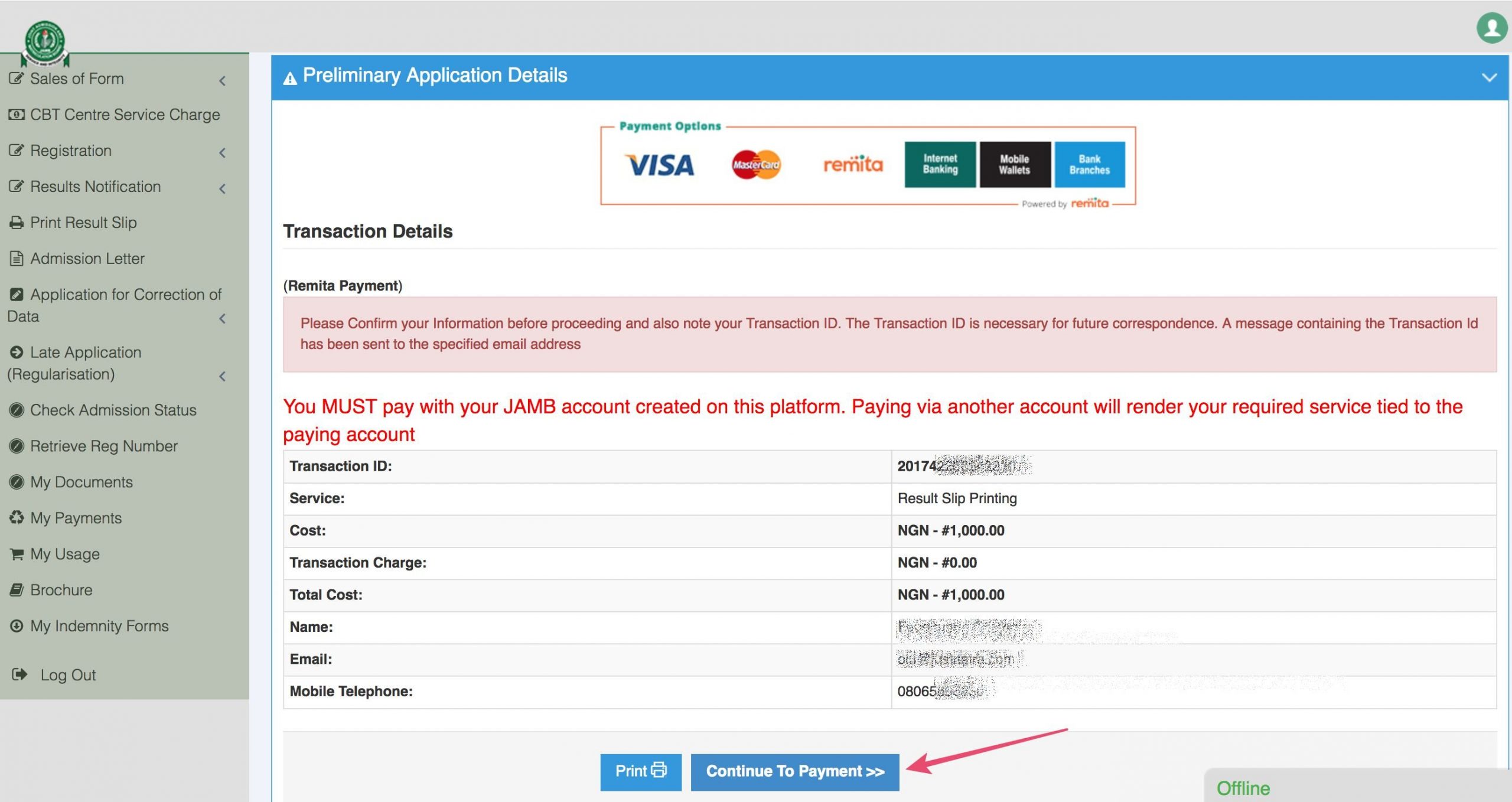 4. After a successful payment, you can now proceed to print your result slip by 'selecting your exam year' and entering your 'JAMB Registration Number' in the required columns.
NOTE: You can request your result slip to be sent to your email or be printed directly from the portal.
How Important is the Result?
The JAMB UTME Result Slip is very important as it is usually required if;
You are going for Admission Screening for your school of choice. It is usually a required document to be submitted on the screening exam day.
You want to start your registration process for the school you are admitted into. Your school will ask for this document as a requirement (To verify your JAMB Score) for a successful registration.
You want to push for your admission into your school of choice either through supplementary or other admission lists.
Also, you are already a student and your school requests for the document for processing anything.
You want to confirm your final score.
Frequently Asked Questions (FAQs) and Answers
1. Is the 2021 JAMB UTME result available online?
Ans = Yes, it is. Go through this article to see how you can check and print your result.
2. How can I access the JAMB result checker portal?
Ans = We have stated how you can do this in this article. Read through properly to see.
3. How many marks do JAMB score?
Ans = The JAMB result is usually over 400, with each of the four subjects carrying 100 marks.
4. Can I check my JAMB result using SMS?
Ans = Yes! See how in this post.
5. How can I print my original JAMB result slip?
Ans = That is what this post is all about. Read through carefully to see how you can do it yourself.
What's your take on this? We cherish your opinion and look forward to it.
Kindly provide us with your phone number and email address in the comment box below. This will help us feed you with more updated information at the right time.
We believe that this article has been helpful. Please do not hesitate to share this information with your friends and family on Facebook, Twitter, Whatsapp, and Google+.
CSN Team.
---
=> FOLLOW US ON INSTAGRAM | FACEBOOK & TWITTER FOR LATEST UPDATE
Tags: Check JAMB Printing Guide, check jamb result 2020 with registration number, check jamb result with registration number, deadline for printing jamb result, how to check jamb result with phone number, how to check old jamb result, How to Print JAMB Result, JAMB, jamb portal check result 2021, jamb result 2020/2021, original JAMB result, original jamb result 2020, original jamb result checker 2019, original jamb result checker 2020, picture of original jamb result, print jamb slip, print original jamb result, print original jamb result 2020, unable to print jamb result slip after payment, Www.Jamb.Org.Ng Result 2020