– Coca-cola Company Recruitment –
Coca-cola Company job offers in Nigeria for graduates and undergraduates is currently ongoing. Below are the job description, application skills, requirements, and qualifications needed for the positions.
Interested applicants should follow the lead outline below for a successful application.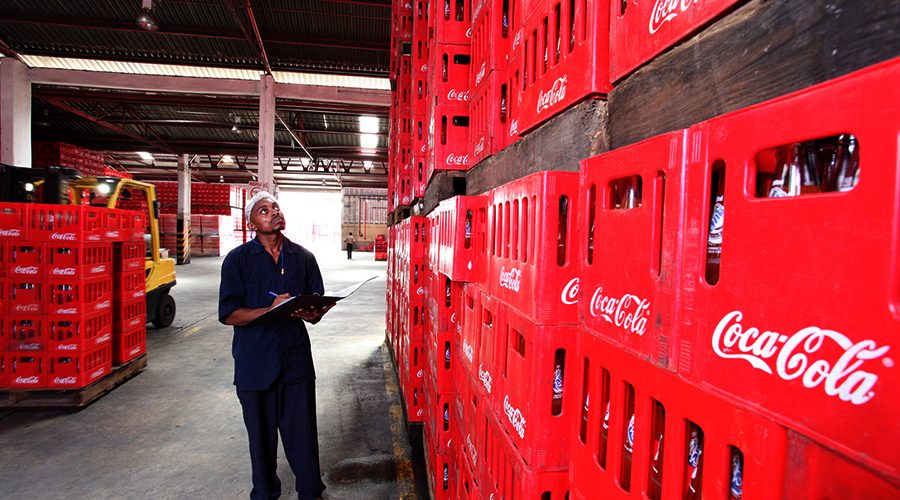 Coca-Cola Company has been undergoing massive recruitment intake annually for the past years.
Coca-Cola Company Job Description
At The Coca-Cola Company, you can cultivate your career in a challenging and dynamic environment.
We are the largest manufacturer and distributor of nonalcoholic drinks in the world selling more than 1 billion drinks a day.
Unlock your full potential with a future-focused company that is known and respected throughout the world.
The Coca-Cola Company is an American corporation, and manufacturer, retailer, and marketer of nonalcoholic beverage concentrates and syrups.
The company is best known for its flagship product Coca-Cola, invented in 1886 by pharmacist John Stith Pemberton in Atlanta, Georgia. Read More
READ ALSO:
Available Coca-Cola Company Vacancies
♦ HR Business Partner
Location: Lagos
Deadline: 9th December 2021.
♦ Consumer & Shopper Connections Senior Manager, Africa (Media Planning & Strategy)
Location: Lagos
Deadline: 9th December 2021.
♦ Senior Legal Counsel, Privacy (EMEA Region)
Location: Lagos
Deadline: 6th January 2022.
General Qualifications and Requirements
Applicants applying for the Coca-cola Company Recruitment recruitment must possess any of the following.
• Possession of B.Sc, HND, NCE, OND concerning the applied position from a recognized institution.
• However, any added certificate either postgraduate or professional certification will be of advantage.
• NYSC Discharge/Exemption Certificate.
• West African School Certificate (WAEC) with Credits in not less than three (3) subjects including English and at least passes in two (2) other subjects.
• Candidates must have National Examination Council (NECO) with passes in four (4) subjects obtained at one sitting or five (5) subjects obtained at two sittings including the English Language.)
• National Diploma (ND) obtained from a recognized institution.
• National Certificate of Education (NCE) from a recognized institution.
• All candidates must have a valid means of identification such as a valid driver license, National Identification Card, International passport, Voters card etc.
• Ability to work with basic computer applications (e.g. Word, Excel, PowerPoint etc.).
• Geographical mobility within and outside Nigeria.
Coca-cola Company Recruitment Registration Deadline
Coca-Cola Nigeria registration closing date is 8th October 2021.
Don't forget to BOOKMARK and SUBSCRIBE to this page to known and get updated when the registration begins
Mistake to Avoid While Applying
A lot of people fail in many applications not because they are not qualified, but because of numerous mistakes. So take note of the following:
• Apply on time. Do not wait until the deadline.
• You can only apply once.
• So before submitting your application, make sure you are what you said you are.
• Applicants who submit false documents will be disqualified.
• Take time to crosscheck your details before submitting.
• Do not pay anyone who claims he will help you get this job
• The Coca-Cola Company recruitment application form is free
• There will be screening and examination for all shortlisted candidates
READ ALSO:
Coca-cola Company Recruitment Shortlisted Applicant Update
If you've been shortlisted, then you've got your foot in the door. And it's time for you to shine at the final stage – the interview.
However, when shortlisted:
• Endeavour to get information about the company.
• Also, ensure you have a clear vision. Try to figure out why you want the specific position. And how you would be a good fit. Also, go through your application.
• Additionally, be interactive. It's an interview, not an interrogation. There is much more to you than your resume.
• The practice goes a long way. Thus, take mock interviews with your friends or practice speaking before a mirror.
• It's rare, but sometimes you do get an offer letter directly based on your application.
• You start planning the celebration but remember some points before you go into that party mode: Get it in writing.
• Again, go over the written offer in detail. And make sure all important details are mentioned and ask questions if you don't understand anything. Such as work profile, start date, duration, and stipend, etc.
• Send a thank-you letter to the employer, once you accept the offer.
• Finally, a follow-up e-mail confirming your start date and expressing your enthusiasm for your new role will be ideal.
From the above, you must note that we are not partnering with these companies.
We are only making this information available, to help you get that your dream job. As such, as you apply, ensure to do more research about the company. GOOD LUCK.
Hot Vacancies in Nigeria Right Now
• Federal Government Recruitment 2021;
• Nigerian Airforce Recruitment;
• The Nigerian Police Recruitment;
• Nigerian Prison Service Recruitment;
• Federal Fire Service Recruitment;
• The Federal Road Safety Recruitment 2021;
• Federal Inland Revenue Recruitment 2021;
• Nigerian Customs Service Recruitment;
• Oil and Gas Jobs in Nigeria;
• Top Companies in Nigeria that are Recruiting Massive Intake this Month;
If you need us to help you with more updated information at the right time about Coca-cola Company Recruitment 2021.
Kindly provide us with your phone number and email address in the comment box below.
What's your take on these Coca-cola Company Recruitment 2021? I urge you to use this same opportunity to share this information with others using our Facebook, Twitter, or Google+. share button below.
CSN Team.