ADS! Download JAMB CBT Software Now for FREE!
– Coca-Cola Hellenic Bottling Company Recruitment Portal –
Coca-Cola Hellenic Bottling Company recently announced that there are currently recruiting into several positions. So below is the latest information on how to apply. You will learn about the company description, application skills, requirements, and qualifications.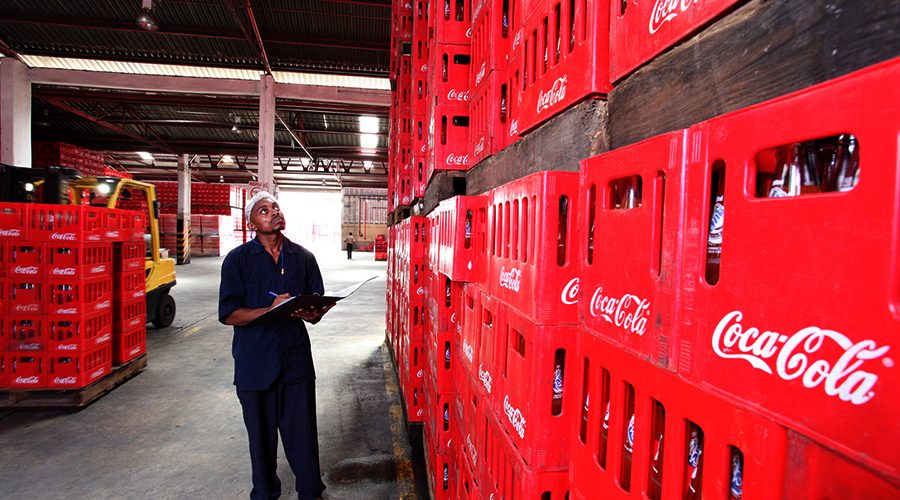 As a fresh graduate, there are fresh jobs at Coca-Cola Hellenic Bottling Company. Thus, if you would love to give them a shot, then you should pay attention to this article as you read through it.
Also, consider yourself to be very fortunate to come across this article. Pay attention as you read through.
However, before learning about these jobs, what do you know about Coca-Cola Hellenic Bottling Company?
A Brief Info About Coca-Cola Hellenic Bottling Company
Coca-Cola HBC (Coca-Cola Hellenic Bottling Company) is a bottling partner of The Coca-Cola Company.
Coca-Cola HBC is headquartered in Zug, Switzerland and has a premium listing on the London Stock Exchange and a secondary listing on the Athens Exchange.
The Coca-Cola Company is the world's largest beverage company and operates in more than 200 countries.
Life at Coca-Cola HBC is fast-paced and challenging, with fair rewards and exciting learning opportunities.
We promote an inclusive workplace, value diverse views and opinions and always appoint the best person for the job, ensuring equality in our shortlists and appointments.
Take up the challenge. Join us!
We are recruiting to fill the following positions below:
1. Job Title: Portfolio and Commercialization Specialist
Requisition ID: req28790
Location: Ebute Metta, Lagos
Team: Marketing
Job Grade: 9
About Your New Job
The Portfolio Commercialization Specialist focuses on strategic portfolio management and commercialization supporting the function with shopper and (Omni) channel and new products management.
Your New Key Responsibilities
Inputs to KO in the design of campaigns and promotions
Operationalization of assigned projects (brand platforms, NCPs deployment etc),
Post campaign performance evaluation.
NPD commercialization, business cases preparation and design of integrated channel/customer launch plans, building
Post-launch performance evaluation.
What You Need to be Successful
Education / Knowledge / Experience:
B.Sc or HND qualification
Trade marketing experience (3+) Track record of end-to-end project management.
Commercial experience in Trade
Excellent Stakeholder Management
Strong Analytical Skills.
Do You Have These Skills?:
Self-starter with strong levels of determination and strong knowledge of industry and competition.
Strong knowledge of beverage products and TCCS brands, solid trade marketing (shopper, customer, channel) expertise
Customer Focus Networking with local 3rd partners /trade marketing agencies
Strong project management skills
Awareness of category/ product P&L, different financial models, and relevant product P&L performance drivers
Full understanding of commercialization process, in Group and on BU level Stakeholders.
Application Closing Date
Not Specified.
2. Job Title: Loss Prevention & Security Administration Manager
Requisition ID: req29018
Location: Ebute Metta, Lagos
Team: Risk & Security
Job Grade: 8
About Your New Job
The LPSAM will be responsible for delivering a Business Continuity Management for the business enterprise and other stakeholders in the country, effective communication, and smooth administrative flow of the Security Department with all its internal & external business partners.
Your New Key Responsibilities
Participates as an independent business continuity professional in support of various other initiatives to achieve the risk management objectives of ERPM.
Liaise across functions and with external stakeholders including other corporates, emergency services, service providers, and residential compound facilities management.
Lead, facilitate and influence without direct authority over the people participating in the preparedness effort
Reporting schedules to ensure plan owners can update and maintain their respective plans.
Relationships with senior ex-pat stakeholders
Manage and maintain asset records.
Build strong relationships across all functions and areas of the business
Build and maintain good relationships with diverse external sources to optimize support
Actively seek new ways to work with functions that give support to our daily activities.
What You Need to be Successful
Education / Knowledge / Experience:
Bachelor's Degree in a relevant area such as Security, Risk, Business Continuity, Sciences or Information Technology, Operations Management and/or Logistics.
Capacity to perform a wide variety of tasks.
A wide degree of creativity and latitude is accepted.
Do You Have These Skills?:
Keen learner, willing to embrace new ideas
Strong team player, who 'performs as one'
Abundant attitude, able to exceed expectations
Open, approachable, and helpful service mindset
Practical with a strong problem-solving attitude
High level of integrity, confidentiality & discretion
Good written/oral communication
Microsoft applications
Good analytical skills
Good interpersonal skills.
Application Closing Date
Not Specified.
Shortlisted Applicant Update
If you've been shortlisted, then you've got your foot in the door. And it's time for you to shine at the final stage – the interview.
However, when shortlisted:
• Endeavour to get information about the company.
• Also, ensure you have a clear vision. Try to figure out why you want the specific position. And how you would be a good fit. Also, go through your application.
• Additionally, be interactive. It's an interview, not an interrogation. There is much more to you than your resume.
• The practice goes a long way. Thus, take mock interviews with your friends or practice speaking before a mirror.
• It's rare, but sometimes you do get an offer letter directly based on your application.
• You start planning the celebration but remember some points before you go into that party mode: Get it in writing.
• Also, go over the written offer in detail. And make sure all important details are mentioned and ask questions if you don't understand anything.
• Such as work profile, start date, duration, and stipend, etc.
• Send a thank-you letter to the employer, once you accept the offer.
• Also, follow up with an e-mail confirming your start date and expressing your enthusiasm for your new role.
From the above, you must note that we are not partnering with these companies.
We are only making this information available, to help you get that your dream job. As such, as you apply, ensure to do more research about the company. GOOD LUCK.
Hot Vacancies in Nigeria Right Now
• Federal Government Recruitment 2021;
• Nigerian Airforce Recruitment;
• The Nigerian Police Recruitment;
• Nigerian Prison Service Recruitment;
• Federal Fire Service Recruitment;
• The Federal Road Safety Recruitment 2021;
• Federal Inland Revenue Recruitment 2021;
• Nigerian Customs Service Recruitment;
• Oil and Gas Jobs in Nigeria;
• Top Companies in Nigeria that are Recruiting Massive Intake this Month;
If you need us to help you with more updated information at the right time about Coca-Cola Hellenic Bottling Company Recruitment Portal 2021.
Kindly provide us with your phone number and email address in the comment box below.
What's your take on Coca-Cola Hellenic Bottling Company Recruitment Portal 2021? I urge you to use this same opportunity to share this information with others using our Facebook, Twitter, or Google+. share button below.
CSN Team.
Join Over 5 Million Subscribers Today!
---
=> FOLLOW US ON INSTAGRAM | FACEBOOK & TWITTER FOR LATEST UPDATES
COPYRIGHT WARNING!
Contents on this website may not be republished, reproduced, redistributed either in whole or in part without due permission or acknowledgement. All contents are protected by DMCA.
---
The content on this site is posted with good intentions. If you own this content & believe your copyright was violated or infringed, make sure you contact us at [[email protected]] to file a complaint and actions will be taken immediately.
---
Tags: Coca-Cola Hellenic Bottling Company Recruitment Portal, Coca-Cola Hellenic Bottling Company Recruitment Portal 2021, Coca-Cola Hellenic Bottling Company Recruitment Portal 2021 Updates, Coca-Cola Hellenic Bottling Company Recruitment Portal Updates, Coca-Cola Hellenic Bottling Company Recruitment Portal Updates 2021