ADS! Download JAMB CBT Software Now for FREE!
– Nigerian Army 82RRI Regular Intake Recruitment –
The Nigerian army 82RRR regular intake recruitment application form for tradesmen/women and non-tradesmen/women 2021/2022. This is the step-by-step guide on how to apply for Nigerian Army 82 Regular Recruits Intake (82RRI) for tradesmen/women and non-tradesmen/women.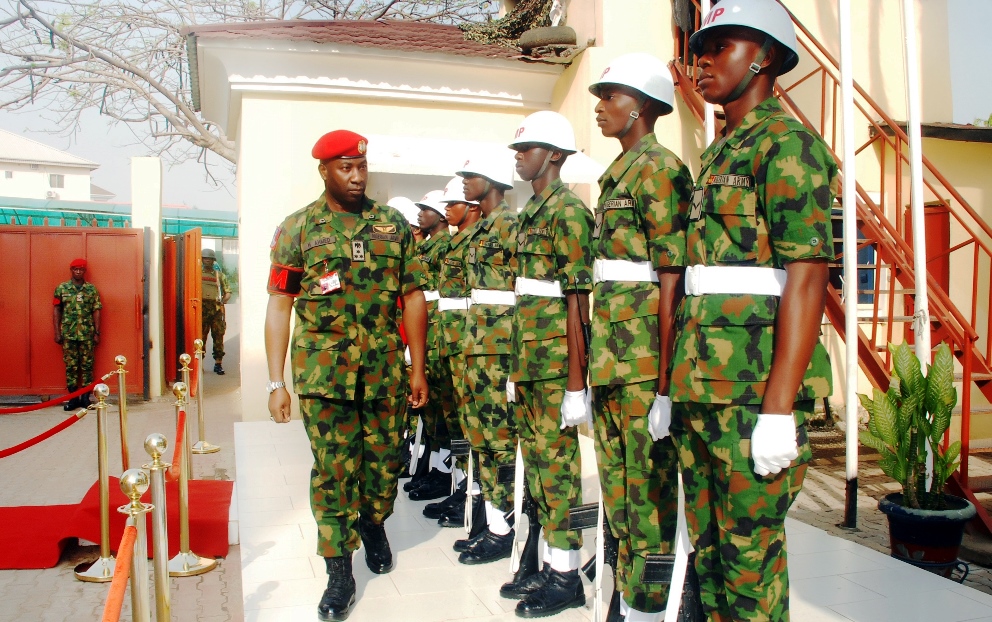 This is guide will make you understand the step by step process involved in how to apply for Nigerian Army 82 Regular Recruits Intake (RRI) for tradesmen/women and non-tradesmen/women.
Do you want to enter one of the most prestigious services of Nigeria, but don't know how to do it? Our article will help you!
RECOMMENDED:
Info About Nigerian Army
The Nigerian Armed Forces are the Armed Forces of the Federal Republic of Nigeria.
Its origins lie in the elements of the Royal West African Frontier Force that became Nigerian when independence was granted in 1960.
Applications are invited from suitably qualified candidates to the 2021 Nigerian Army 82 Regular Recruits Intake (RRI) for tradesmen/women and non-tradesmen/women.
Are you aware that so many websites and blogs have been publishing recruitment information that the Nigerian Army Recruitment 2021/2022 82 Regular recruit intake is currently ongoing?
Some of that information is accurate while most of them are misleading people.
NOTE: Nigerian Army e-Recruitment Portal has ended the 82 Regular Recruits Intake 2021 for Trades/Non Tradesmen and Women.
During that period, the Nigerian Army stated that all candidates are advised in their own interest, not to give any form of gratification or inducement to any person or group of persons to assist them on the recruitment exercise.
It was also stated that all Applications on the official Nigerian Army portal is free of charge.
They warned seriously that submission of multiple applications will be considered cheating and lead to automatic disqualification.
Nigerian Army Recruitment Basic Requirements
The general requirements for the application of Nigeria Army recruitment are presented hereunder:
1). Be a Nigerian as defined in the constitution of the Federal Republic of Nigeria.
2). Be a male or female between the ages of 22 and 35 years, while medical consultants are not more than 40 years of age by October 2019.
3). Be medically, mentally, and physically fit according to NA standards.
4). Be recommended by at least 2 recognizable referees who must attest to the applicant's character and integrity. Passport photographs of referees must be affixed to the letter of attestation.
5). Candidates must submit a letter of Attestation from their former institutions.
6). Measure at least 1.68m (for male) and 1.65m (for female) in height.
7). Must not have been convicted by any court of law. Military personnel must be free from any disciplinary case (This is to be endorsed by the Commanding Officer/Commander).
8). Possess at least a first degree with not less than Second Class Lower Division or HND of not less than Lower Credit from any recognized institution of learning.
9). Possess a valid birth certificate endorsed by the National Population Commission, Hospital or Local Government Council or valid age declaration.
10). Possess a valid certificate of state of origin and also either a National Identity Card, Voters Card, Drivers License.
11). Applicants (less serving members of the Armed Forces) must possess an NYSC discharge certificate or a valid exemption as the case may be.
12). Graduates with professional qualifications must be duly registered by relevant bodies recognized by Nigerian Laws at the commencement of cadet training.
RECOMMENDED READ:
How to Apply for 82RRI Nigerian Army Recruitment Online
To apply for Nigerian Army Recruitment, do the following;
1). You must, first of all, visit the Nigerian Army recruitment portal at http://ims.army.mil.ng/darrr
2). You are required to create your account on the portal 
3). Completely fill the application form properly and Print out a copy of your form. You can always access your profile any time using your Email Address (User Name) and Password.
4). Seriously participate in the Pre-Screening Examination at the centre you had chosen 
5). Continuously check back on this site to know if your name was shortlisted online or not. 
6). It is not needless to tell you this also; after completing your online registration and submission of your application, all applicants are to print out the completed application form which must include the following parts; 
i) Declaration and Certification by Parents / Guardian Form.

 

ii) Local Government Area Certification Form.

 

iii) Police Certification Form.

 

iv) Guarantors Form.

 
Category of Trades Women & Trades Men For Nigerian Army Recruitment 
1). →Serial – 1: Corps – Nigerian Army Engineers 
2). →Serial – 2: Corps – Nigerian Army Signals 
3). →Serial – 3: Corps – Nigerian Army Corps of Supply and Transport 
4). →Serial – 4: Corps – Nigerian Army Medical Corps 
5). →Serial – 5: Corps – Nigerian Army Electrical and Mechanical Engineering 
6). →Serial – 6: Corps – Directorate of Army Physical Training 
7). →Serial – 7: Corps – Nigerian Army Intelligence Corps 
8). →Serial – 8: Corps – Nigerian Army Education Corps 
9). →Serial – 9: Corps – Nigerian Army Ordnance Corps 
10). →Serial – 10: Corps – Nigerian Army Band Corps 
11). →Serial – 11: Corps – Directorate of Army Public Relations 
12). →Serial – 12: Corps – Army Aviation 
13). →Serial – 13: Corps – Chaplaincy (Islamic Affairs) 
14). →Serial –  14: Corps – Chaplaincy (Roman Catholic) 
15). →Serial – 15: Corps – Chaplaincy (Protestant) 
16). →Serial – 16: Corps – Finance Corps 
17). →Serial – 17: Corps – Military Police 
Those of you that are asking "When is Nigerian Army Recruitment 2021/2022 starting" please note that the question has already been answered in this post.
This article comes highly recommended and we hope it is very helpful to all applicants in one way or another.
If you have questions or suggestions please visit the Nigerian Army official portal at http://recruitment.army.mil.ng/ for more information.  
READ ALSO:
Update For Shortlisted Applicants
If you've been shortlisted, then you've got your foot in the door. And it's time for you to shine at the final stage – the interview.
However, when shortlisted:
• Endeavour to get information about the company.
• Also, ensure you have a clear vision. Try to figure out why you want the specific position. And how you would be a good fit.
• Also, go through your application.
• Additionally, be interactive. It's an interview, not an interrogation. There is much more to you than your resume.
• The practice goes a long way. Thus, take mock interviews with your friends or practice speaking before a mirror.
• It's rare, but sometimes you do get an offer letter directly based on your application.
• You start planning the celebration but remember some points before you go into that party mode: Get it in writing.
• Also, go over the written offer in detail. And make sure all important details are mentioned and ask questions if you don't understand anything. Such as work profile, start date, duration, and stipend, etc.
• Send a thank-you letter to the employer, once you accept the offer.
• Also, follow up with an e-mail confirming your start date and expressing your enthusiasm for your new role.
From the above, you must note that we are not partnering with these companies.
We are only making this information available, to help you get that your dream job.
As such, as you apply, ensure to do more research about the company. GOOD LUCK.
FAQs About Nigerian Army 82RRI Recruitment 2021
Below are some FAQs about Nigerian Army 81RRI Recruitment 2021″
1. Is Nigeria Army form out for 2021?
The Nigerian Army form 2021 is out. You will be informed when the 2021 Nigerian Army form is out.
2. How much is Nigeria Army form? Nigeria Army form is free. Do not pay money to anybody for the purchase of the Nigerian Army form. The form is to be filled online on the Nigerian Army official website.
3. What is DSSC in Nigerian Army?
DSSC means Direct Short Service Commission
4. What's the highest rank in Nigeria Army? Field Marshal (5-Star General) is the highest rank in the Nigerian Army.
5. How Many Month is Nigerian Army Training?
Nigerian Army Training takes ten weeks. It is divided into three main stages: Red, White and Blue.
Trending Jobs in Nigeria Right Now
• Federal Government Recruitment;
• Nigerian Airforce Recruitment;
• The Nigerian Police Recruitment;
• Nigerian Prison Service Recruitment;
• Federal Fire Service Recruitment;
• The Federal Road Safety Recruitment;
• Federal Inland Revenue Recruitment;
• Nigerian Customs Service Recruitment;
• Oil and Gas Jobs in Nigeria;
• Top Companies in Nigeria that are Recruiting Massive Intake this Month;
Kindly provide us with your phone number and email address in the comment box below.
What's your take on this Nigerian Army 82RRI Regular Intake Recruitment 2021 Application Form? I urge you to use this same opportunity to share this information with others using our Facebook, Twitter or Google+. share button below.
CSN Team.
Join Over 5 Million Subscribers Today!
---
=> FOLLOW US ON INSTAGRAM | FACEBOOK & TWITTER FOR LATEST UPDATES
COPYRIGHT WARNING!
Contents on this website may not be republished, reproduced, redistributed either in whole or in part without due permission or acknowledgement. All contents are protected by DMCA.
---
The content on this site is posted with good intentions. If you own this content & believe your copyright was violated or infringed, make sure you contact us at [[email protected]] to file a complaint and actions will be taken immediately.
---
Tags: 80RRI Regular Intake Recruitment, How to Apply for Nigerian Army, http://www.army.mil.ng/, Nigerian Army 80RRI Regular Intake Recruitment, Nigerian Army Application Form 2020, recruitment.army.mil.ng