– Police Recruitment Portal 2021 –
Nigeria Police Recruitment Form 2021 is out! would you love to know how to access the police recruitment portal 2021? If yes, then this article is specifically for you. In this article, you will learn how to apply for Nigerian Police recruitment.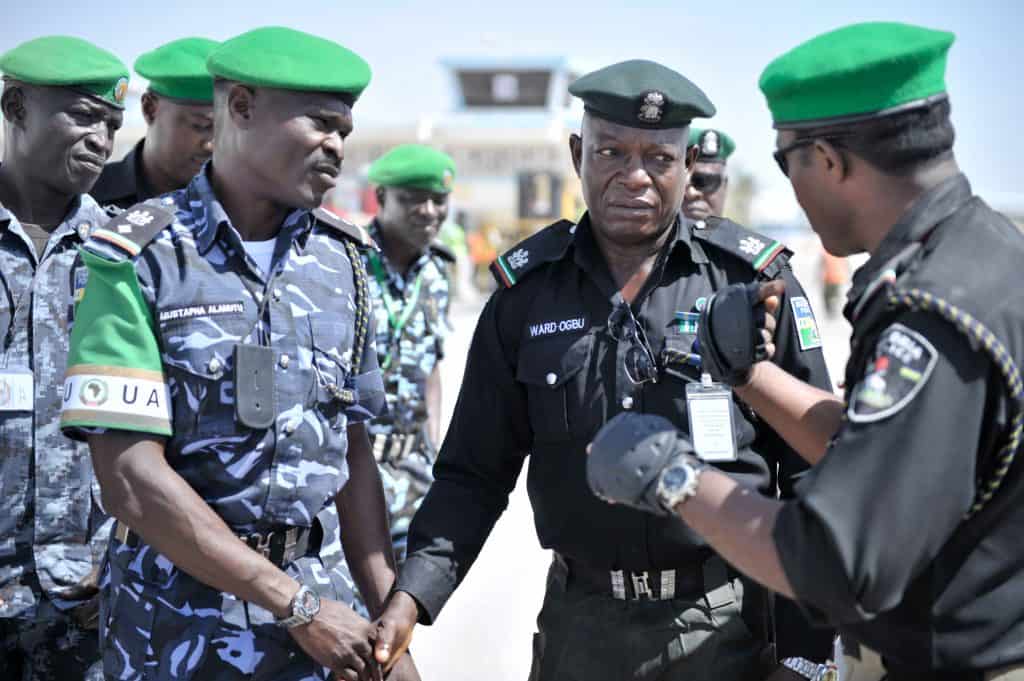 The need by the present leadership to reposition the Force through capacity building calls for the recruitment of Police Officers of lower cadre into the Nigeria Police Force.
In order to align with international standards and best practices and the United Nations Standard of Policing, the Force needs virile and dynamic police officers for better service delivery and mitigating emerging security challenges.
RECOMMENDED READ:
• eHealth Africa Shortlisted  Candidates 2021
• FMARD Shortlisted candidates 2021
• Check IBEDC recruitment Portal
• Npower Past Questions and Answers
To this end, our goal is to ensure the safety of the lives and property of the Nigerian citizens and make Nigeria safer and more secure for economic development and growth.
What Do you know about the Nigerian Police Force?
Nigeria Police Force was first established in 1820. In 1879 a 1,200-member armed paramilitary Hausa Constabulary was formed. In 1896 the Lagos Police was established.
A similar force, the Niger Coast Constabulary, was formed in Calabar in 1894 under the newly proclaimed Niger Coast Protectorate.
The Nigeria Police is the primary police serving Nigeria.
The Nigerian Police Force (NPF) is the principal law enforcement agency in Nigeria with a staff strength of about 371,800.
There are currently plans to increase the force to 650,000, adding 280,000 new recruits to the existing 370,000.
Current Vacant Positions
Job Title: Police Constable (Recruits)
Location: Nationwide

Job Title: Cadet Inspector

Location: Nationwide
Police Recruitment Portal Link 2021/2021
Interested and qualified candidates should visit http://www.policerecruitment.ng/
NOTE:
This is the only medium for applying for recruitment into the NPF in 2021.

Each applicant can submit ONLY ONE application for this exercise.
Application Deadline:  Yet to be Announce
The Police Service Commission and the Nigeria Police Force DO NOT demand or accept gifts or gratification to offer employment.

Do not offer money to anyone before, during, or after the recruitment exercise.

Any candidate found doing either of these would be summarily disqualified and prosecuted.
Police Recruitment Portal 2021 Application Requirements
Applicants must have a passion for a career in the Nigeria Police Force and must satisfy the following:
Nationality: Be a Nigerian citizen by birth and possess National Identity Number (NIN).

Age: Must not be less than 18 years of age or more than 25 years of age.

Education: Must have an O' Level Certificate at least Five (5) Credits level passes including Mathematics and English Language in not more than two sittings in WASSCE/GCE/NECO/NABTEB.

Character: Must be of good character and must not have been convicted of any criminal offence.

Height: Must not be less than 1.67 meters in height for men and 1.64 meters for women.

Chest Measurement: Must not have less than 86cm (34 inches) expanded chest measurement (for men only).

Physical Features: Must not have any one of the following abnormalities or deformities: Speech Impediment, Knock Knees, Bow Legs, Bent Knees, Flat Feet, Deformed Hands which cannot perform the full functions of the hand, Tattoos, Bodily Scar, Defective Eyesight or Squint Eyes, Amputation of any part of the body, Gross Malformation of teeth, Protruding Navel.

Pregnancy: Must not be pregnant at the time of Recruitment.

Financial Status: Must be free from any pecuniary embarrassment.

Guarantors' Form: Must download and fill the Guarantors' Form, presenting verifiable references from any two (2) of the following: Traditional Rulers, Magistrate, Local Government Chairman, Heads of Educational Institutions attended, Career Civil Servant not below the rank of Grade Level 12, Police Officer not below the rank of CSP, or Military Officer not below the rank of Lieutenant Colonel. Possession of a valid National Drivers' License is an added advantage.

NOTE: All candidates must undergo medical examination before the final selection.
Police Recruitment Portal 2021 Application Guide 
All applications must be submitted "Online".

You "Must" have a functional Email Address and Mobile Phone Number before you begin your application;

Visit: www.policerecruitment.ng

Fill in and "Submit" the Online Form. (Review the information before final submission).

Ensure that you print out the information that is sent automatically to your Email., and do not forget to copy and save your "Registration Number" for future correspondences. The "Number" is case sensitive, please.

You would be required to present a hard copy of an email message sent to you if you are shortlisted and contacted for the next stage of the recruitment process.

Applicants must print their completed online forms, guarantor form and submit them at the examination/screening and recruitment centre.

All applicants MUST have a readily available scanned copy of their:

SSCE/GCE/NABTEB/NECO Result

Birth Certificate Result

FSLC Result

LGA Certificate

Passport Photograph

The recruitment exercise is absolutely free 
Warning!
No email and/or phone number can be used more than once in this application.

Applicants with multiple applications would be disqualified.

The Nigeria Police Force shall not enter Into any correspondences with candidates or on behalf of candidates in this exercise aside from this portal or candidates' emails/telephones.
Mistake to Avoid While Applying for British Council Nigeria Recruitment
A lot of people fail in many applications not because they are not qualified, but because of numerous mistakes. So take note of the following:
Apply on time, do not wait for the deadline.

Do the application processes alone, don't send anybody to avoid mistakes in your data

Keep yourself updated concerning the application

Make sure you supply all the necessary requirements

Take time to crosscheck your details before submission.

Candidates are to apply for one job position, Candidates who attempt to apply multiple times will have their application disqualified

The online application is free.
READ ALSO:
Update For Shortlisted Applicants
If you've been shortlisted, then you've got your foot in the door. And it's time for you to shine at the final stage – the interview.
However, when shortlisted:
• Endeavour to get information about the company.
• Also, ensure you have a clear vision. Try to figure out why you want the specific position. And how you would be a good fit.
• Also, go through your application.
• Additionally, be interactive. It's an interview, not an interrogation. There is much more to you than your resume.
• The practice goes a long way. Thus, take mock interviews with your friends or practice speaking before a mirror.
• It's rare, but sometimes you do get an offer letter directly based on your application.
• You start planning the celebration but remember some points before you go into that party mode: Get it in writing.
• Also, go over the written offer in detail. And make sure all important details are mentioned and ask questions if you don't understand anything.
• Such as work profile, start date, duration, and stipend, etc.
• Send a thank-you letter to the employer, once you accept the offer.
• Also, follow up with an e-mail confirming your start date and expressing your enthusiasm for your new role.
From the above, you must note that we are not partnering with these companies.
We are only making this information available, to help you get that your dream job. As such, as you apply, ensure to do more research about the company. GOOD LUCK.
Hot Vacancies in Nigeria Right Now
• Federal Government Recruitment 2021;
• Nigerian Airforce Recruitment;
• The Nigerian Police Recruitment;
• Nigerian Prison Service Recruitment;
• Federal Fire Service Recruitment;
• The Federal Road Safety Recruitment 2021;
• Federal Inland Revenue Recruitment 2021;
• Nigerian Customs Service Recruitment;
• Oil and Gas Jobs in Nigeria;
• Top Companies in Nigeria that are Recruiting Massive Intake this Month;
What's your take on this? We believe this article was interesting right, if yes, don't hesitate to use our share button below to inform – friends and relations via Facebook, Twitter.
CSN Team.
Tags: history of police, How can I apply for Nigeria police?, Is Nigeria Police form for 2020 out?, Is Nigeria police recruitment form out for 2020 2021?, nigeria police news today, nigeria police news today on recruitment, nigeria police recruitment 2020 shortlist, police portal login, police ranks in nigeria, police recruitment 2020, police recruitment 2020/21, police recruitment gov ng login, police recruitment login, police recruitment official website, Police Recruitment Portal, Police Recruitment Portal 2021, Police Recruitment Portal 2021 Updates, Police Recruitment Portal 2021/2022, Police Recruitment Portal 2021/2022 See Latest Application Portal, Police Recruitment Portal 2021/2022 See Latest Application Procedures, police recruitment portal login, Police Recruitment Portal Updates, Police Recruitment Portal Updates 2021, the nigeria police force salary, What is the latest news about Nigeria Police Recruitment 2020?, www.policerecruitment.gov.ng portal