Many have been hearing of the Nigerian Custom Service, yet they do not know what this agency is all about. Nigeria Customs Service is a reference and model administration with excellence in providing effective and efficient service to accomplish all dimensions of its mission.
Are you interested in this agency yet you don't know what it is all about? If yes, read through this article carefully to have full information about Nigerian customs service.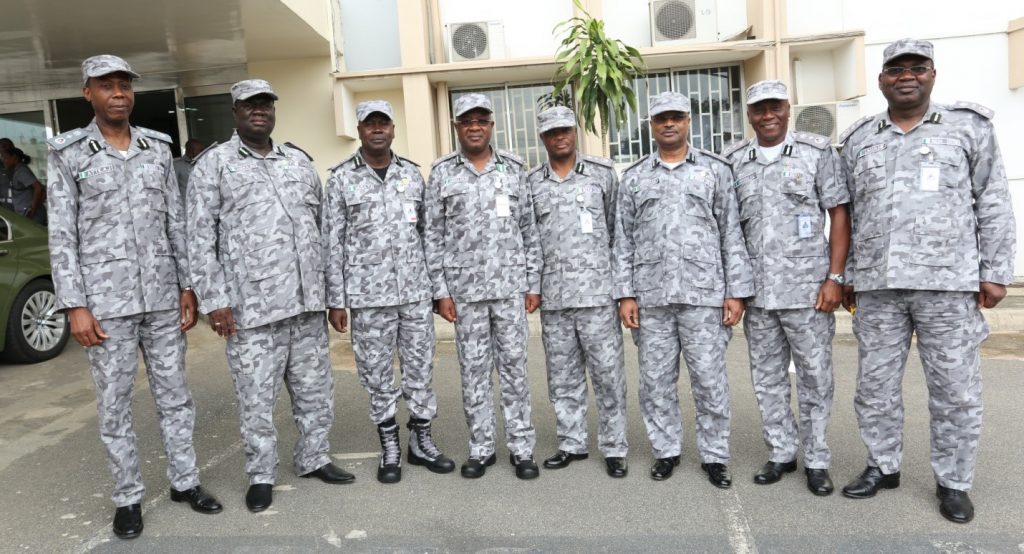 What is now known as the Nigeria Customs Service – a paramilitary organization, could be said to have been established a little over a century ago when the British Colonial administration appointed Mr. T. A. Wall, in 1891, as the Director-General of Customs for the collection of inland Revenue in Niger Coast Protectorate.
This is the formalization of the duties which the Department had been performing under the Royal Niger Company under the leadership of the past Chief Executives.
The name Department of Customs and Excise emerged in 1922 when the first Comptroller of Customs and Excise, Federation of Nigeria was appointed.
However, towards the end of 1945, the Customs and Excise Preventive service was established under the leadership of Mr. Nicol – a Briton.
This was made up of two divisions – Maritime and Preventive. The maritime Division has the responsibility of collecting import and excise duties and other related functions while the Preventive Division was responsible for enforcement duties which included prevention of smuggling as well as arrest and prosecution of smugglers.
What are the Responsibilities of the Service?
At its coming into being in 1891, Nigeria Customs Service was saddled with the responsibilities of revenue collection, accounting for same and anti-smuggling activities.
Also, today trade facilitation has become a fundamental role, progressively seen by the government as an important element of economic policy, with Customs having a unique position within the hub of the international supply chain of goods and services.
Consequently, one of the challenges to Nigeria Customs Service is the proactive management of the seeming contradictory role of ensuring improvements in speedy delivery of services, while maintaining systematic and effective intervention controls, necessary to meet the demands of complex and growing international trade.
Characterized in recent times by economic crime, money laundering, the menace of terrorism, threatening weapons of mass destruction, violation of intellectual property rights, and dumping of toxic and hazardous substances.
It is apparent, therefore, that Nigeria Customs Service that has for long been a steward of the nation's trade and border management is not only under pressure like never before but now has an enlarged role to perform at the highest levels, to facilitate legitimate trade in a global environment harboring a litany of threats.
Nigeria Customs Service has the mission to provide services in ways that maximize efficiency and promote trade competitiveness wherein declarations are promptly processed.
Nigerian Custom Service Mission
Nigeria Customs Service is a reference and model administration with excellence in providing effective and efficient service to accomplish all dimensions of its mission.
That the Service is a modern, compact, and dynamic Service that influences policy and contributes to Nigeria's development.
That the Service is recognized as being in the vanguard of Customs best practices and international standards.
Nigerian Custom Service Vision
To excel in the efficient and timely collection of and accounting for revenue.
Implementation of and advise on Governmental trade and fiscal policies.
Promotion of trade facilitation
Protection of Nigerian society, generation of accurate and precise statistical data by developing a professional, transparent administration that implements international best practices and obligations.
Functions of the Service
Core Functions
Other Functions
Implementation of Government Fiscal Measures
Generation of statistical data for planning purpose
Trade Facilitation
Implementation of bilateral and multilateral agreements entered into by the government
Collection of levies and charges
Collaborative functions with government Agencies including CBN, Police, NDLEA, SON, NAFDAC, FIRS, etc.
The Service also supports the combating of:
Illegal commercial activities and trade in illicit goods, e.g. import of fake and sub-standard goods
Infraction on Intellectual Property Rights
Illegal international trade in endangered species
Illegal trade in arms and ammunition
Money laundering
The traffic of illicit drugs
Illegal trade in cultural Artifacts
Importation of pornographic materials
Importation of toxic and hazardous substances
Nigerian Custom Service Areas of Strength
The NCS today has a workforce with professional service culture exemplified by the followings:
Corps of trained Customs professionals
Mission and Vision statements
Application of Risk Management System
Electronic declarations and payment
Access to information portal and single electronic point (NCS) Website
Real-time account and actual revenue collected
Adherence and strict implementation of three Customs procedures(classification, valuation, and origin)essential to revenue collection
Implementation of Agreement on Customs Valuation (ACV)
Collaboration with the World Customs Organization, Business, and stakeholders
Exchange of information and intelligence
International best practices
Areas Requiring Immediate Intervention
Effective take-over of all Customs import and export clearance functions
Legislative reform to provide a basis for the application of modern Customs Procedures
Improved capacity building-completion of the construction of Customs Staff College
Streamlining of the procedure with other Government Agencies
Review of current penalty regime lacking effective deterrents against violations of Customs Laws
Better funding for infrastructures as applied to the modern procedure
Simplification and harmonization of Customs procedures
Reduction of items on the prohibition list
Just-in-time delivery of goods and services by removal of non-tariff barriers
Promotion of the transparent and predictable business environment
Nigerian Custom Service Future Plans
Effective risk management
Full implementation of modern Customs procedures
Strengthening of Post Clearance controls and re-engineering of processes
Effective use of advanced information system through electronic data interchange (EDI) e.g. e-manifest and Alerts
Elimination of archaic Customs procedures inconsistent with developments in transportation technology and business practices
Seamless real-time transactions, paperless flows, and connectivity with other stakeholders
Development of a single window for harmonizing and standardizing international trade information
Increased awareness/capacity building of stakeholders
More cost-efficient and predictable border processing of goods and people
Adoption of i-border (intelligent border) solutions
Use of biometrics and improved baggage Management at Airports
Hone strategic direction and use of capacity building measures to minimize the operational gaps between the Service and stakeholders
Developing the capacity to conduct compliance and audits at trader premises
The requirement of financial guarantees from all Authorized Economic Operators
Building a Service that has integrity and a good image
Nigeria Customs Services Organization Structure
The Nigeria Customs Service is headed by the Comptroller-General and assisted by six (6) Deputy Comptrollers-Generals heading the departments as follows:
Finance Administration and Technical Service
Enforcement, Investigation, and Inspection
Strategic Research & Policy
Excise, FTZ, and Industrial Incentives
Nigerian Custom Service Headquarters
Nigeria Customs Service Headquarters
Abidjan Street, Wuse,
P.M.B. 26,
Zone 3,
Abuja – FCT
Nigeria
Tel: 09 5234694
Fax: 09 5234694
E-Mails
Website
Nigerian Custom Service Mandates
We have been mandated to:
Intercept contraband such as illegal drugs and weapons
Check travelers and their baggage, cargo, and mail; assess and collect Customs duties and other taxes on Goods and Services
Protect businesses against illegal trade malpractices
Enforce import and export restriction and prohibitions
Collect accurate import and export data for economic statistical usage and planning
As Nigerian gatekeepers, we use intelligence and risk assessment to target our physical checks on containers, vessels, or travelers. We also conduct investigations and audits and prosecute offenders.
We work closely with other Government agencies in accomplishing the collective aim of developing our great country – Nigeria
In conclusion, we believe this information on Everything You Need to Know About Nigerian Custom Service 2021 is helpful to you? Why not share it with your friends out there by clicking on the share button on this website. You can as well subscribe to be updated for further information concerning this topic.
CSN Team.
Tags: how many month is nigeria custom service training, nigeria custom service news on recruitment, nigeria custom service ranks, nigeria custom service recruitment 2021, nigeria custom service salary, nigeria customs phone number, nigeria customs service list of successful candidates, Nigerian Custom Service, Nigerian Custom Service 2020, Nigerian Custom Service Areas of Strength, Nigerian Custom Service Mandates, Nigerian Custom Service Recruitment, Nigerian Custom Service Vision, who was the first general of nigeria customs service