SIIT Thailand Scholarships is now open for applications from suitably qualified students. It is a fully funded scholarship for all students sponsored by the Sirindhorn International Institute of Technology.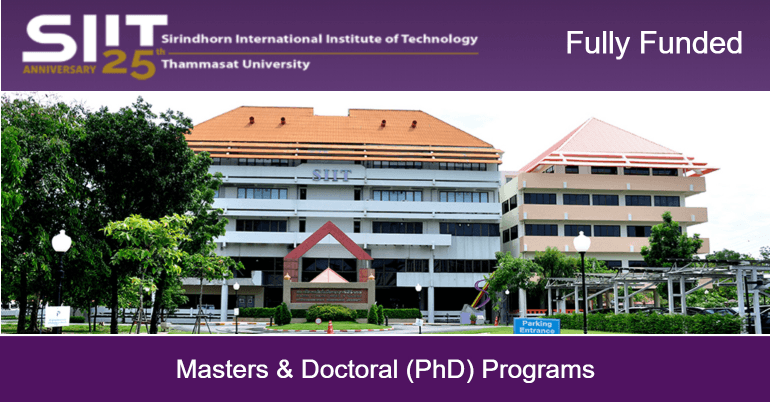 About the Scholarship
Sirindhorn International Institute of Technology is a well-known university in Thailand. The institute previously offered exchange programs in Australia, Asia, Europe and North America.
SIIT was established in 1992 as an independent institute within Thammasat University. It has ensured its position as a research institute since then.
Over time, SIIT began to strengthen by offering exchange, fully funded graduate and postgraduate programs.
Eligibility Criteria
Here are the eligibility criteria for the SIIT Thailand Scholarship:
1. Applicants can be from any country/region.
2. They must continue their degrees in the fields given by SIIT.
3. Students must rank in the top 20 in their previous class.
4. For PhD, GPA must not be less than 3.5 in the previous degree.
5. English proficiency certificate is mandatory.
6. Applicants must be in good health.
7. If an applicant is already receiving another grant or scholarship, he/she will not be considered for the SIIT scholarship.
READ ALSO:
Benefits of SIIT Thailand Scholarships
Here are the benefits offered by the SIIT Thailand Scholarship for international students 2023:
1. Full tuition fee coverage.
2. Full thesis fee coverage.
3. Per month living allowance of 10,000 baht.
4. Economy class tickets to and from Thailand.
5. A maximum of 10,000 baht will be granted for other expenses such as visa, tax etc.
6. Students will receive health and accident insurance.
Required Documents for SIIT Thailand Scholarship
1. CV.
2. Passport or national ID card.
3. Research paper or publications.
4. Recent photo.
5. Statement of purpose.
6. Two recommendation Letters.
7. English Proficiency Certificate.
8. Recent Academic Transcripts.
Application Deadline
The application submission deadline is 30 September 2022; submit a complete application with the required documents.
We hope this information has satisfied your curiosity. What not to share to bless someone out there? Click on the Share button on this site to help share with friends and loved ones.
CSN Team.
Don't miss this opportunity
Enter Your Details