– NDLEA Recruitment –
Have you heard about NDLEA recruitment opportunities? The Federal government is seeking qualified and talented Nigerians to fill its several jobs positions. If you are qualified for the positions listed below follow the guidelines carefully.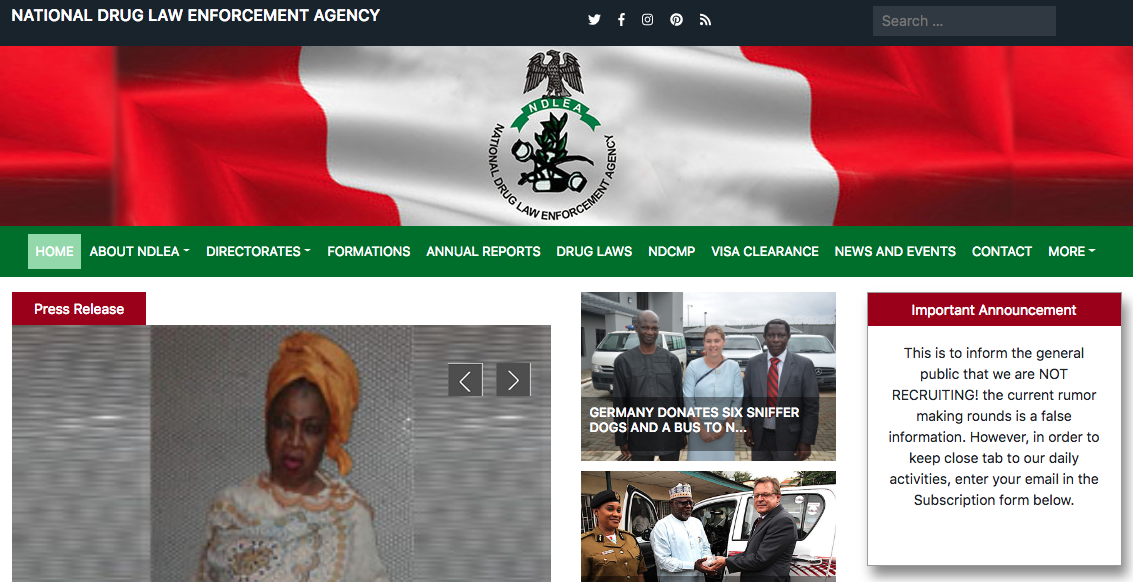 A lot of job seekers from various states and locations around Nigeria have asked us "When is the NDLEA recruitment 2022 starting?"
This is part of the reason why we created the post-page. Every related question of this kind including "how to get shortlisted" for the career programme will be answered detailly and clearly.
So don't get troubled.
READ ALSO:
Interested applicants who want to download the NDLEA application form should do so by visiting the NDLEA official portal at www.ndlea. gov.ng and download the NDLEA recruitment form 2022 PDF.
N/B: Don't be fooled, NDLEA registration is completely free. Do not pay anyone to register for the programme.
Report fraudulent contacts or personnel of such acts to the appropriate unit (EFCC).
Having said that, let's quickly move to how to apply for NDLEA job vacancies.
Available Vacant Positions
♦ Narcotic Assistant (NASS) Cadre (Entry-level)
Location: Nationwide

♦ Narcotic Officer Cadre (Graduate & Exp.)

Location: Nationwide

IMPORTANT: The application for the above positions is closed. Please BOOKMARK this page to remain updated.
General NDLEA Job Requirements
A candidate applying for recruitment into the Agency must fulfil the following conditions:
• All applicants must fill in the application form provided on the website, upload a passport and print out the application slip which would be used throughout the process of recruitment.
• Applicants must not be above 35 years old.
• Candidates shall be literate and must possess such educational qualifications as specified below for the position.
• A Shortlisted candidate must be certified physically and mentally fit for recruitment by a medical officer from a Government Hospital before final selection.
• All prospective candidates must be individuals with good character and must not have been convicted of any criminal offence save road traffic offence.
• All prospective candidates must be free from any kind of financial insolvency or bankruptcy.
• Candidates will be required to download two (2) referee forms to be filled by two (2) persons of reputable standing in the society.
• Successful candidates will be required to fill further vetting forms.
• All successful candidates will be subjected to random illicit drug use tests throughout their service in the Agency.
• Only shortlisted applicants shall be invited for further examination and interview.
EDUCATIONAL QUALIFICATION
• Possession of B.Sc, HND, NCE, OND concerning the applied position from a recognized institution.
• Any added certificate either postgraduate or professional certification will be of advantage.
• NYSC Discharge/Exemption Certificate.
• West African School Certificate (WAEC) with Credits in not less than three (3) subjects including English and at least passes in two (2) other subjects.
• Candidates must have National Examination Council (NECO) with passes in four (4) subjects obtained at one sitting or five (5) subjects obtained at two sittings including the English Language.)
• National Diploma (ND) obtained from a recognized institution.
• National Certificate of Education (NCE) from a recognized institution.
• All candidates must have a valid means of identification such as a valid driver license, National Identification Card, International passport, Voters card etc.
• Ability to work with basic computer applications (e.g. Word, Excel, PowerPoint etc.).
• Geographical mobility within and outside Nigeria.
Note: The Candidate applying as a Lawyer and Doctor must in addition to the first degree possess Professional Certificates in the relevant field.
ATTENTION!
Form Applied twice will not be accepted.
No fee is required for this job application.
How to Apply for NDLEA Recruitment Online
Interested applicants who are interested in applying for the National Drug Law Enforcement Agency (NDLEA) recruitment 2022 should adhere to the following instructions below:
• Log on to the National Drug Law Enforcement Agency (NDLEA) employment portal
• Applicants who meet the required qualifications will be considered for ONLINE Aptitude Test.
• Applicants selected for Aptitude Tests will be provided with a Unique Test ID Number.
• Applicants will only be considered if they submit an online application, attach a comprehensive Curriculum Vitae (CV), and other necessary support documents.
• The following documents are required and should be scanned and uploaded online where required:
N/B: Below is Documents to be submitted for the National Drug Law Enforcement Agency (NDLEA) Recruitment 2021.
A comprehensive CV
All certificates from Primary School to the Highest Level of Education Obtained
Certificate of Local Government of Origin
Certificate of State of Origin
A Government Issued ID such as the National Identification Number (NIN), Nigerian International Passport, Valid Driver's License
A recent Passport (sized) Photo
Only applicants who fully meet the requirements will be duly considered for application and are to be considered for the Aptitude Test will be contacted.
RECOMMENDED READ:
• eHealth Africa Shortlisted  Candidates
• FMARD Shortlisted candidates
• Check IBEDC recruitment Portal
• Npower Past Questions and Answers
Mistake to Avoid While Applying
A lot of people fail in many applications not because they are not qualified, but because of numerous mistakes.
So take note of the following:
• Apply on time. Do not wait until the deadline.
• You can only apply once.
• So before submitting your application, make sure you are what you said you are.
• You will be disqualified if you submit false documents.
• Take time to crosscheck your details before submitting.
• Do not pay anyone who claims he will help you get this job
• The NDLEA recruitment application form is free
• There will be screening and examination for all shortlisted candidates
NDLEA Recruitment Shortlisted Applicant Update
If you've been shortlisted, then you've got your foot in the door. And it's time for you to shine at the final stage – the interview.
However, when shortlisted:
• Endeavour to get information about the company.
• Also, ensure you have a clear vision. Try to figure out why you want the specific position. And how you would be a good fit.
• Also, go through your application.
• Additionally, be interactive. It's an interview, not an interrogation. There is much more to you than your resume.
• The practice goes a long way. Thus, take mock interviews with your friends or practice speaking before a mirror.
• It's rare, but sometimes you do get an offer letter directly based on your application.
• You start planning the celebration but remember some points before you go into that party mode: Get it in writing.
• Also, go over the written offer in detail. And make sure all important details are mentioned and ask questions if you don't understand anything.
• Such as work profile, start date, duration, stipend, etc.
• Send a thank-you letter to the employer, once you accept the offer.
• Also, follow up with an e-mail confirming your start date and expressing your enthusiasm for your new role.
From the above, you must note that we are not partnering with these companies.
We are only making this information available to help you get your dream job. As such, as you apply, ensure to do more research about the company. GOOD LUCK.
Hot Vacancies in Nigeria Right Now!
• Federal Government Recruitment 2022;
• Nigerian Airforce Recruitment;
• The Nigerian Police Recruitment;
• Nigerian Prison Service Recruitment;
• Federal Fire Service Recruitment;
• The Federal Road Safety Recruitment 2022;
• Federal Inland Revenue Recruitment 2022;
• Nigerian Customs Service Recruitment;
• Oil and Gas Jobs in Nigeria;
• Top Companies in Nigeria that are Recruiting Massive Intake this Month;
If you need us to help you with more updated information at the right time about NDLEA recruitment 2022.
Kindly provide us with your phone number and email address in the comment box below.
What's your take on NDLEA recruitment 2022? I urge you to use this same opportunity to share this information with others using our Facebook, Twitter, or Google+. share button below.
CSN Team.