JAMB Result 2021 is Out! All Exam Dates Result Now Available.
JAMB Result 2021 Portal – Learn how to check JAMB Result 2021 for 21th, 22nd, 23rd, 24th, and 25th June 2021 via JAMB E-facility Portal – https://portal.jamb.gov.ng/eFacility.
We created this page to serve as a detailed guide to work you through the step-by-step process of checking JAMB 2021 result by using the official portal www.jamb.org.ng.
The only necessary requirement to check the JAMB CBT result is just your registration which is usually an 8-digit number and 2 letters by alphabet (93209094HF).
You may be contemplating if truly, the JAMB result is out! Panic less, Yes JAMB 2021 result finally and you can check it on www.jamb.org.ng with your registration number.
Let's quickly work you through the process.
JAMB 2021 Result Checker Now Out!
Quickly follow the guidelines below to check your 2021 JAMB UTME result online for free without scratch-cards. Just your registration number only.
1. Visit the JAMB result checker portal – https://portal.jamb.gov.ng/eFacility_/CheckUTMEResults
2. Enter your JAMB registration number on the portal
3. Click on 'Result Slip Printing'.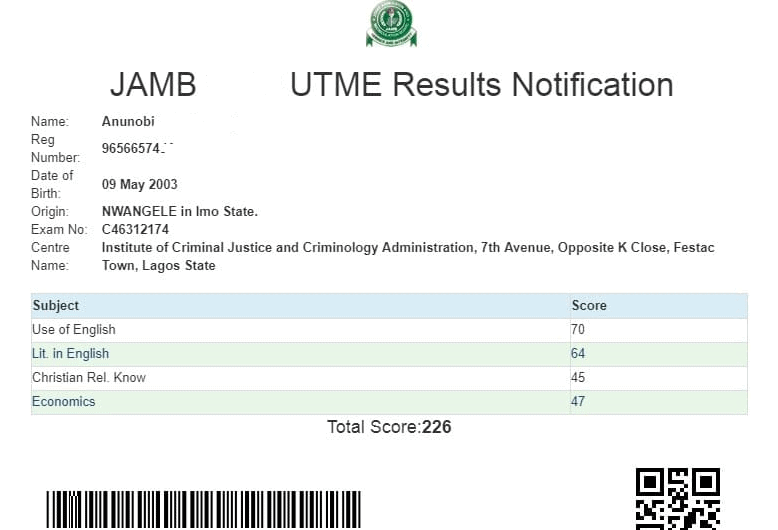 4. Yeap! That shows your result.
Can I Check JAMB 2021 Result Via SMS?
Of course, why not?
To check with your phone SMS, send RESULT to 55019 using the same number that you used for registration (you will be charged N50). The result would be sent to you shortly after doing so.
The following are the responses to be expected:
If a candidate uses a phone number that was not used to register, a message will be sent to him thus: 'This phone number was not used for registration."
A candidate with a result will receive the message: "Dear Mr/Miss X, your result is as follows… (and the details will be provided).
If a result is withheld, a "Result Withheld" message will be sent to the candidate.
Also, if a candidate belongs to the category being given the benefit of the doubt, the message to the person will be: "Result withheld pending the upload of clarifications/document required from you."
If a candidate was absent, s/he would get "CANDIDATE ABSENT" as feedback
A candidate that was ABSENT WITH REGISTRATION NUMBER also CANCELLED will be so informed.
"Invalid Entrance into the Exam Hall" will be sent to a candidate who gained unauthorized access to the examination hall.
Will Universities or JAMB Accept Awaiting Result 2021?
All Universities, Polytechnics, and Colleges of Education accept awaiting results once the Post UTME screening test has not been conducted i.e. before the registration portal is closed.
JAMB Required Cut-off Marks 2021
The Joint Admissions and Matriculation Board (JAMB) has released cut-off points for this year's admission into universities, polytechnics, colleges of education, and monotechnics.
The minimum cut-off marks suggested by JAMB for admissions into universities, polytechnics, colleges of education, and innovation enterprise are 160, 120, 100, and 100 respectively.
Universities — 160
Polytechnics — 120
Colleges of Education — 100
Innovation Enterprise — 100
NOTE: Congratulations to those students who have scored up to the required cut-off marks. Your admission for the 2021/2021 academic session is assured. Also, you can check this link if you scored below *the required*.
Insight on JAMB New Grading System
The new jamb grading system was adopted to consider those candidates who performed well in their O-level results. this means that institution will now take O level grade into consideration when giving admission.
Special marks of 10 are awarded to candidates who got their grades through one sitting while those with two sittings will only get 2 marks.
In the new grading system, A1 gives you 6 points while B2 gives 4 points leaving those who are struggling with Cs with just 3 points
JAMB SCORE GRADE POINTS:
| | | |
| --- | --- | --- |
| GRADE | TO | POINTS |
| 180 | 185 | 20 |
| 186 | 190 | 21 |
| 191 | 195 | 22 |
| 196 | 200 | 23 |
| 201 | 205 | 24 |
| 206 | 210 | 25 |
| 211 | 215 | 26 |
| 216 | 222 | 27 |
| 221 | 225 | 28 |
| 226 | 230 | 29 |
| 231 | 235 | 30 |
| 236 | 240 | 31 |
| 244 | 248 | 32 |
| 252 | 256 | 33 |
| 260 | 300 | 34-43 |
| 300 | 400 | 44-60 |
This new system will also affect those with low WAEC and NECO Grade as this could water down your high jamb score.
IMPORTANT! Always check your results on JAMB official website, the information that appears on this page was written to help Jambites who are having difficulty checking their JAMB result 2021. If you have any serious problems/issues with your result score or missing result, please feel free to contact JAMB directly on their website. You can ask any questions in the comment box below and we will try to provide possible assistance to help you freely.
Don't hesitate to share this information with your friends on Facebook, Twitter, Whatsapp and Telegram.
CSN Team.