Are you searching for college dorm party ideas that you can create with your friends? Do you want to get the most amazing college dorm party ideas? Keep reading this post to know college dorm party ideas.
College is a great opportunity to find out what you're passionate about and to make new friends. From casual gatherings to themed events, you'll have a lot of fun during your time at college.
Also, there are plenty of things to do to get to know each other better. College dorm parties range from playing drinking games to getting to know each other's interests.
Your time in college is the time in your life when you can start to grow as a person. Before we move into college dorm party ideas, let's discuss what college dorm parties are.
What is a College Dorm Party?
A college dorm party is a social gathering held in a dormitory room or common area on a college or university campus.
Interestingly, these parties are typically organized by students. At a dorm party, there are usually music, food, and alcohol.
In addition, they are often held on weekends or during holidays when classes are not in session.
College dorm parties are a popular way for students to socialize and make new friends. A dorm party can range from small, intimate gatherings to large, loud events.
The atmosphere at these parties can be fun and lively. However, party-goers need to be responsible and safe.
Interestingly, college dorm parties can be subject to rules and regulations set by the university or dormitory management.
These rules may include limits on the number of people allowed in a room.
Also, the rule may include restrictions on alcohol consumption and quiet hours. However, if any student should violate any of the rules, it can result in disciplinary action.
What does it Mean to Party in a Dorm Room?
Partying in a dorm room typically refers to a social gathering or celebration held within the confines of a college or university dormitory room.
Also, this type of party may involve loud music, alcohol or other substances, and a group of friends or acquaintances.
However, it is important to note that partying in a dorm room can often violate dormitory and university policies.
In addition, these university policies may prohibit loud noises, alcohol consumption, or the presence of non-residents within the dormitory. In addition, partying in a dorm room can be disruptive to other residents.
Also, it may lead to complaints or disciplinary action from dormitory staff or university officials.
Can you Throw a Dorm Room Party?
Yes, you can throw a dorm room party. If you want to throw a dorm room party you must keep to the rules and regulations set by your dorm or university.
Before throwing a party, you should know that dorms have restrictions. There are a certain number of people allowed in a room and the noise level.
For you to host a party like that, it's essential to check with your RA (Resident Advisor) or the housing office.
This is to understand the guidelines before planning the party. Also, before you can throw a dorm party you need to get permission from your roommates or suitemates before hosting the party.
After they've granted you the necessary permissions, you can plan your party. Also, when planning, you need to consider the guest list.
In addition, you need to consider the music, and the activities you will have at the party. Also, it is important to make sure everyone has a good time and is still safe.
You can throw a party but you need to be mindful of any potential hazards. Also, make sure that guests are not drinking excessively and have a plan in place for anyone who needs assistance or medical attention.
What's Allowed at a College Dorm Party?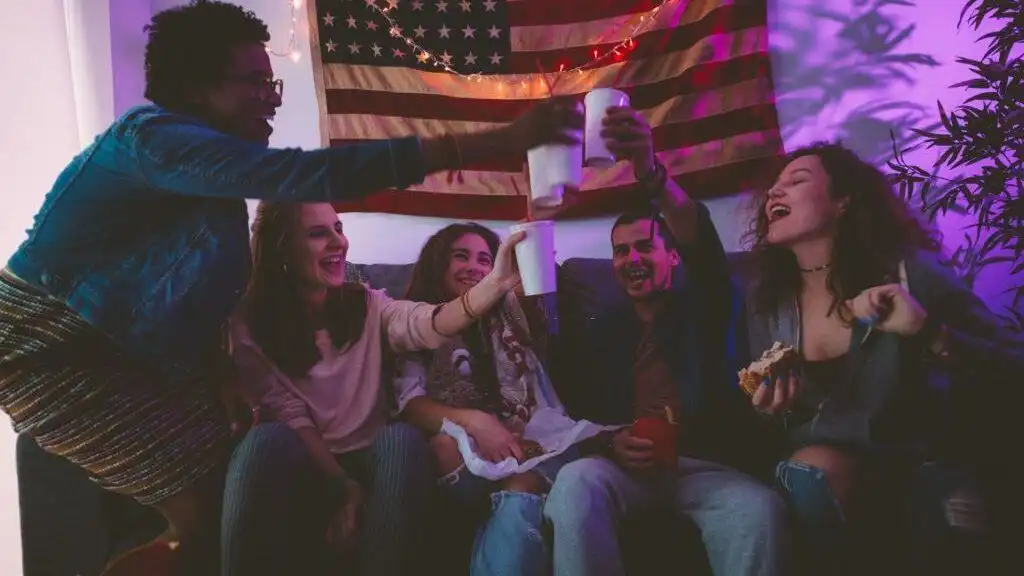 There are rules and guidelines for college dorm parties that one needs to follow. These rules and guidelines vary based on the specific college or university.
If you are throwing a college dorm party, certain activities are allowed to ensure the safety and well-being of all those involved.
 One of the activities that are allowed at a college dorm party is limited alcohol consumption.
Most colleges and universities that allow a dorm party restrict the amount of alcohol that is consumed. This is to ensure everyone's safety and it is to prevent people from getting drunk.
Also, Music and dancing are allowed at college dorm parties as long as the volume is kept at a reasonable level. Also, some colleges and universities don't allow rowdy or dangerous dances.
Another thing that is allowed in college dorm parties is snacks and refreshments.
Providing snacks and refreshments is usually allowed at college dorm parties. However, there may be restrictions on the types of food that can be served.
Lastly, college dorm parties allow socialization with friends and meeting new people.
How do you Throw a Dorm Party?
Your dorm party can break or make your college experience with your friends. Also, when hosting a dorm party, you will meet a lot of closest and strange friends you don't know.
Throwing a dorm party can be a fun and exciting way to socialize with your fellow dorm residents. Here are some tips to help you throw a successful dorm party:
1. Get permission From your Dorm Management
Before throwing a party, this is the first thing you should do. Make sure you have permission from your dorm management.
Also, check with your resident advisor or the housing office to find out the rules and regulations about hosting events in your dorm.
2. Invite and Gather your Guests
Invite your dorm mates and friends to the party early. Also, you can use social media, texting, or flyers to spread the word about your party.
In addition, to make sure the gathering is comfortable for everyone, you need to figure out how many people can fit in the space.
Also, there needs to be enough room for everyone to move around. It's up to you, as the party host, to decide who to invite.
This includes your friends, classmates, housemates, dorm neighbors, and resident advisers.
3. Plan the Party Details
Decide on a theme for the party and plan the decorations accordingly. Also, you can plan games, music, and snacks to keep your guests entertained.
In addition, you need to consider setting up a designated area for the party. The designated area should be arranged with furniture to create a welcoming atmosphere.
4. Make a Playlist
You'll want to create a playlist ahead of time to make the atmosphere lively.
Selecting a list of songs is a good idea when creating a dorm party. Also, you might want to avoid playing any music that is too melancholy or slow.
5. Keep it Safe
Make sure your party is safe and responsible. In addition, encourage your guests to drink responsibly and remind them not to drink and drive.
You can also designate a sober monitor to help keep an eye on things and ensure everyone is safe.
6. Clean up Afterwards
After the party, make sure to clean up and dispose of any trash or debris. It is good to leave your dorm in the same condition it was in before the party started.
READ ALSO:
College Dorm Party Ideas
A college dorm party is a great opportunity to meet new people on campus. Parties can be fun without having to focus on Greek culture or beer.
To make your dorm room the place to be, you only need to be imaginative and creative. Here are nine fun dorm party ideas for college students.
1. Woodstock Meets College
Woodstock meets college is a nice dorm party idea you might want to try out. Also, your college party should be themed around the famous 1969 Woodstock music festival.
In addition, the event should be all about music, peace, and love, Also, your party should be just as fun and exciting!
To get pumped up, you can listen to some music on a record player. This will help you feel more mellow and hippie-like.
2. Game Night
This is a very good dorm party idea you can use for your college part.
In addition, hosting a game night with board games, card games, or video games will be a nice idea. Also, you can create a tournament and offer prizes to the winners.
3. Movie Night
Organizing a movie night in your dorm room with your friends can be a nice dorm party idea.
To make your movie night more fun you can project a movie onto a blank wall. Also, for your movie night, you can use a large-screen TV and offer snacks and drinks.
4. Themed Party
Choosing a theme for your dorm party will be a nice idea to start with. Also, you can pick a theme like a costume party, a beach party, or a decade party.
In addition, you need to encourage your guests to dress up and decorate your room accordingly.
5. Karaoke Night
Your dorm party will be much fun if you do a Karaoke night with your friends. In addition, you can do this by setting up a karaoke machine or using a karaoke app on your computer.
This will enable your friends to sing along to your favorite songs and have a fun time with your friends.
6. Potluck Party
You can host a dorm party by including a potluck party where each guest brings a dish to share. Also, this is a great way to sample different foods and try new recipes.
7. Beer Olympics
Your dorm party will be more fun if you host a beer Olympics with your friends. To participate in the beer Olympics, you will need to form teams with your friends and choose a country to represent.
Also, there will be a series of classic drinking games, like Kings Cup, dizzy bat, and a case race, to compete in.
The gold medal winner will be the team that can best compete and wins the most games.
In addition, the Beer Olympics is a competition where teams try to score the most points throughout the day.
At the end of the day, the team with the most points is awarded medals. Also, this is a fun competition that everyone can enjoy.
8. Decades Party
Taking a trip back in time by throwing a decades party is a good party idea you can use. Also, you can achieve this by playing music from a specific era.
In addition, you can spice the party by encouraging guests to dress up in vintage outfits to match.
Also, to do this, you need to decorate your room with decor from the era you've chosen and serve food and drinks popular at that time.
9. Pajama Party
A pajama party has always been a party idea for decades now. You can do this by picking a cozy night with friends and having fun with them.
Also, at this type of party, everyone wears their favorite pajamas and serves snacks and drinks while watching movies. In addition, you can set the mood with comfy pillows and blankets to enjoy with your friends
10. Jazz Night
If you are thinking of a dorm party idea that will bring many vibes, then you need to choose jazz night.
Also, you can achieve this by playing some smooth jazz music and decorating with dim lights and candles. In addition, you can serve drinks and appetizers to create a lounge-like atmosphere.
11. Hip Hop Night
Another idea is creating a hip-hop night with your college or university friends.
In addition, to get your hip-hop night started, decorate the place with neon lights and graffiti art. Also, play your favorite hip-hop music and dance the night away.
12. Ugly Sweater Party
 Embracing the holiday season with an ugly sweater party is one way to enjoy the holiday season.
Also, you can encourage guests to wear the ugliest sweater they can find and wear. Interestingly, to achieve this, you need to decorate your room with holiday decorations.
13. Devils and Angels
 For a themed party, have guests dress up as devils or angels.
Also, serving contrasting drinks and snacks to represent each side, and decorate with angel and devil decor.
College Party Food and Drinks Ideas
When it comes to hosting a college party, the food and drinks you serve can make a big difference.
There is no successful dorm party without drinks and food. Here are some ideas for college party food and drinks that are sure to be a hit with your guests:
1. Pizza
You can never go wrong with pizza, it wants to spice up every party.
To make the party exciting you can order a few different types of pizza. In addition, it should be enough to accommodate everyone's taste preferences.
2. Nachos
Another classic party food, which is needed at a dorm party is nachos. Interestingly, they are simple and easy to make and customize.
Also, you can set up a nacho bar with different toppings like cheese, salsa, guacamole, and jalapenos.
3. Chips and Dip
Chips and dip are always a crowd-pleaser, without them a party is incomplete. Also, to spice the party up, you can pick a variety of dips like spinach and artichoke, hummus, and queso.
4. Sliders
Some of your guests might leave the house without eating and having a Mini burger or chicken sandwich can be great finger food to choose from.
In addition, you can offer a variety of toppings like cheese, lettuce, tomato, and condiments.
5. Tacos
Setting up a DIY taco bar with all the fixings is a good idea for a dorm party.
Also, you can offer different types of meat or beans. In addition, you can top it up with things like cheese, lettuce, salsa, and sour cream.
6. Cocktail Meatballs
This is very easy to make and easy to eat, cocktail meatballs are a great dorm party food option you can pick. In addition, you can offer a variety of sauces like BBQ, sweet and sour, and teriyaki.
7. Fruit Skewers and Jello Shots
 For a healthier option, make fruit skewers with a variety of fruits like strawberries, pineapple, and grapes. Also, for a fun and easy-to-make drink option, make jello shots in different flavors.
8. Punch with Beer and Wine
A big bowl of drinks will be a nice idea when hosting a dorm party. This is a creative way to make your guest happy and excited about the party.
You can pick from these ideas to make your dorm party a creative and memorable one.
CSN Team.