---
– How to Check First Bank Account Balance –
How can I check my First Bank Account Balance? Back in the day, banking systems were not as swift and less stressful as they are today. Today, customers can check their account balance easily and carry out transactions through their mobile phones.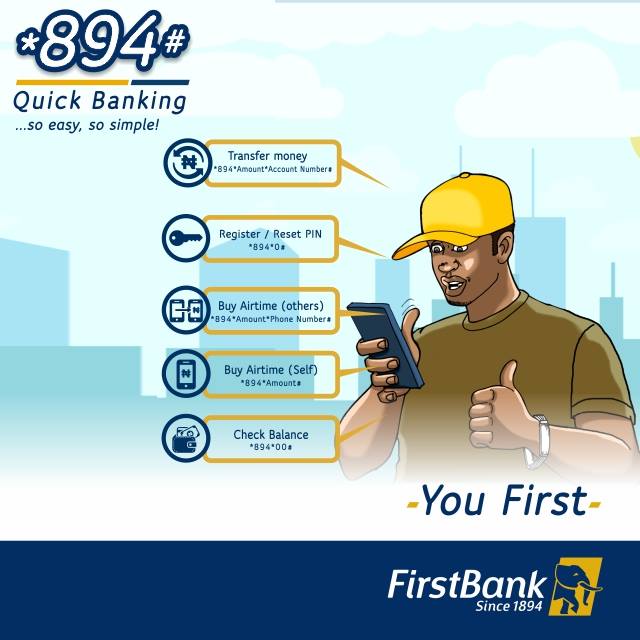 About First Bank of Nigeria Ltd
First Bank of Nigeria Limited (First Bank) is the premier Bank in West Africa with its impact woven into the fabric of society.
The Bank which has been sustaining its development-oriented services for over 126 years as the region's foremost financial inclusion services provider.
It offers a comprehensive range of retail and corporate financial services through over 44,000 business outlets to over 17 million customer accounts.
First Bank is one of the most enduring financial services brands in Africa with international footprints extending through its subsidiaries.
Additional Information
Also, FBN Bank (UK) Limited in London and Paris, FBN Bank in the Republic of Congo, Ghana. The Gambia, Guinea, Sierra Leone, and Senegal, as well as a Representative Office in Beijing.
However, First Bank has been nimble at promoting a digital economy in Africa. It has issued over 10 million cards. It is the first bank to achieve such a milestone in Nigeria.
First Bank's financial inclusion and cashless transaction drive have resulted in over 228 million users on its USSD banking service. This is through the nationally acclaimed *894# banking service.
READ ALSO!!!
The First Bank USSD Code
First bank USSD code is *894#, and the bank is calling it "Quick Banking". This is where registered customers can easily perform all bank transactions with their phone.
With the First bank transfer code, you can easily transfer money from bank to bank. Also, to recharge your phone.
In order words, First Bank USSD code, or First Bank Quick banking is a service that allows First Bank account holders to top-up their mobile lines directly and instantly by dialing *894*amount# from their mobile phones.
When dialed, two options are displayed for the customer to choose from:
1. Quick Banking- Follow prompts to access the listed services for First Bank account holders ONLY.
2. Firstmonie- For electronic wallet-based transactions. This product is available to both account holders and non-account holders.
How to Check First Bank Account Balance
First Bank has created a very convenient method of checking account balance on the mobile phone. This is a very good feature which has already become popular among customers.
In other to check your First Bank account balance, you need to follow the below process;
1. Dial *894*0# on your phone.
2. The masked list of your naira debit card numbers will appear on the screen of your mobile device.
3. Choose your debit card of choice.
4. They will ask you to enter your four digits Personal Identification Number or PIN code of the card you have chosen.
5. After you have entered the PIN code, they will ask you to create a five-digit PIN code.
6. After that, your number is now active for First Bank Mobile Banking Service.
READ ALSO!!!
Mobile Banking
The invention of Electronic Banking Operations (E-banking) has made banking activities easier, faster, and more reliable.
However, they did not totally eradicate the problem of always having bank halls filled with customers needing attention. This problem led to introducing Mobile Banking.
They introduced mobile Banking to enhance the speed and efficiency of delivering bank products and services. This was mainly by reducing/ eliminating the need for consumers. This is to always turn up at the bank branches seeking attention for simple transactions.
More Details
All banks have their different USSD codes through which their respective customers can access their accounts. This is through their registered mobile phone numbers. Also, they can and easily make transactions without having to come to the bank.
With mobile banking, customers who have a working mobile phone can make transactions from their comfort zones from airtime recharges to money transfers, bill payments, and so on.
Unfortunately, not all First Bank customers are aware of the mobile banking feature, and amongst those who know, few don't know how to access it. Well, mobile banking is very easy as you are about to see.
We believe this article was interesting. Please share with friends and relations via Facebook, Twitter, or Google+.
CSN Team.
---
---
=> FOLLOW US ON INSTAGRAM | FACEBOOK & TWITTER FOR LATEST UPDATE
Tags: code to check first bank statement of account, first bank account balance phone number, first bank online transfer, how to change my first bank phone number, How to Check First Bank Account Balance, how to check first bank account number, how to deactivate first bank ussd code, how to register first bank transfer code, i forgot my first bank atm pin