Model measurements simply mean the assessment and recording of the physical properties of a model using the usual measuring tapes. When measuring, you should be in a bathing suit or underwear to get the most accurate measurements possible.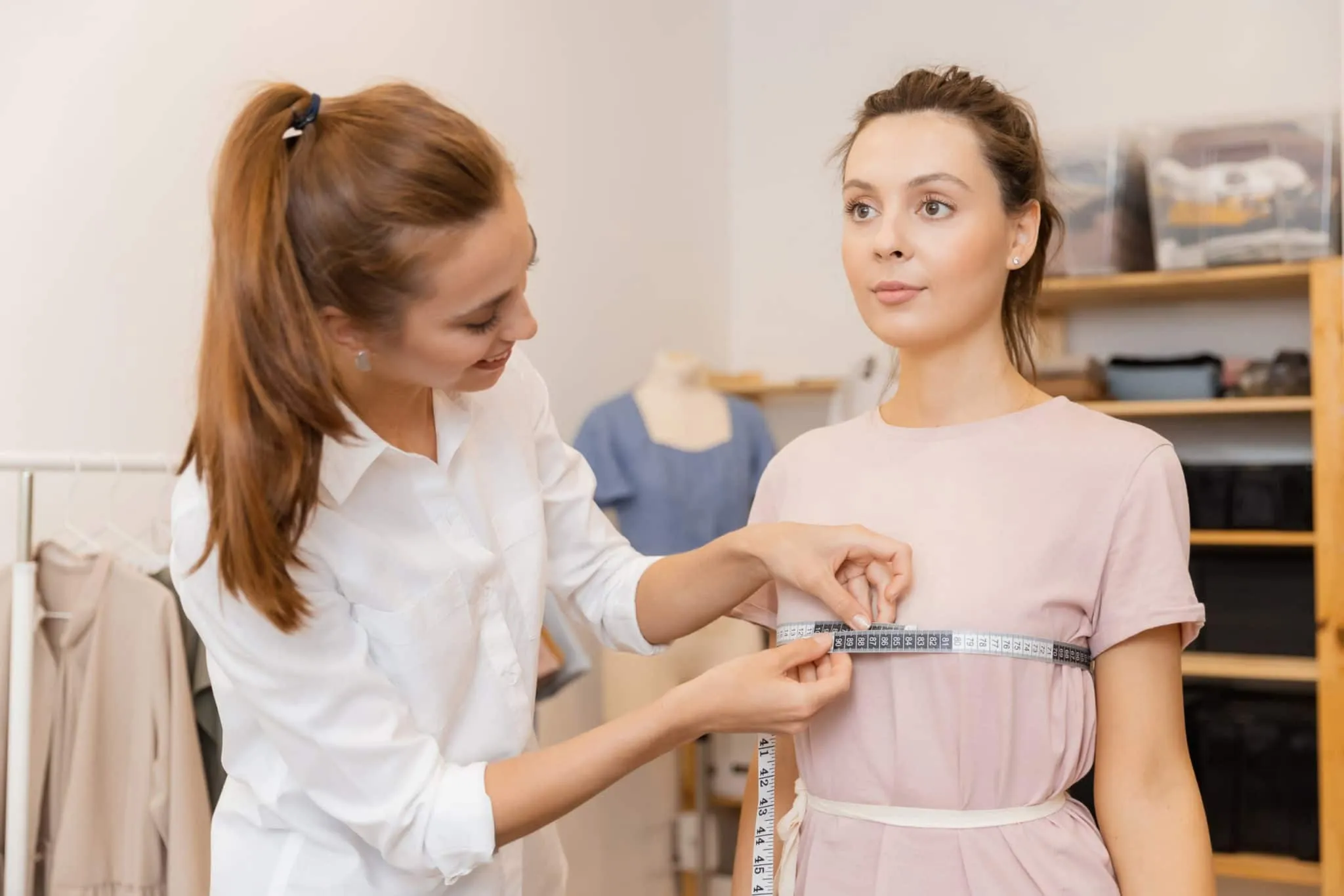 Use a cloth or plastic measure, NOT the metal construction kind! You should have someone take your measurements for you instead of trying to do it yourself…it is much more accurate that way.
READ ALSO!!!
Measurements for a Model
There are hundreds of points on the body that can be measured. All model measurements are important for their intended use(s).
And when you are setting out for model measuring, there are certain statistics you definitely have in mind to be aware of right?
Yes, you are definitely out to have some understanding of certain features of yourself. Here are the things you will set out to achieve during model measurements:
Height
Firstly, and perhaps most importantly, you need to know your height. For some lines of work, this is a make-or-break detail.
It's, therefore, vital prospective agencies/employers can find out this information about you quickly.
An example of this is catwalk modeling; to succeed as a woman you need to be at least 5'7" and as a man, 6'1" (be aware that this differs by a few inches depending on which agency you apply to.)
Most models list their height at the top of their statistics in feet and inches. Adding your height in cm after, e.g. 5'8 (172cm) is a nice detail to add to a resume or modeling portfolio.
Weight
The next statistic is normal weight. Remember that your weight is relative to your height, so if you are 6'1" you will naturally weigh more than someone who is 5'7".
The most important thing when it comes to picking out a model is that they are healthy and in proportion. Fitness models will usually weigh more because muscle weighs more than fat.
Agencies may have different requirements for weight, so try to find one that fits into your category.
Bust
Next (you may notice that we're working from your head down) is your bust, or if you're a man, your chest.
Whenever you are measuring this area of your body, always measure around the fullest part.
It's far more reliable to get someone else to measure you as it means your body won't be at funny angles holding a tape measure.
Enlist a friend or family member to help you.
Waist
Following on from your torso measurements, you are then required to list your waist measurements.
Find your waist by locating the top of your hip bone and the last of your ribs, then as you breathe out naturally, run your tape measure around your middle to take your measurement.
Don't breathe in whilst doing this. Stand tall and record the number as accurately as possible.
During fittings, clothing may be fitted to you according to the measurements you have given, so it's vital you are precise.
Hips
Now move on to your hips. Again, measure at the fullest part whilst keeping your feet shoulder-width apart.
Dress Size
More often than not, women will provide their dress size at the end of their statistics. If you live in Britain, this should be done in UK dress sizes.
Shoe Size
Shoe size is imperative for both men and women. If you're not one size or another it is acceptable to list yourself as a half, for example, 6.5.
READ ALSO!!!
Importance of Model Measurements
Models do not just take the measurement for nothing's sake, there are reasons for that.
However, model measurements are essential, and these are some of their importance:
Your Statistics must be Kept as up-to-date as Possible
Body shape is one of the most influential deciding points when it comes to choosing the right model for a particular project.
Our Bodies Continue to Fluctuate throughout our Lives
Age, pregnancy, illness, and hormones all play a role in how our body continually changes shape.
Even if you are eating and exercise habits remain the same, there are various other factors that can influence body shape.
That's why it's so important in modeling to double-check your measurements every few months.
Some Agencies Request Strict Statistics
It's important not to let this pressurize you into losing an unhealthy amount of weight or forcing your body into a size that is unnatural for it.
Only a fraction of the world's population fits into this measurement category, hence why there are so few supermodels. It is unhealthy both physically and mentally to force your body to do this. It's also not sustainable.
Many catalog contracts do not require or legally look for such strict measurements. Different agencies have different requirements, so make sure you do your research before applying.
Tips for Accurate Model Measurements
To have an accurate models measurement, you need some tips or guidelines. Here are some of them:
‣ Your model should be dressed in skin-tight clothing – like leggings and a cami, for example – for the most accurate measurements.
‣ Note the type of bra the model is wearing and if it has any padding or wires.
‣ Take measurements with the model barefoot (or note the platform/heel height). If you are developing garments meant to be worn with elevated shoes – like a gown, for example – note the heel height.
‣ Your model should be standing straight, but be relaxed. You can ask them to take a few breaths to help relax their posture.
‣ Keep your measuring tape level.
‣ Be aware of measurements taken straight or with the contour of the body.
‣ Measuring with a partner is easiest because they can note the measurements on your model measurement chart while you continue to measure.
‣ Note the typical size that your model wears (bras, tops, bottoms, dresses, etc.) to better understand sizing and fitness trends.
‣ Take a picture of the model – front, back, and side – to keep with your measurement chart.
25 Best Female Types of Model
Many people who want to go into the modeling industry express surprise at just how many different genres are available for them to find work.
Here is a list of the most well-known female types of models:
1. Fashion (Editorial) Model
Fashion models, or what the industry refers to as "editorial models," are high-fashion models that you see in magazines such as Vogue, Harper's Bazaar, and Elle, and they usually work for top fashion labels such as Armani, Prada, Marc Jacobs, Gucci, Valentino, and others.
Female editorial models are generally at least 5 feet, 9 inches tall, and very slim, with measurements that are usually around 33 inches around the bust, 23 inches around the waist, and 33 inches around the hips.
Modeling agencies will always look at the complete package that the model presents when determining whether or not they can be editorial models, so don't be discouraged if you don't meet these stats exactly.
2. Runway or Catwalk Model
Female runway models or catwalk models are usually a minimum of 5 feet, 9 inches tall, but taller is preferred.
Runway models must have precise measurements so they're able to fit the clothes that designers are going to be showing to their clients.
Their measurements are usually no greater than 34 inches around the bust, 23 inches around the waist, and 34 inches around the hips.
Designers hire models to fit the clothes they've made for their collections; they don't usually make the clothes to fit the model.
4. Commercial Model
Commercial models can be of any age, size, or height because they're needed for a variety of functions.
They can do everything that isn't generally associated with high fashion, including ads for products and services—such as housewares, food, travel, and tech.
5. Plus-Size Model
The plus-size model market has become an essential part of the fashion and commercial modeling industry.
Several of the top fashion agencies now have plus-size divisions, and we've seen more plus-size supermodels over the past few years than ever before.
Plus-size models are generally categorized by size rather than exact measurements, such as size 12 and up. In the real world, a size 12 is not considered plus-size, but in the modeling industry, it can be.
6. Petite Model
Petite models are generally 5 feet, 7 inches tall, or shorter. While petite models don't generally do runway work, they're often booked for swimsuits, lingerie, and parts modeling.
Since petite models usually have smaller shoe sizes and glove sizes, they're popular as foot and hand models.
7. Child Model
What do celebrities Brooke Shields, Jodie Foster, Sarah Michelle Gellar, Jennifer Connelly, Natalie Portman, and even CNN's Anderson Cooper have in common? They were all child models.
The age range for child models is generally 12 years and under, and they can be any size and height. Agents that represent child models are looking for children with lots of personalities and who can work well on set and around strangers.
8. Swimsuit or Lingerie Model
Swimsuit and lingerie models are often curvier and more voluptuous than editorial models.
There are many opportunities for swimsuit models other than just modeling bikinis; swimsuit models can model lingerie, undergarments, sleepwear, and summer wear, and they can also be showroom and fit models.
9. Glamour Models
Glamour models are generally more curvy and voluptuous than editorial fashion models, and they often work as swimsuit and lingerie models as well.
They refer to the type of posing the model is doing in their photographs—which is usually more sexually suggestive or alluring than what a fashion model would do.
Pinup models and people who appear in magazines such as Playboy are considered glamour models.
10. Fitness Model
Fitness models are models who are very athletic, fit, and toned.
Many fitness models started as athletes or trainers and have added fitness modeling to their resumes.
In addition to working for fitness companies, supplement manufacturers, and athletic wear companies, fitness models are often commercial models as well.
11. Fit Model
Not to be confused with fitness models, fit models are models who work behind the scenes in fashion houses and garment manufacturers to make sure that size and fit are maintained in the clothing manufacturing process.
Garment manufacturers require a variety of shapes and sizes of fit models to fit their garments properly before they're shipped to consumers.
You may not have the look that a print model needs, or the height of a runway model, but if you can consistently maintain your measurements, then a career in fit modeling may be for you.
12. Parts Model
Parts models specialize in modeling body parts like hands, feet, legs, and eyes. A hand model can book jobs for jewelry, nail, beauty-related products, and anywhere else a client requires a "perfect" hand.
Likewise, a foot model can book jobs with shoe companies, nail and beauty products, and clients who need "perfect" feet.
Clients look for well-proportioned body parts and those who can fit sample shoes, gloves, or jewelry sizes. Petite models often find work as part models due to their smaller shoe sizes and body parts.
13. Promotional Model
Promotional models often book jobs to promote products or services at trade shows, conventions, and live events.
They must be very outgoing, friendly, and have an excellent understanding of the client's product because the company may demand them to talk about the product or answer questions from potential buyers.
14. Mature Model
The market for mature models has increased tremendously as the baby boomers have entered their 60s and beyond.
Mature models are generally at least 30 years old, and they can work well into their 80s and 90s.
People consider Mature models commercial models and can do everything a commercial model can do.
15. Catalog Model
People consider Catalog models to be commercial models, which means models need to look more like "real people" than editorial models.
They need to possess a few essential physical attributes, such as glowing skin, healthy hair, and a killer smile, but instead of falling into the physical requirements of fashion models, they have to have a look that appeals to the client's target audience.
16. Magazine Modeling
Fashion modeling also includes modeling clothing in fashion magazines. In Japan, there are different types of fashion magazine models.
Exclusive models are models who regularly appear in a fashion magazine and model exclusively for it.
On the other hand, street models, or "reader models" abbreviated as "dokumo" for short), are amateur models who model part-time for fashion magazines in conjunction with schoolwork and their main jobs.
17. Normal-size Models
Also known as the "in-between" and "middle models", people do not consider catalogue size (0–2) nor plus-size (10 up).
There is criticism that society leaves these models out of the conversation because fashion companies and brands opt to employ the extremes of the spectrum.
18. Black Models
The arrival of black women modeling as a profession began in early postwar America. It began most notably from the need of advertisers and the rise of black photography magazines.
The women who advanced in such careers were those in a middle-class system that emphasized the conservative value of marriage, motherhood, and domesticity.
Originally titled the "Brownskin" model, black women refined the social, sexual, and racial realities confined in the gender expectations of the modeling world.
19. Alternative Models
An alternative model is any model that does not fit into the conventional model types and may include punk, goth, fetish, and tattooed models or models with distinctive attributes.
This type of modeling is usually a cross between glamour modeling and art modeling.
Publishers such as Goliath Books in Germany introduced alternative models and punk photography to larger audiences.
Billi Gordon, then known as Wilbert Anthony Gordon, was  the top greeting card model in the world and inspired a cottage industry, including greeting cards, T-shirts, fans, stationery, gift bags, etc
20. Gravure Idols
Gravure idols appear in a wide range of photographic styles and genres.
Their photos are largely aimed at male audiences with poses or activities intended to be provocative or suggestive, generally accentuated by an air of playfulness and innocence rather than aggressive sexuality.
21. Commercial Print and on-camera Models
Commercial print models generally appear in print ads for non-fashion products, and in television commercials.
They can earn up to $250 an hour. Commercial print models are usually non-exclusive and primarily work in one location.
There are several large fashion agencies that have commercial print divisions, including Ford Models in the United States.
READ ALSO!!!
22. Spokes Models
"Spokesmodel" is a term used for a model who is employed to be associated with a specific brand in advertisements.
A spokesmodel may be a celebrity who a firm employs only for advertisements (in contrast to a brand ambassador,but the company also expects the model to represent them at various events), but more often the term refers to a model who is not a celebrity in their own right.
A classic example of the spokesmodel is the models whom agencies hire to be the Marlboro Man between 1954 and 1999.
23. Trade show Models
Trade show models work a trade show floorspace or booth, and represent a company to attendees.
They are typically not regular employees of the company but are freelancers whom the company renting the booth space hires.
People hire them for several reasons: trade show models can make a company's booth more visibly distinguishable from the hundreds of other booths with which it competes for attendee attention.
24. Podium Models
Podium models differ from runway models in that they don't walk down a runway, but rather just stand on an elevated platform.
They resemble live mannequins placed in various places throughout an event. Attendees can walk up to the models and inspect and even feel the clothing.
Podium Modeling is a practical alternative way of presenting a fashion show when space is too limited to have a full runway fashion show.
25. Instagram Models
Instagram models have become popular due to the widespread use of social media.
They are models who gain their success as a result of the large number of followers they have on Instagram and other social media.
They are different from established models such as Cara Delevingne and Gigi Hadid, who use Instagram to promote their traditional modeling careers.
Frequently Asked Questions about Model Measurements
Below are some of the asked questions about models measurement. We have provided you with the answers. Kindly study them carefully:
---
1. What Physical Attributes make a Perfect Fashion Model?
From the industry standpoint, the physical attributes that make perfect fashion models are: prettiness, impressive height, lofty legs, expressed confidence, boldness, etc.
---
2. Can a 5'6″ Woman be a Model?
The height requirements are 5.9 and above for female models and between 5'11" to 6'2″ for male models.

The fashion industry is very strict and has high, and sometimes unreasonable standards. Since the requirements are not very flexible, it is a hard industry to get into.
---
3. How much do I have to Weigh to be a Model?
A healthy weight depends on a person's BMI (body mass index), which the agency calculate based on height and gender.

For example, the agency cosiders a woman who is 4'10''  healthy when she weighs anywhere between 91-115 pounds.
---
4. Is it Possible to Model at a Height of 5'1′?
A petite model is generally above 5′ 1" and not taller than 5′ 7". You must know your characteristic strengths and strong features and use them to your advantage.

As a petite model, you would find work in the fashion, commercial, glamour, and part sectors of modeling.
---
5. I'm 5'5, can I try Modelling?
You don't need to be tall, skinny, and statuesque to become a model. 

An agency can sign women and men who are 5'5″ and under as long they know their limits and their strengths.

The tall and skinny models dominate the high fashion world, but there are plenty of other opportunities out there.
---
6. Is 5'6′ Height too Short for Modelling?
The typical petite modelling requirements are between 5'2 and 5'6 for female models.

Short male models do find it more difficult to find work in the industry as women can add a few inches with high heels.

Petite model measurements are also very important depending on the niche you wish to enter.
---
7. How Tall do you have to be in order to Model?
As far as common characteristics that are important for anyone looking to get into modeling.

Height is probably the single most important physical attribute for most models, with 5'7" generally considered a minimum.
---
8. How much do Victoria's Secret Models Weigh?
Even though there are no official statements about the weight range, most of the Victoria's Secret Angels are reported to be around the 115 pounds to 125-pound range.
---
9. My Height is 164cm, can I become a Model?
It depends what type of model you want to be. I don't think you'll ever be a runway model, but you can still be a model for fashion companies.

For instance, I know ASOS (fashion company) has few models your height for their petite section.
---
10. Can a girl who is 5'2" become a Model?
The height requirements are 5.9 and above for female models and between 5'11" to 6'2″ for male models.

The fashion industry is very strict and has high, and sometimes unreasonable standards.
---
We hope the above piece of information was useful. We appreciate your readership. Please, kindly share this content on all the existing social media platforms.
CSN Team.