---
– Polite Request for Payment Letter –
Request for Payment: To ask for payment professionally, small businesses should always word their payment requests using polite but direct language. Give the client the benefit of the doubt and first ensure they received the invoice in question. This article will give you examples on Polite Request for Payment Letter, read through carefully.
When wondering about how to ask for payment without being rude, the most important thing you need to remember is to be direct, but also kind and professional. Write several payment reminder emails you'll send in regular intervals.
A letter requesting payment is written when a client or customer fails to make payment for delivered goods or services as agreed with the supplier. Such a letter is written by a supplier or manufacturer providing the goods or services.
This letter is addressed to the client or customer. A letter requesting payment is a polite way of reminding a customer that he/she has not made the payment agreed upon after the delivery of goods.
READ ALSO!!!
➣ Tips for Writing a Letter for Payment
➣ How to Ask for Payment Professionally
➣ Example of Request for Payment
➣ Letter for Requesting Payment Template
It is a formal document that contains details of the goods delivered and the amount of money expected to be paid. This letter is important to maintain a good business relationship between the supplier and the customer.
As additional support, take extra precautions to ensure the client has all the chances of paying you on time and in full:
• Provide clients with proof of the work you've done, in the form of the time you tracked on their project
• Provide clients with the precise calculations for the amount they're due to pay you, in the form of time tracking reports
• Choose an efficient payment processor
• Use an invoicing tool to make professional-looking, payment-inviting invoices
• Draw a suitable contract – preferably with a deposit(s) clause
Tips for Writing a Letter for Payment
• Express gratitude for doing business with you
• Use courteous and sincere language
• Mention the urgency of the
dues to be paid
on time for account purposes
• Highlight details about the goods or services supplied
• Give details like reference numbers of the delivery
• Highlight the outstanding amount of money the customer has not paid
• Mention some details of the payment agreement
• Be simple and straight forward
How to Ask for Payment Professionally
1. Check The Client Received The Invoice
To request payment professionally, it's important to first make sure there was no error or miscommunication about the invoice.
Send a polite email to your client explaining that the payment is now past due and ask to make sure they received the initial invoice and there were no problems with it.
2. Send A Brief Email Requesting Payment
If you don't hear back from the client after your first check-in or your client acknowledges that they received the invoice but you still don't receive prompt payment, follow up with a brief, professional email. Outline the invoice due date and how many days ago it was due.
3. Speak to the Client by Phone
It may seem awkward and intimidating, but if your email requests for payment don't succeed in getting the client to pay your invoice, the best course of action is to get your client on the phone to sort out the underlying issue.
When calling, identify yourself and explain calmly and politely that you've followed up multiple times by email about a late payment.
4. Consider Cutting Off Future Work
If the promise of payment that you secured by phone is not met by your client, or if you've had to chase down payment from this particular client several times before, you may want to consider cutting ties with the company and refusing future work.
If you've already begun working on other projects, you may want to stop working before the project is finished, if you're contractually able to do so.
5. Research Collection Agencies
If your previous attempts at tracking down late payments are unsuccessful, you may want to escalate things further by hiring a collection agency to help you secure the payment from the client.
6. Review Your Legal Options
If, after all your attempts, you still aren't able to secure payment from the client, it may be time to consider your legal options.
If you have a legally binding contract in place with the client that outlines the work you were obligated to complete, the payment amount due, and the deadline for payment and includes both your signatures, you have a good case for a lawsuit.
Example of Request for Payment
Why write it like this? You don't need to ask for payment directly in the first email – you just need to make sure your client is well aware of your payment terms and basic information beforehand.
By sending an email before the payment date, you ensure the client has enough time to gather and organize payment documentation. Also, you'll position yourself as a professional who regularly tracks invoices – and sends reminder emails if the client doesn't pay on time.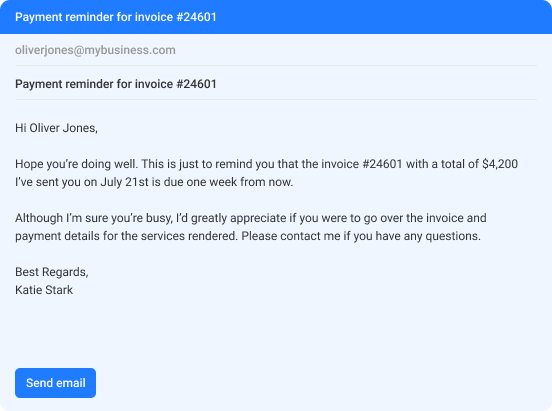 Letter for Requesting Payment Template
When payment is delayed, it is important to request the payment politely. Below are sample letters for requesting payment that you can write to a customer in a polite and professional language.
From,
_____________
_____________
Date (date on which letter is written)
To,
________________
________________
Sub:_________________________________________
Dear _________________,
My name is ____________ and I write to notify you of an outstanding payment of ____________ dollars. This payment regards  ____________ that were delivered to your company's location at ____________ on date ____________. We wish to request that you honor the payment agreement at your earliest.
I hereby attach an invoice of the goods delivered and reference number ____________ for your reference. Thank you for the good business relationship we have had for ____________ months. We value you as a customer and we would not wish to lose you but we have not received payment for the last ____________.
Also, we wish to request this payment so that we can close our quarterly books of accounts. We will start charging an interest of ____________ for the outstanding payment after ____________ days. If you have already made the payment, we apologize and we wish to request that you send the reference code for the transaction so that we can follow up with our ____________ department
Thank you. We look forward to your response regarding this payment.
Yours Faithfully,
__________
(__________________)
From,
Laverne Sutton,
Haven Suppliers
10 Paris Hill Street
Westland, MI 48185
United States
Date:____________ (Date on which letter is written)
To,
Larry Lopez,
94 Warren St.
Lititz, PA 17543
United States
Sub; request for payment
Dear Mr. Lopez,
I write this letter to bring to your attention an outstanding payment of $10,000 you have with us. This is with reference to 100 pieces of fabric that we delivered to you on 17th February 2019. We appreciate you doing business with us for the past year. We regret to inform you have we have not received payments for the goods delivery note no. AFR/628/2019.
I hereby enclose an invoice and relevant documents relating to these goods. Kindly check with your procurement department regarding the outstanding payment. We value you as a customer and you have never delayed a payment.
We would be grateful if you handle this matter with urgency since we would like to balance our accounts for the last three months. Please treat this matter with urgency. We hope for a  continued long business relationship.
Thank you in advance for your response.
Yours Faithfully,
__________
Laverne Sutton
It's important to send one email before the payment date, and one email on the day payment is due, to give your clients plenty of time to make the necessary arrangements.
Afterward, you should send several emails with direct requests for payment – each with a firmer and more direct tone, but still impersonal and friendly.
Unless the client answers your emails, perhaps there's a problem with the email address you are sending to, or a similar problem you're unaware of – in case of no response after a full month of emailing, turn to call or text the client.
We believe this information about Polite Request for Payment Letter 2020 Best Format Examples is helpful to you? Why not share it with your friends out there by clicking on the share button on this website.
You can as well subscribe to be updated for further information concerning this topic.
CSN Team.
---
=> FOLLOW US ON INSTAGRAM | FACEBOOK & TWITTER FOR LATEST UPDATE
Tags: advance payment request email to client, how to ask for advance payment from client, How to Ask for Payment Professionally, how to ask for payment without being rude, Letter for Requesting Payment Template, letter requesting payment outstanding balance, Outstanding Payment Request Letter, payment follow up email to client, Payment Letter, Polite Request for Payment, sample letter requesting payment for services rendered