– Nigerian Army 82RRI Recruitment –
Information on Nigerian Army Recruitment is important to those who are eager to apply or have applied. This is the step-by-step guide on how to apply for the Nigerian Army 82 Regular Recruits Intake (82RRI) for tradesmen/women and non-tradesmen/women.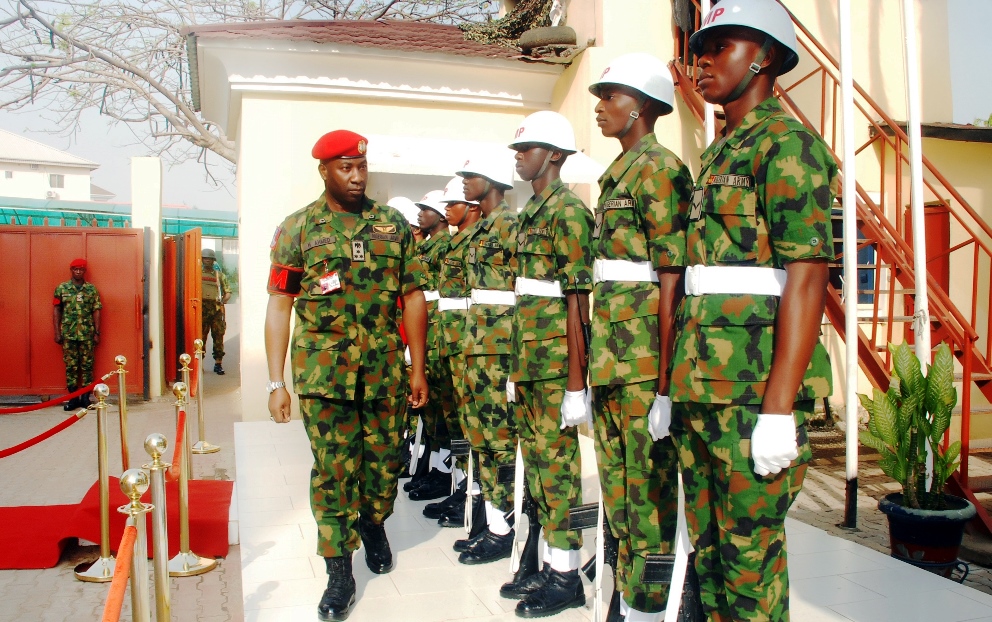 The Nigerian Armed Forces are the Armed Forces of the Federal Republic of Nigeria.
Its origins lie in the elements of the Royal West African Frontier Force that became Nigerian when independence was granted in 1960.
READ ALSO:
Applications are invited from suitably qualified candidates to the 2022 Nigerian Army 82 Regular Recruits Intake (RRI) for tradesmen/women and non-tradesmen/women.
Over the months, we've received inquiries from several applicants yearning for a current update about "When Nigerian Army recruitment 2022 will be starting?".
The Nigerian Army 82 RRI Recruitment Portal
You can access the Nigerian Army Portal 82rri via the following links:
1. https://recruitment.army.mil.ng/
2.Also, https://army.mil.ng/
If you happen to be one of them, then good news to you. Nigerian Army recruitment 2022 form is out! yeah, and registration is ongoing!
=> Download Nigerian Army Up-to-date Past Questions
Application Steps and Process for Nigerian Army Recruitment
Interested candidates are to:
1). Make sure you are currently on the official recruitment portal.
2). Create a user account to enable you to log in. Your username must be a functional email
=> Download Nigerian Army Up-to-date Past Questions
3). Complete the application form, submit it online and print a copy. Then, print and complete the Guarantor Form as appropriate.
4). Ensure you bring with you copies of the application and guarantor forms to the designated state recruitment centres.
For more information, visit https://ims.army.mil.ng/darrr
The Application Requirements
The general requirements for the application of Nigeria Army recruitment are presented hereunder:
1). Be a Nigerian as defined in the constitution of the Federal Republic of Nigeria.
2). Be a male or female between the ages of 22 and 35 years, while medical consultants are not more than 40 years of age by December 2022.
3). Be medically, mentally, and physically fit according to NA standards.
4). Be recommended by at least 2 recognizable referees who must attest to the applicant's character and integrity. Passport photographs of referees must be affixed to the letter of attestation.
5). Candidates must submit a letter of Attestation from their former institutions.
6). Measure at least 1.68m (for male) and 1.65m (for female) in height.
7). Must not have been convicted by any court of law. Military personnel must be free from any disciplinary case (This is to be endorsed by the Commanding Officer/Commander).
8). Possess at least a first degree with not less than Second Class Lower Division or HND of not less than Lower Credit from any recognized institution of learning.
9). Possess a valid birth certificate endorsed by the National Population Commission, Hospital or Local Government Council or valid age declaration.
10). Possess a valid certificate of state of origin and also either a National Identity Card, Voters Card, Drivers License.
11). Applicants (less serving members of the Armed Forces) must possess an NYSC discharge certificate or a valid exemption as the case may be.
12). Graduates with professional qualifications must be duly registered by relevant bodies recognized by Nigerian Laws at the commencement of cadet training.
ALL DOCUMENTS WILL BE VERIFIED BY THE APPROPRIATE ISSUING AUTHORITY.
ALL THOSE WITH FAKE DOCUMENTS WILL BE HANDED OVER TO THE NIGERIAN POLICE FOR PROSECUTION.
Other Requirement:
| | |
| --- | --- |
| Minimum Age (Non – Trades) | 18 |
| Maximum Age (Non – Trades) | 22 |
| Minimum Age (Trades) | 28 |
| Maximum Age (Trades) | 35 |
| Minimum Height (Male) | 1.68 |
| Minimum Height (Female) | 1.62 |
| Minimum Educational Qualification | Minimum 4 passes in not more than 2 sittings in WASSCE, GCE, NECO or NABTEB |
SEE ALSO:
How to Apply for Nigerian Army Recruitment
Follow the steps below to apply for Nigerian Army 82RRI Recruitment 2022″
(1) Go to the Nigerian Army recruitment portal at https://ims.army.mil.ng/darrr
(2) Applicants are to apply once as multiple applications will be disqualified.
(3) On submission of application online, applicants are to print out the completed application form which must include the following parts;
i) Declaration and Certification by Parents/Guardian Form.
ii) Local Government Area Certification Form.
iii) Police Certification Form.
iv) Guarantors Form.
For more information about the application form – CLICK HERE
(4) Candidates are to come along to the designated screening centres with the online printed forms
Hot Vacancies in Nigeria Right Now
1. Federal Government Recruitment 2022;
8. Nigerian Airforce Recruitment;
9. The Nigerian Police Recruitment;
10. Nigerian Prison Service Recruitment;
11. Federal Fire Service Recruitment;
12. The Federal Road Safety Recruitment 2022;
13. Federal Inland Revenue Recruitment 2022
14. Nigerian Customs Service Recruitment;
15. Oil and Gas Jobs in Nigeria;
16. Top Companies in Nigeria that are Recruiting Massive Intake this Month;
FAQs About Nigerian Army 82RRI Recruitment 2022
Below are some FAQs about Nigerian Army 82RRI Recruitment 2022″
1. Is Nigeria Army form out for 2022?
The Nigerian Army form 2022 is out. You will be informed when the 2022 Nigerian Army form is out.
---
2. How much is Nigeria Army form?
Nigeria Army form is free. Do not pay money to anybody for the purchase of the Nigerian Army form. The form is to be filled online on the Nigerian Army official website.
---
3. What is DSSC in Nigerian Army?
DSSC means Direct Short Service Commission
---
4. What's the highest rank in Nigeria Army?
Field Marshal (5-Star General) is the highest rank in the Nigerian Army.
---
5. How Many Month is Nigerian Army Training?
Nigerian Army Training takes ten weeks. It is divided into three main stages: Red, White and Blue.
Kindly provide us with your phone number and email address in the comment box below.
What's your take on this Nigerian Army 82RRI Recruitment 2022? I urge you to use this same opportunity to share this information with others using our Facebook, Twitter, or Google+. share button below.
CSN Team.
Tags: Army Form, Nigerian Army, Nigerian Army 2022, nigerian army 81rri recruitment, nigerian army 81rri recruitment 2021, Nigerian Army 81RRI Recruitment 2021 Application Link, Nigerian Army 81RRI Recruitment 2021 Application Link www.ims.army.mil.ng, Nigerian Army 81RRI Recruitment 2021 Portal, Nigerian Army 81RRI Recruitment 2021 Portal Updates, Nigerian Army 81RRI Recruitment Portal, Nigerian Army 81RRI Recruitment Portal 2021, Nigerian Army 82RRI Recruitment, Nigerian Army 82RRI Recruitment 2022, Nigerian Army 82RRI Recruitment 2022 Application Link, Nigerian Army 82RRI Recruitment 2022 Application Link www.ims.army.mil.ng, Nigerian Army 82RRI Recruitment Portal, Nigerian Army 82RRI Recruitment Portal 2022, Nigerian Army Form 2020, Nigerian Army Portal, Nigerian Army Portal 2022, Nigerian Army Recruitment, Nigerian Army Recruitment 2022, Nigerian Army Recruitment Form